There's nothing quite like a t-shirt that can't get wet. The folks at Threadsmiths, an Australian company that's got their hands on a technology that works surprisingly well: it repels liquid. You can literally pour a glass of water on a Threadsmiths t-shirt and it'll come splashing off. Drop drips of water on Threadsmiths' material on a flat surface and that water will bead up. At first it seems like magic – but it's very real. And really quite awesome, as well.
The first shirt being sent out by Threadsmiths goes by the name "The Cavalier" – that's what we've got here. While we expected the shirt to either be a bit crunchy or less-than-soft to the touch, it's neither of these. It's just as soft as any other standard t-shirt in our closet – 100% cotton and ready to roll.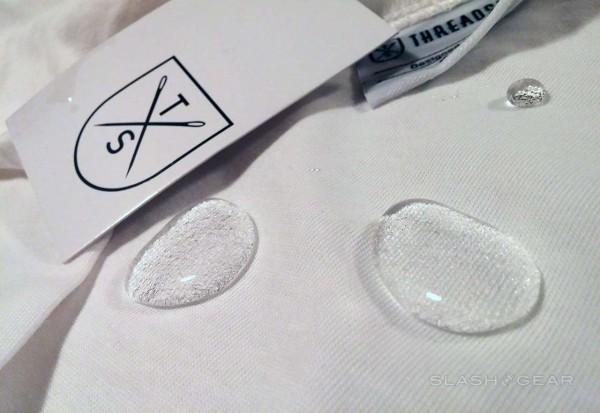 Threadsmiths' "water-fearing" nanotechnology, woven into the shirts' material themselves, isn't temporary. Unlike hydrophobic sprays you'll find sold by odd shops around the world, Threadsmiths technology is part of the fabric. It's there for the long haul.
How does it work? To be entirely honest, I'm not entirely sure. Threadsmiths suggest they "emulate the natural hydrophobic properties of the lotus leaf." There are "no dangerous chemicals," and no aerosol applications – nothing here that'll ever be unsafe to touch your skin.
The one thing Threadsmiths do say about the tech is that they use a nano-tech that minimizes the surface area dirt and/or water are normally able to adhere to. With next to nothing to attach to, water (and dirt) basically slide right off the shirt.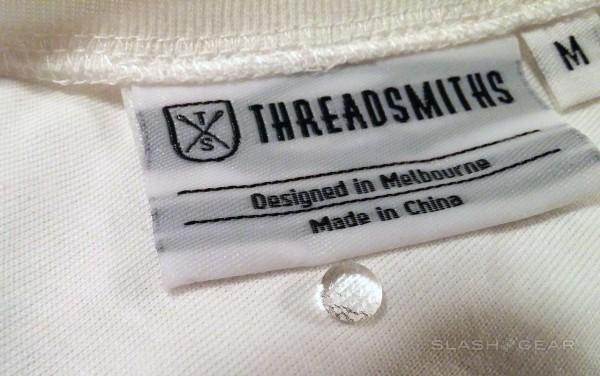 One odd detail in this shirt specifically is the tag – it's not treated with the same process Threadsmiths use on the rest of the shirt. So if someone pours a bottle of soda pop down your neck, prepare to remain just a tiny bit uncomfortable – other than that, you'll be in the clear.
You can wash this shirt just like you normally would – by hand or by machine. If you wash it and only ever rack-dry it, you might find it wet. if you tumble dry at normal to low heat, the shirt will retain its water repellency.
Easy as pie. Pie which will never stain your shirt again. You can get this shirt in three styles – Mens, Womens, and Kids – all for $65 AUD right this minute (that's around $57 US dollars).