The publicity campaign for The Hunger Games: Mockingjay Part 1 is in full effect, bringing on viral content with extremely high quality. Most striking thus far has been the collection of massive images provided to the press. What we've seen so far includes mainly portraits – beastly, humongous posters of the characters that'll appear in the film.
Today's treat is a set of photos of the "Rebels" from District 13. There aren't any surprises here, but we're certainly glad to see these dressed-up heroes in all their glory nonetheless.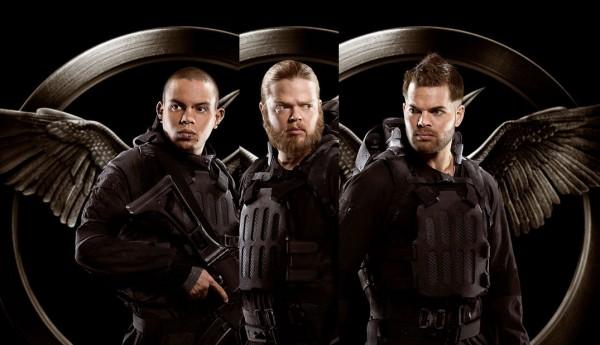 Above and below you'll find large – but not full size – photos. When Wired's 24-hour exclusive on the images is up, we'll be able to provide you with larger images. Much, much larger.
Stay tuned to THIS POST to find the largest versions of these photos available on the internet as soon as we're allowed to post them.
Meanwhile you'll have tame-sized images of Liam Hemsworth as Gale, Natalie Dormer as Propaganda Documentary Director Cressida, Evan Ross as Cressida's Assistant Messalla, Wes Chatham as Castor, Elden Henson as Pollux, and Mahershala Ali as Katniss' bodyguard Boggs.
For more Hunger Games, have a peek at the timeline below. We'll be following through with this film until the end. The Hunger Games tag portal is now live.
UPDATE: far, far larger images are now available here. These are 3000 pixels tall – fully prepped for your smartphone or tablet screen.