Hulu Live TV launches to go head-to-head with YouTube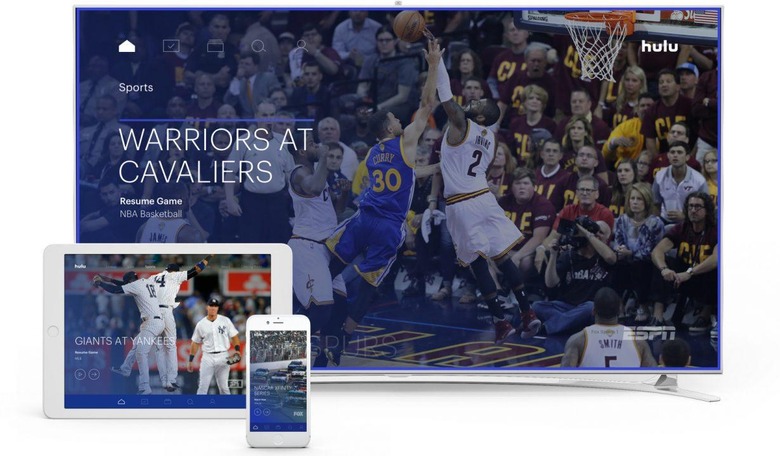 Hulu has decided to go head-to-head with YouTube and other streaming services that are now offering what can be described as "light" cable subscriptions. Today Hulu announced the launch of Hulu Live TV, a new paid subscription service that offers around 50 channels for live streaming. Hulu's price is similar to what YouTube is asking for – $39.99 per month to start – but it's hoping that a few key features will make it stand out from the competition.
Perhaps most importantly, Hulu says that it's the "only pay-TV service to offer live and on demand channels, original series and films, and a library of premium streaming TV shows and movies, all in one place." A subscription to Hulu's $7.99 streaming tier is included in your $40 monthly fee, meaning that you can both stream live TV and watch the rest of Hulu's on-demand content as well.
So, what exactly does that $40-per-month fee get you? There are a little more than 50 channels in all – displayed in the graphic below – and that line up includes some heavy hitters like ESPN, NBC, CBS, Fox, ABC, Disney, and Food Network. It's not surprising to see channels from those major networks in the line up, as Hulu is under joint ownership from many big cable companies, including 21st Century Fox, Time Warner, Comcast, and Disney.

Aside from those channels and a subscription to Hulu's on demand service, you'll get 50 hours of cloud DVR, the ability to create as many as six different profiles, and finally, two simultaneous streams per account. If you need more than that, Hulu has you covered with optional add-ons.
For instance, you can upgrade to Enhanced Cloud DVR for an additional $14.99 per month, which gets you 200 hours of storage as well as unlimited simultaneous recordings and the ability to automatically record shows that you've added to your favorites list. Beyond that, you can upgrade to unlimited screens for another $14.99 per month, or get both Enhanced Cloud DVR and unlimited screens for $19.99 per month – a much better deal if you know you'll need both. Finally, you can add Showtime to your live streaming line up for $8.99 per month.
Hulu Live TV is entering into beta today, with no word on when, precisely, it will go into full release. One major advantage Hulu Live TV has over YouTube TV is the fact that this beta is going live across all 50 US states, while YouTube TV is only available in a small number of major metropolitan areas. You can sign up for the beta by checking out the source link below, but sure to stop by the comments section and let us know which streaming service – if any – you'll be going with.
SOURCE: Hulu