Hulkbuster high chair makes dinner time unbeatable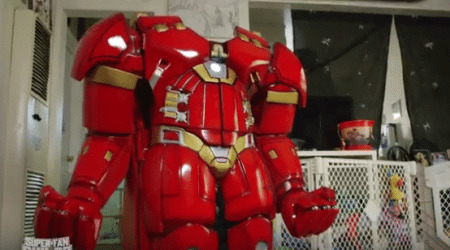 There are a few different teams out there that spend their time creating fascinating versions of popular fictional items and movie props, and one such team is the folks behind Super-Fan Builds. We previously saw them create a version of the Batman tumbler vehicle as perhaps the most unique stroller ever, and now they're back with another build for a toddler — this time, though, they've set their sights on Iron Man, specifically on the giant Hulkbuster suit.
The Hulkbuster is a giant suit designed to, you know, bust the Hulk, and in the case of this build it opens up to reveal a high chair for feeding a toddler. It was made for Natasha, a fan of The Avengers and Iron Man and a mother to a young child.
The builders who are part of Super-Fan Builds team took a regular high chair and turned it into a reinforced, massive Hulkbuster chair. This involved welding on a steel frame onto it, adding rolling wheels, sculpting the main Hulkbuster suit, and more.
You can see the build process happen part by part in the video above, but the ultimate result was a fantastic rendition of the Hulkbuster, one that was as functional as stylish and, likely, the most intimidating thing to be found at the dinner table.
SOURCE: Gizmodo