Batmobile stroller: a miniature tumbler replica for toddlers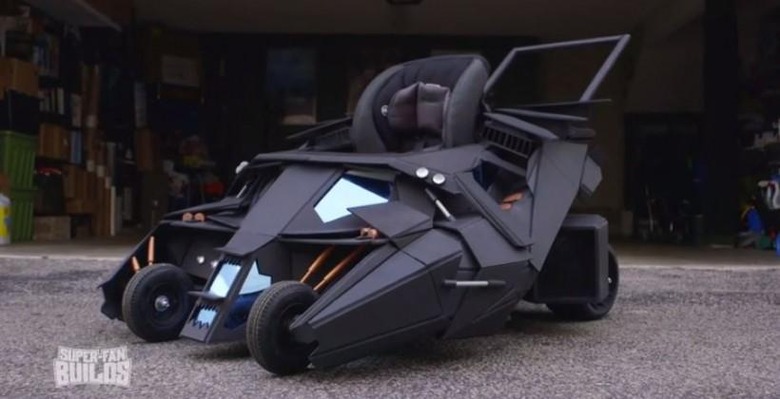 We've seen different replicas of movie cars, including the Batmobile, some of which have been more functional than others. Sometimes you have to think a bit smaller, though, when it comes to a child with a love of Batman, the latter of which being the inspiration for the latest Super-fan Builds project: a Batmobile baby stroller. It is modeled after the Batmobile tumbler vehicle complete with all the sharp angles and beastly base, and includes things like a steel frame for reinforcement and, of course, a handle for the parents to push.
The idea for a Batmobile baby stroller came from a fan, who pointed towards her young son with an endearing fondness for the caped crusader. The folks at Super-fan Art set out to create it, making first a 3D replica of the Batmobile tumbler and then a miniature paper model of the final stroller.
Once that was all in place, the 3D model was used to machine cut individual slates that were then manually heated and formed into the shell for the Batmobile stroller. A child's car seat was also used, being nestled in the center where the roof would ordinarily be, providing both safety and a comfy place to roost.
No detail was left unturned, with glass windows, "lights", exhaust residue, shocks, and more decking it out. Be sure to check out the video above to see its construction in action, then check out the timeline below for other Batman news.