Huawei P20 Pro and P20 hands-on: Triple Leica lenses and AI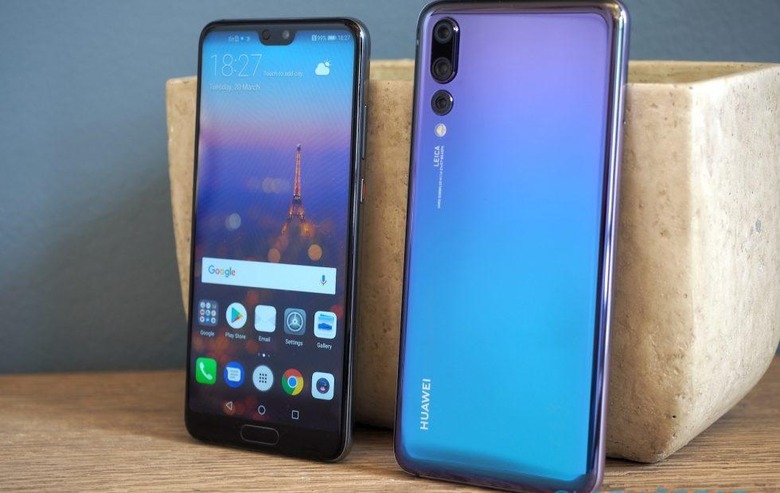 Huawei is bringing color back and baking AI into its camera, with the P20 Pro and P20 Android phones officially unveiled in Paris today. Latest additions to the P-series, the Oreo duo represent another collaboration between the Chinese phone-maker and camera company Leica, not to mention being the most colorful devices we've seen since the Nokia Lumia days.
Huawei's flagship finish has been called "Twilight" but, rather than spangly vampires, it has a graduated paint job on its glass back that runs from purples to blues. If it's a little too much for your tastes, the P20 also comes in black, champagne gold, pink gold, and midnight blue, while the P20 Pro will be offered in black, midnight blue, and pink gold. Certainly, I'm all for more color options than the black/silver/gold most smartphones stick to, though expect to be polishing Huawei's handsets frequently as they're voracious fingerprint and smudge magnets.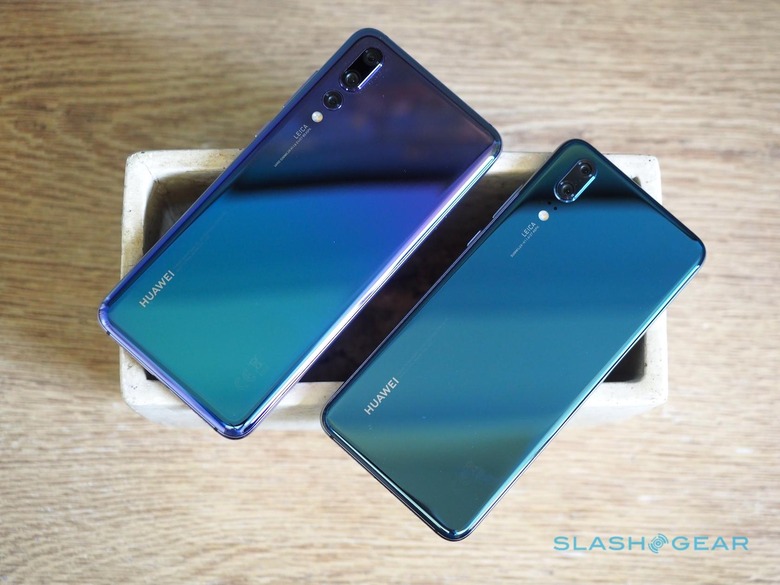 Of the two, the Huawei P20 Pro is unsurprisingly the more interesting – and higher-spec'd – phone. It's fronted with a 6.1-inch, 18.7:9 aspect OLED touchscreen running at 2240 x 1080 resolution. The P20, in contrast, gets a slightly smaller 5.8-inch LCD screen, at 2244 x 1080 resolution. Like the iPhone X, there's a notch in the upper section of each display so that Huawei could accommodate the various front-facing sensors.
However, figuring that's a matter of taste, Huawei allows you to hide the notch by default, if you so prefer. That way, you get a flat upper edge, though at the sacrifice of a little overall resolution. The P20 Pro's notch is a little narrower than that of the iPhone X, though still wider than the cut-out on the Essential Phone.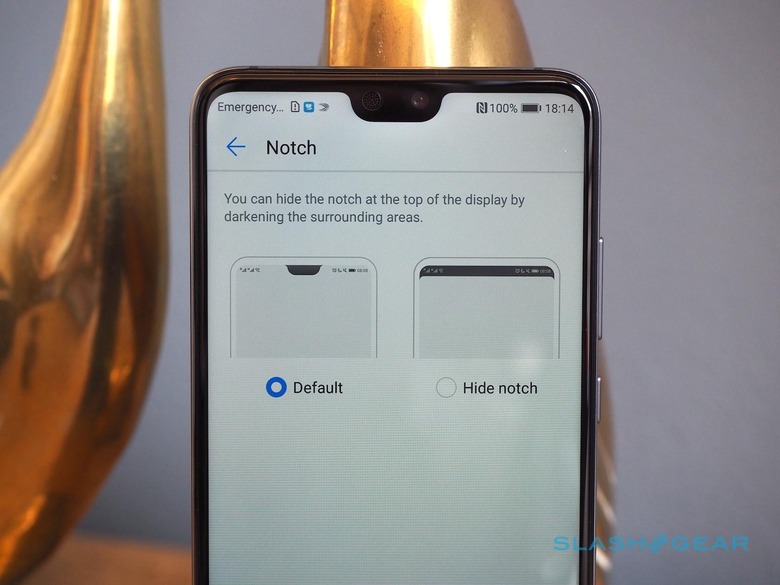 As you'd expect, Huawei has taken advantage of that particular design conceit to shrink down the bezels. Not entirely, though: the P20 Pro and P20 each their fingerprint sensor on the front, rather than on the rear as has become the trend of late. Huawei says that's a decision based on user preferences, and it sweetened the location by adding a smart navigation mode. Rather than on-screen Android keys for home, back, and the app-switcher, you can have different combinations of long-press and such on the fingerprint sensor to do that instead.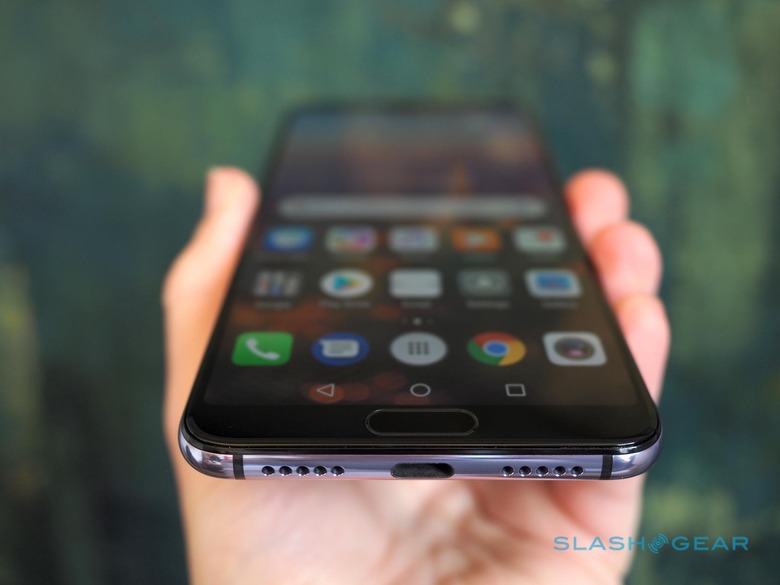 Inside, both phones use Huawei's Kirin 970 chipset. The P20 Pro pairs it with 6 GB of RAM; the P20 with 4 GB. Both have 128 GB of storage, a USB-C port, WiFi a/b/g/n/ac and Bluetooth 4.2, and no 3.5mm headphone jack. The P20 Pro is IP67 water and dust resistant, while the P20 makes do with IP53 splash-resistance.
The P20's 7.65 mm thick body accommodates a 3,400 mAh battery. The P20 Pro sizes that up to 4,000 mAh, in a 7.8mm thick chassis. Huawei is keen for you to remember that those batteries are bigger than what the Galaxy S9 and S9+ offer you, respectively, while also being slimmer. Of course when each phone is in your hand, it's probably the cameras that you're thinking about, not the heft.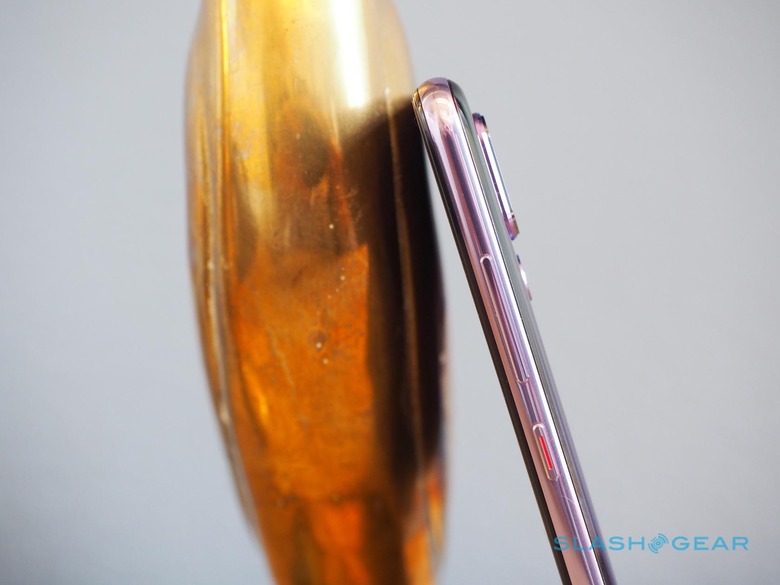 Huawei has been chasing a strong camera message for some generations of smartphone now, and the P20 Pro and P20 are no different. This time around, the argument is that, while you can have the best camera hardware, without the software and advanced camera AI to go with it, you're missing out. You can't, Huawei points out, be a master painter merely by having the best tools.
The Huawei P20 gets an all-new Leica dual camera, therefore. There's a 12-megapixel RGB color sensor with f/1.8 lens, and a 20-megapixel monochrome sensor with an f/1.6 lens. The RGB sensor has 1.55um pixels, each 61-percent larger than those of the iPhone X, and 22-percent larger than what you find in the Galaxy S9's camera.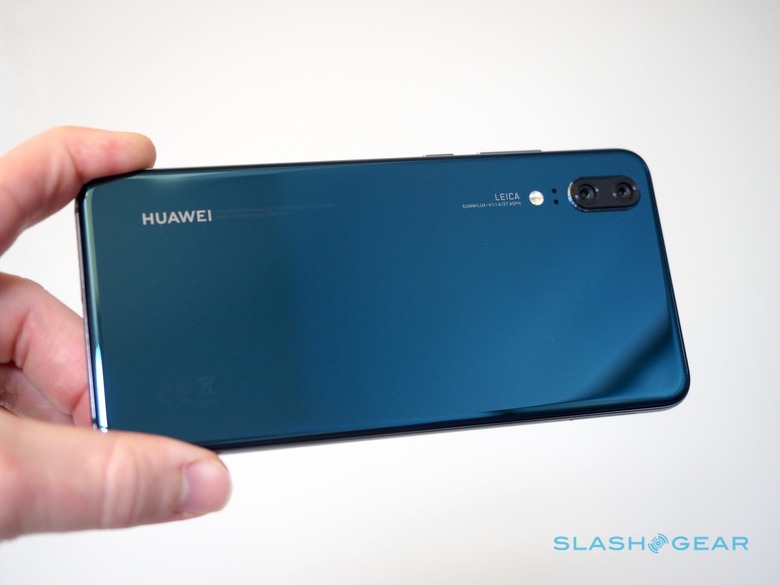 More complex still, the Huawei P20 Pro has a Leica Triple Camera. Its RGB color sensor is 40-megapixels and f/1.8, while its monochrome sensor is 20-megapixels and f/1.6. It adds in an 8-megapixel telephoto sensor too, with 3x optical zoom or a 5x hybrid zoom based on optic and digital enhancement. Unexpectedly, there's only optical image stabilization on the telephoto camera: none of the other sensors, on the P20 Pro or P20, get OIS, Huawei opting for a software system instead.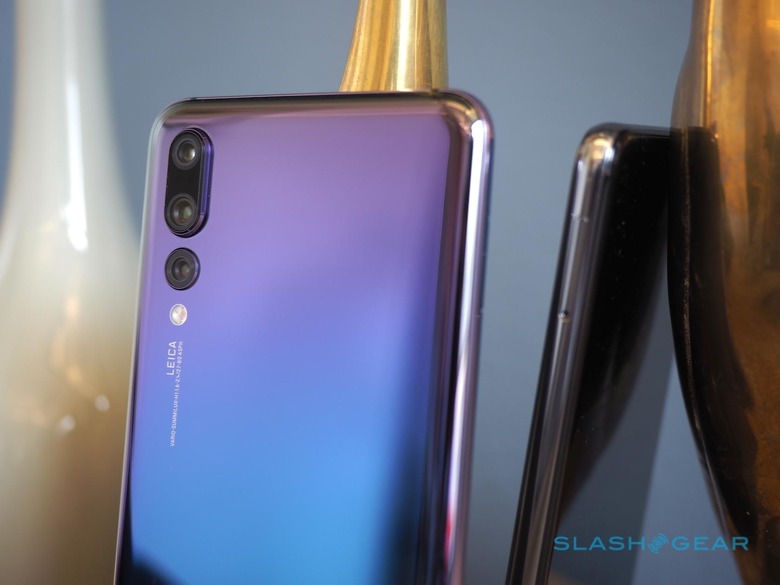 It's called Huawei AI Image Stabilization – or AIS – and as the name suggests it relies on computational photography to smooth out hand-shake. Active in regular still photography, while recording video, and in a handheld long exposure mode, it claims to be able to work in up to four second exposures. The AI applies machine learning frame to frame and edge to edge across a variety of exposures, combining the results HDR-style for a shake-free image.
The P20 Pro's talents don't end there. There's laser autofocus – its transmitter and receiver better integrated into the body of the phone than on previous iterations – that combines with phase detection, depth, and contrast based autofocus. Huawei also includes a color temperature sensor on both phones, a first for the company. That can measure temperature between 1,000 to 10,000 Kelvin.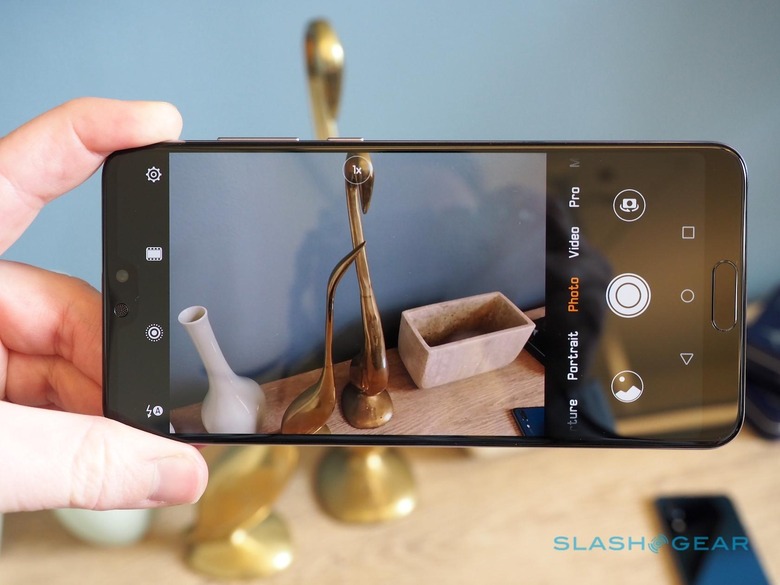 What Huawei can achieve with software runs the gamut from "deeply impressive" to "the jury's still out." On the former, the 4D Predictive Focus is a clear improvement over what rival phones offer, able to use object motion prediction to track and anticipate where moving objects – like swaying flowers – might drift and keep them locked in focus. Ultra Snapshot, which takes the P20 and P20 Pro from screen-off to capturing a shot in 0.3 seconds when you double-click the volume down button, is more than twice as rapid as it was before.
Then there's 2018's must-have, a 960 fps Super Slow Motion mode. Like the Galaxy S9 – but unlike the Sony Xperia XZ2's Full HD – it maxes out at 720p, stretching around 0.2 seconds of action into roughly four seconds of video. You still get a 240 fps mode too, at 1080p resolution.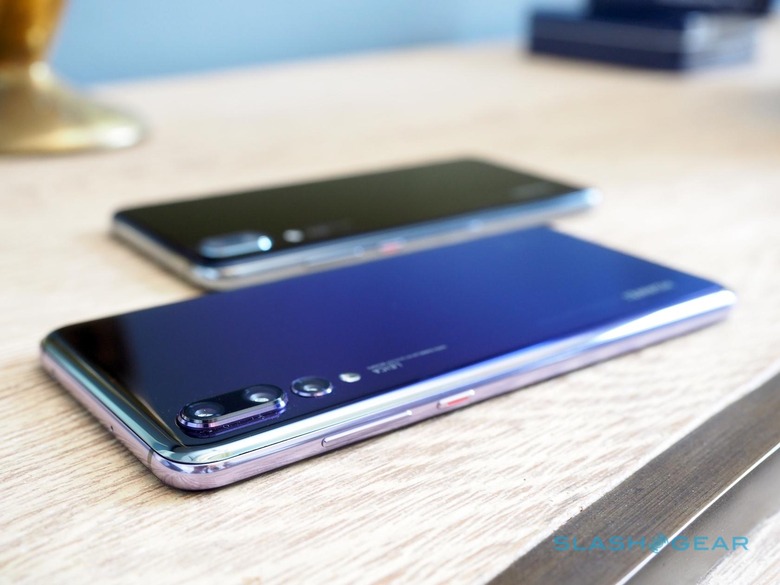 Still to prove its worth is the extreme low-light performance. The P20 Pro, Huawei says by example ,can shoot usable photography at a mere 1 Lux. Max ISO is a DSLR-like 102,400, versus the 6,400 that the Galaxy S9 and iPhone X top out at. Combined with the AIS it should leave Huawei's new phones at the top of their game.
All the same, in my – limited – time with each, I'm not entirely convinced. To be upfront, both the handsets I tried were running pre-final software, and with so much of the P20 and P20 Pro's talents depending on algorithms that could mean a lot changes between that and the version of the smartphones that arrive on shelves. All the same, while many of the sample shots I took in near-darkness were impressive in terms of getting a visible picture, their subjects often suffered fuzzy edges where either shake or a patchy AI couldn't get things crisp.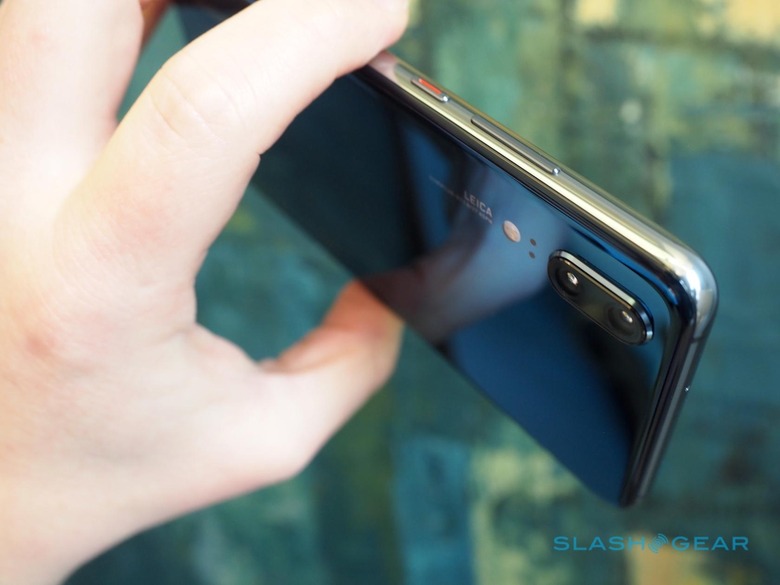 Perhaps it's unfair to hold Huawei to the DSLR-level standard the company is hinting at. After all, these are still smartphone cameras. A big component of the AI play is to help novice users get better results: the Mate series' object-recognition camera mode has been upgraded for 2018, with what Huawei is describing as "AI-driven professional photography skills."
It's like a smart auto camera mode that can recognize a landscape, night screen, or fast movement, but with even more differentiation between scenes. The P20 and P20 Pro promise they can tell the difference between group shots and close-ups; text or other documents; greenery, flowers, or fireworks; sunsets and waterfalls; snow and beaches. It even claims to understand that cats and dogs look different, and adjust its settings accordingly.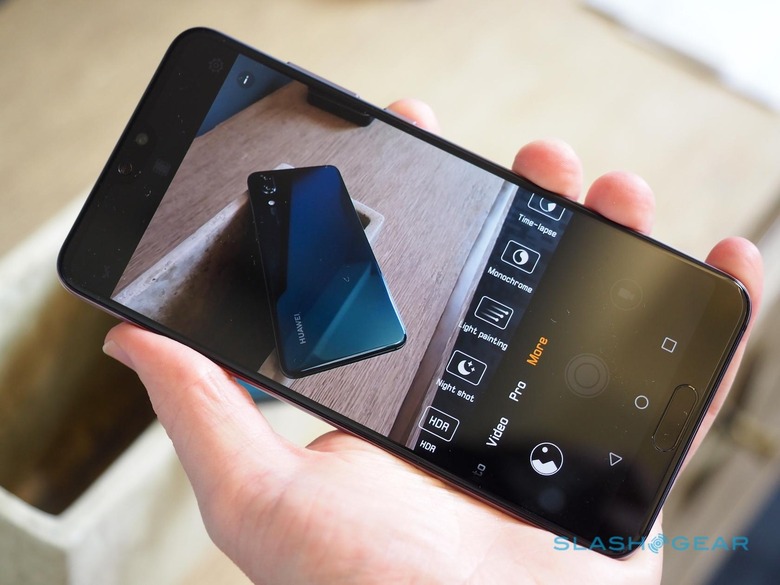 Unfortunately I didn't have time to put all that AI through its paces. Arguably more useful day-to-day, though, are the ways in which the artificial intelligence promises to nudge photographers into making better decisions around composition and framing. If you're shooting a landscape and have the phone tilted, for example, it'll prompt you to move it level; if you're taking a group photo, it might recommend tweaking the framing so that the resulting picture is more pleasingly set out.
You can, of course, turn the AI off. There's a pro-mode with manual control over the various settings, embedded in what's already a fairly complex camera app. There are the faintly ridiculous beautifying tools, too, which range from mildly artificial to outright disturbing in their quest to smooth out blemishes from either the main or the 24-megapixel front-facing cameras.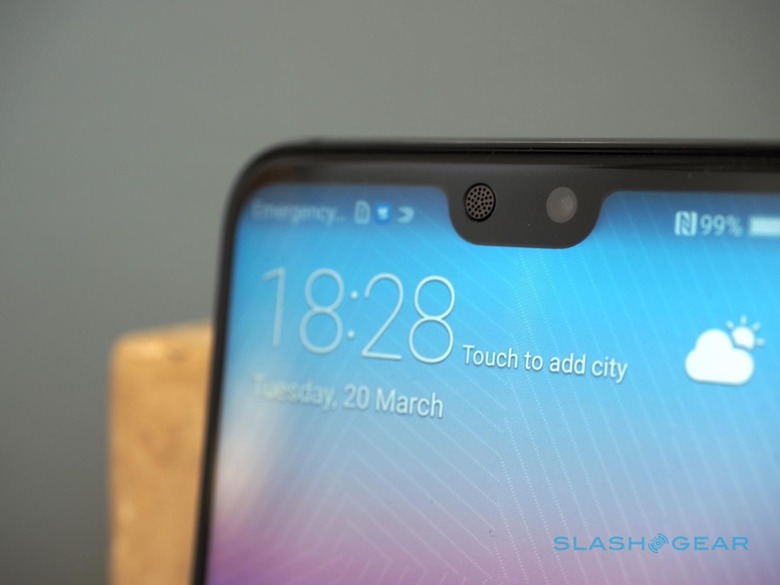 Huawei's other improvements over 2017's P-series phones are relatively minor. There's a new face-unlock system that's billed as being faster than both Face ID on the iPhone X and Intelligent Scan on the Galaxy S9, but it's not as secure as the scanning system Apple uses. You can't, for instance, use the P20 Pro's face-unlock for mobile payments, always a sign that the security has been dumbed down in the name of convenience.
Huawei Share 2.0, meanwhile, gains Mac compatibility, and without requiring drivers either. You can wirelessly transfer content between Android devices, Windows PCs, and macOS now, which is a boon if you've ever tried plugging in an Android handset to your MacBook Pro and wondered why you needed a separate app in which to browse its files.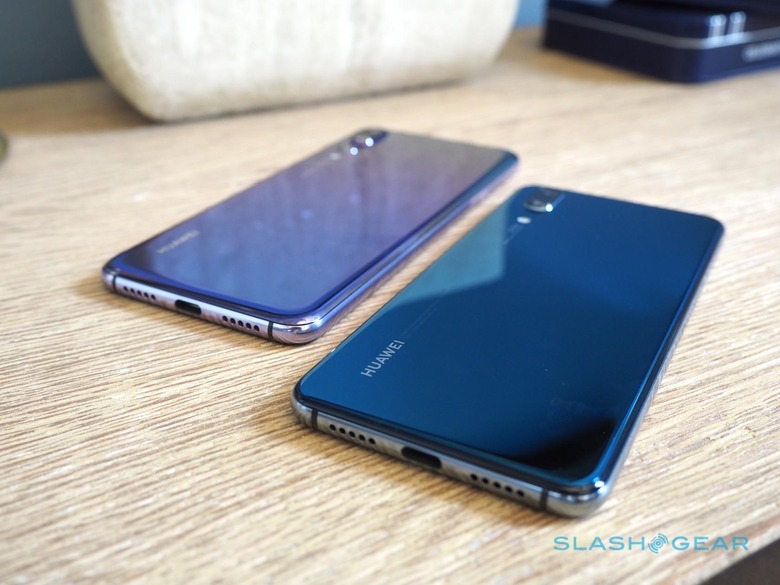 Finally there's Wireless HiFi with HWA (High-res Wireless Audio), a 990 Kbps Bluetooth standard that Huawei is pushing. That, the company points out, is comfortably higher-resolution than the 576 Kbps of aptX HD or the 320 Kbp of an AAC file. Huawei already has commitment from Onkyo, TEAC, Pioneer, Tacsam, Foster, and others for hardware that supports the format.
What it doesn't have, of course, is US carrier support. Indeed, Huawei has no current plans to sell either the P20 or P20 Pro in North America. For the moment, they're headed to Europe among other regions, but the Mate 10 Pro remains the company's focus in the US.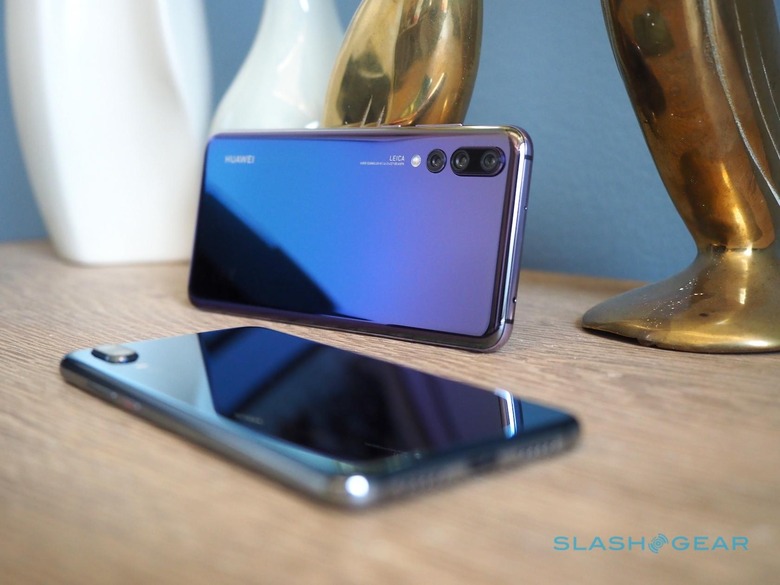 That's both frustrating and understandable. Huawei is deeply controversial right now, the subject of widespread mistrust among lawmakers and regulators in the US for its possible connections to the Chinese government. Its anticipated deal with AT&T fell apart; its arrangement with Best Buy, one of the largest names in retail to stock its unlocked smartphones is reportedly about to expire.
It's a shame, from a consumer standpoint at least, because Huawei has made some fascinating decisions with the P20 and P20 Pro. They represent another facet of the growing role computational photography plays in smartphone cameras, alongside technologies like Google's single-lens portrait mode and Apple's depth scanning. Whether you call that AI, as Huawei does, or see that as more of a buzzword is, frankly, incidental. Here's hoping US smartphone users get a chance to taste what Huawei's AI is cooking at some point, because the P20 and P20 Pro are certainly intriguing.