Huawei MediaPad 10 FHD hands-on and unboxing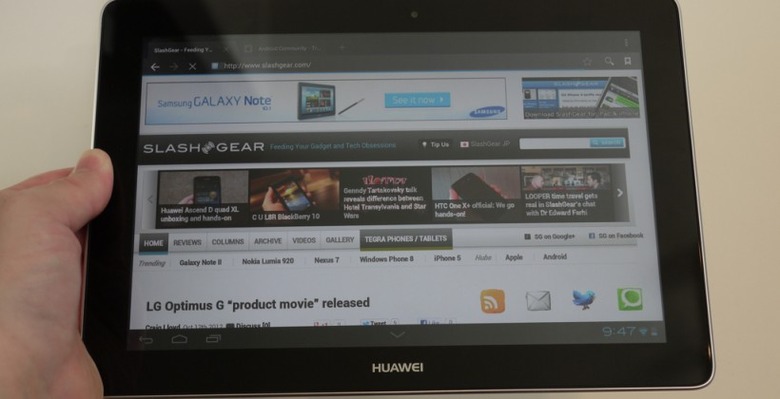 This week we're having a peek at not one, but two Huawei Android devices with quad-core processors that are set to blast away the competition – or so it would seem. This is the Huawei MediaPad 10 FHD quad-core tablet with a 10.1-inch display that's high definition to the max – 1920 x 1200 pixels with a 16:10 aspect ratio on a chassis that just 8.8mm thin. The device is ever so slightly heavy at 580g, but the innards here make up for whatever's lost in heft.
On the back of this device you've got an 8 megapixel shooter with dual-LED flash and autofocus while the front works with a 1.3 megapixel camera for video chat. You've got double channel speakers with Dolby Surround Sound that Huawei promises will blow your face off – and what do you know, it's a surprisingly powerful set of speakers. With a display and speakers combo like this, we'll certainly be working with Google Movies to make it a lovely night in with popcorn to boot.
This tablet works with a quad-core processor made by Huawei itself, here with 1.5Ghz on its CPU clock rather than 1.2GHz as it was on the smartphone. This device works with Android 4.0 Ice Cream Sandwich right out of the box, and measures in at 257.4 × 175.9 width and height. Have a peek at a couple of benchmarks in the gallery below to get an idea of where this tablet stands in the world of Android competitors.
You can get this device in 8, 16, and 32GB internal memory iterations, and you've got 2GB of RAM no matter what you choose. We're working with Bluetooth 3.0 here and have GPS, an Accelerometer, Ambient light sensor, compass, vibration feedback, and a massive 6600mAh batter to keep the device powered all night and day. You've got a 3.5mm headphone jack as well and built-in MIC for sound recording.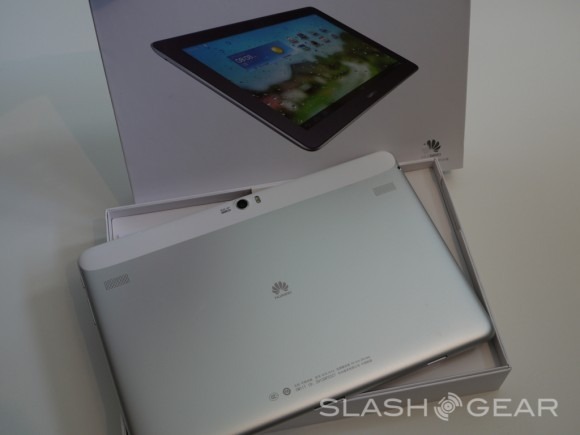 In some areas of the world you'll be able to use this device with 4G LTE – we'll have to wait and see how this adds up as this tablet hits the market soon. Meanwhile we're going to be giving the Huawei MediaPad 10 FHD a full review right here on SlashGear – let us know if you've got any questions as we make this happen, and we'll do our best to work with everything you need to know!