Huawei MateBook X Pro hides pop-up webcam in svelte 3k laptop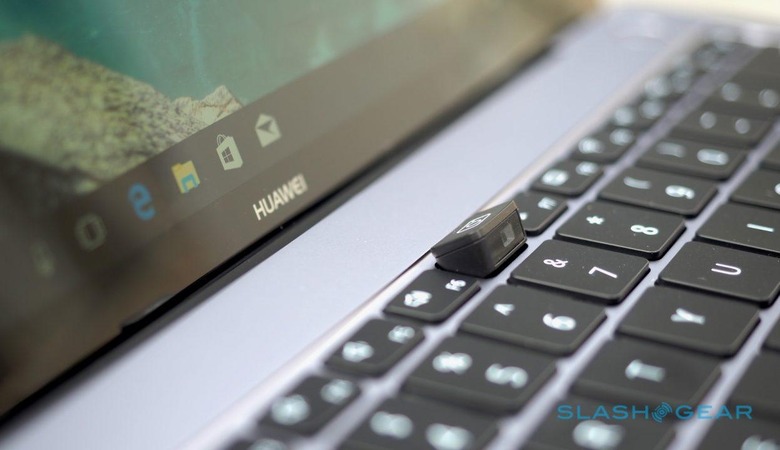 If the sign of memorable design is, like the iPhone X's notch, one aspect everybody recognizes, then the new Huawei MateBook X Pro's is certain to be its hidden webcam. The new notebook, announced today at Mobile World Congress 2018, is the latest in the Chinese company's MateBook range of svelte ultraportables. However, while there are plenty of changes worth noting, it's where Huawei has stashed the camera that's likely to be remembered.
Like Apple's strategy to go with a notched screen for its latest iPhone flagship, Huawei's design decision is one forced by practical demands. The MateBook X Pro puts a 14-inch 3,000 x 2,000 resolution display into a chassis that would normally accommodate a 12-inch screen, slimming the bezels even more than its predecessor. Indeed, the screen to body ratio is 91-percent, a considerable improvement over the roughly 82-percent Huawei claims its closest competitor in the segment manages.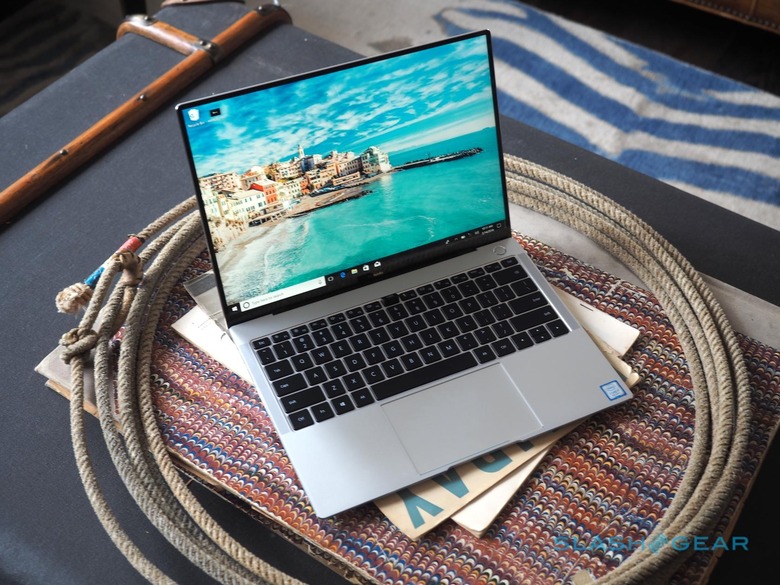 Tiny bezels, however, leave you with a problem: where do you put the webcam? Rather than put it down in the lower corner of the screen, as we've seen other Windows 10 notebook-makers do, Huawei gives it pride of (unexpected) place in the function key row. What looks like a regular button squeezed in-between the F6 and F7 keys actually, when tapped, pops out to reveal a lens.
It's a clever fix, and Huawei is taking full advantage of it. When the camera is retracted, it's completely powered off for privacy reasons. You don't get Windows Hello facial-recognition support, but the MateBook X Pro has a fingerprint scanner and Huawei claims people are more comfortable with that than logging in with their face anyway. Meanwhile, even if you close the lid with the camera popped out, it'll gently close rather than scratch the display.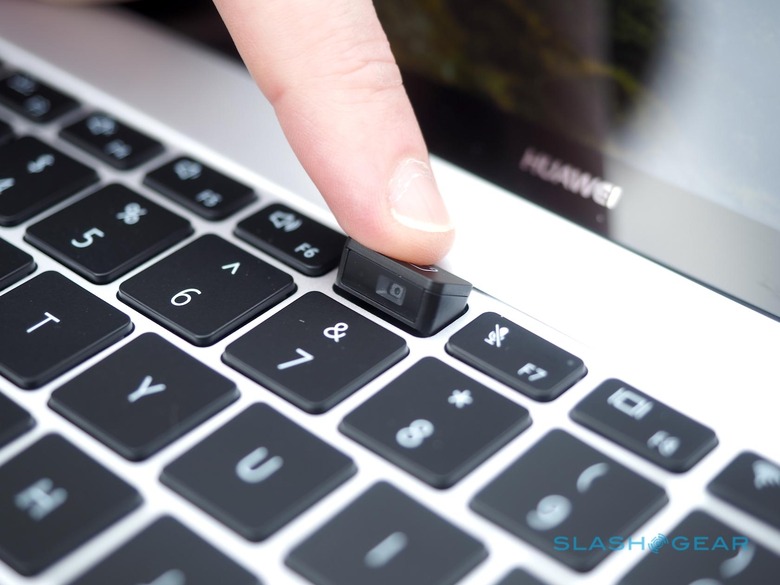 That's good, because it'd be a shame to damage a great touchscreen. As well as the 3k resolution, Huawei is talking up the MateBook X Pro's 100-percent sRGB color gamut and 450 nits of brightness. There's an anti-fingerprint coating, and an eye-comfort mode which tones down the blue light in the name of saving eye strain. Huawei says that its Low Temperature PolySilicon (LTPS) panel also has performance benefits, too, allowing the 57.4 Wh battery to run for 15 hours of web browsing, 14 hours of Office-style tasks, or 12 hours of 1080p video playback.
Despite that, it's a slimline machine. Critics are likely to point to the aesthetic similarities to Apple's MacBook Pro, but at least Huawei has made sure elements like the diamond-cut edges on the aviation-spec aluminum are nicely finished. It's 14.6 mm thick and weighs 2.93 pounds, but there's still space for two Thunderbolt 3 ports, a USB Type A port, and a headphone jack. Huawei will have Mystic Silver and Space Gray color options.
The trackpad is oversized, to cater to Windows 10 gestures, while inside Huawei says it focused on usable performance. So, rather than Core M processors which trade grunt for longevity, the MateBook X Pro will use Intel Core i5 and i7 U-series processors, with NVIDIA GeForce MX150 discrete graphics with 2 GB of dedicated GDDR5 memory. 8 GB of system memory will be standard, and up to 16 GB available.
As for storage, there'll be 256 GB to 512 GB of NVMe PCIe SSD on offer. Thunderbolt 3 external graphics will be supported – though Huawei is leaving that up to GPU-makers – and there's 2nd-generation Dolby Atmos sound with quad-speakers for deeper bass and clearer treble. Four microphones support far-field pickup, allowing you to say "Hey Cortana" from up to 6 meters away.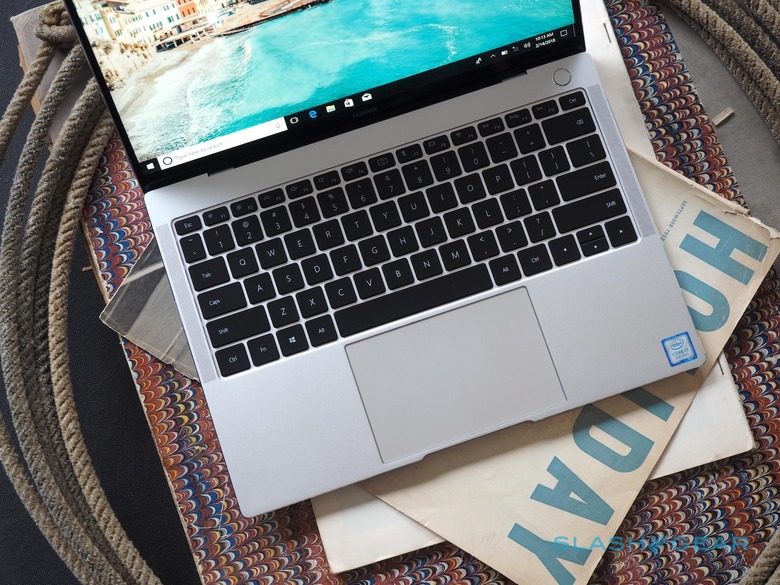 Huawei has opted for Windows 10 Home Signature Image Edition, which means no bloatware and swift performance: figure on 7.8 seconds from turning on, scanning your fingerprint, and resuming your apps, the company says. Indeed, the promise is nothing but the recycle bin on the desktop, though it'll be including a year's Office 365 subscription too. Also in the box is a compact USB-C 65W charger – which should give the MateBook X Pro six hours of battery life in 30 minutes, or a full charge in three hours – and the Matedock 2.0, with VGA, HDMI, and other ports.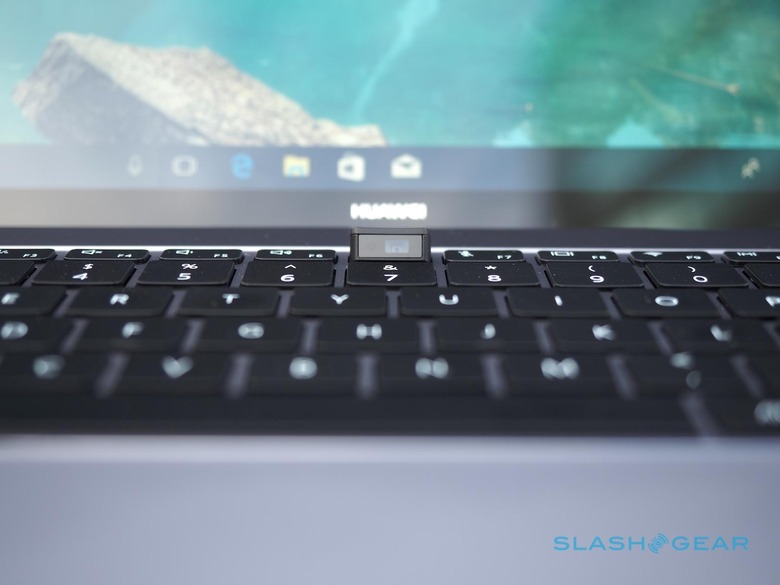 Sadly, what there won't be is an LTE version. Huawei's argument there is that the US market just isn't ready for that, and certainly isn't ready to pay a premium for it. Saying that, the company's expectation is that buyers will go for the higher-spec versions of the notebook when they arrive at the end of April 2018.
Update: We've got pricing for the MateBook X Pro, at least for Europe now. The US dollar pricing below is a direct conversion; we'd expect the actual price to be less than that. There'll be three configurations:
Intel Core i5 / 8GB memory / 256GB SSD / MW150 graphics – 1,499 EUR ($1,847)
Intel Core i5 / 8GB memory / 512GB SSD / MX150 graphics – 1,699 EUR ($2,094)
Intel Core i7 / 16GB memory / 512GB SSD / MW150 graphics – 1,899 EUR ($2,340)