Huawei Mate 10 Pro Review: A great phone jumping through hoops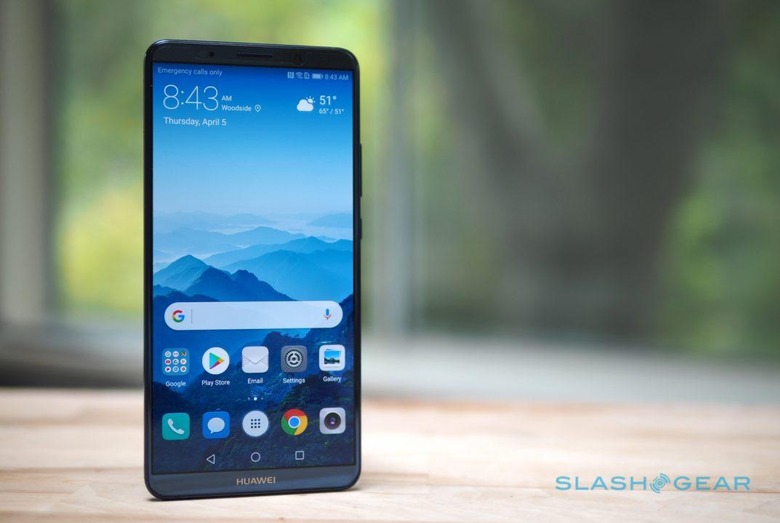 We may receive a commission on purchases made from links.
Huawei has been making a lot of noise this year about its Android flagships, most recently making a pitch to oust the iPhone X or Galaxy S9 from your pocket with the P20 Pro. Weirdly, though, that phone isn't officially coming to the US. Instead, Huawei's flagship here is a different smartphone from a different family: the Mate 10 Pro. It has the same processor as the P20 Pro, but no notch and one less camera sensor. It also comes with a more affordable price tag.
Hardware and Design
Huawei knows how to make a good looking, solid feeling phone. The Mate 10 Pro is fairly sober in its design, but the combination of glass front and back, sandwiching a band of metal, is handsome. Huawei includes a plastic case in the box, too, to help you avoid scratches. The side bezels around the 6-inch display are slim, though their counterparts top and bottom are thicker. Still, Huawei puts the fingerprint scanner on the back, rather than underneath the screen.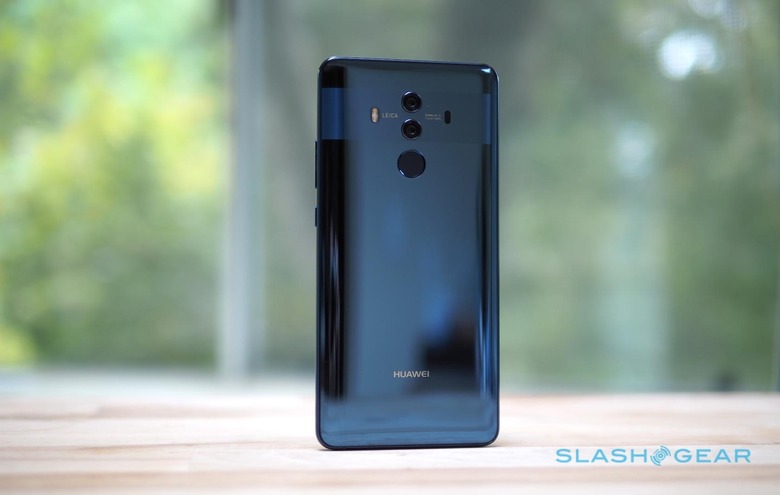 There's a USB-C port but no 3.5mm headphone jack, so you'll either be using Huawei's bundled headphones or the USB-C to 3.5mm adapter it includes in the box. What I didn't expect was an IR blaster. I'm not sure how many people still want to use their smartphone as a universal remote, but Huawei will let you.
The 6-inch, 18:9 OLED screen has an unusual "Full HD+" resolution, 2,160 x 1,080, short of the 2,560 x 1,440 that the cheaper Mate 10 – which isn't sold in the US – offers. It's basically 1080p but with a little extra added on to accommodate the 2:1 aspect panel. By default, Huawei offers a "Smart Resolution" mode which flips it between 1440 x 720 and 2160 x 1080 based on what's on-screen at any point in time. You can turn that off and force either of the resolutions manually if you prefer.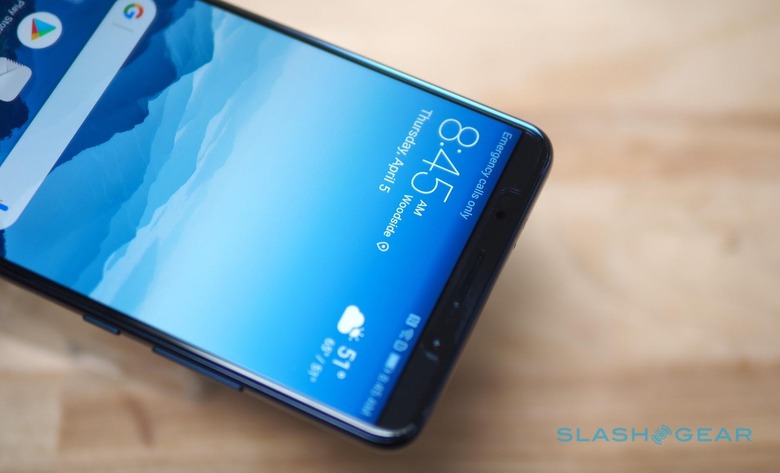 While it may fall short in sheer pixels compared to other Android flagships, Huawei's screen is a good one. It's actually supplied by Samsung Display, in fact, and comes with the inky blacks, bright colors, and good visibility in bright daylight that you'd hope for. The lower resolution may not look good on paper, but it also pays dividends when it comes to power consumption.
That may not be much of a concern, mind. The Mate 10 Pro packs a whopping 4,000 mAh battery, one of the largest in a current smartphone. It's more than sufficient to keep the Kirin 970 processor running all day, with plenty of juice left at the point where rival smartphones are begging for a charger. Huawei pairs that chipset with 6 GB of memory and 128 GB of storage; sadly, there's no microSD slot to add to that.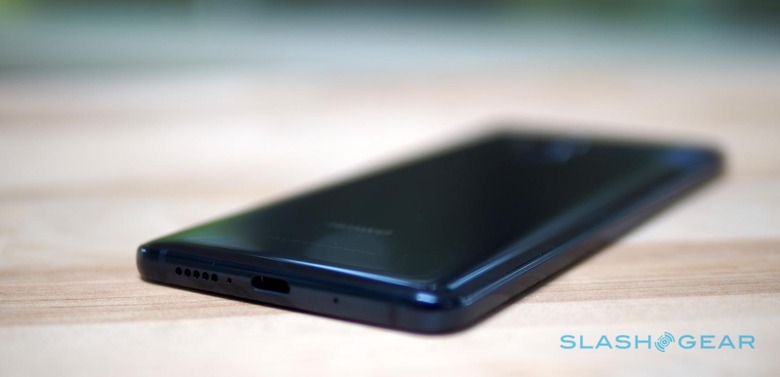 The missing memory card support isn't the only odd omission. Huawei has made its phone IP67 water-resistant, which is great, but there's no wireless charging support. Instead you get fast wired charging, and there's a 5V "SuperCharge" adapter in the box that can deliver up to the maximum 5A at 4.5V the Mate 10 Pro can handle.
Android, EMUI, and the NPU
The Mate 10 Pro uses Android 8.0 Oreo, though Huawei can't quite bring itself to leave the OS alone. So, on top of it you get EMUI 8.0, and while that's improved over earlier iterations, I'm still not convinced it's necessary. Rival phone-makers seem to have wised-up to the fact that users are leaning toward as pure, unmodified a version of Android as they can get, and EMUI is nothing like that.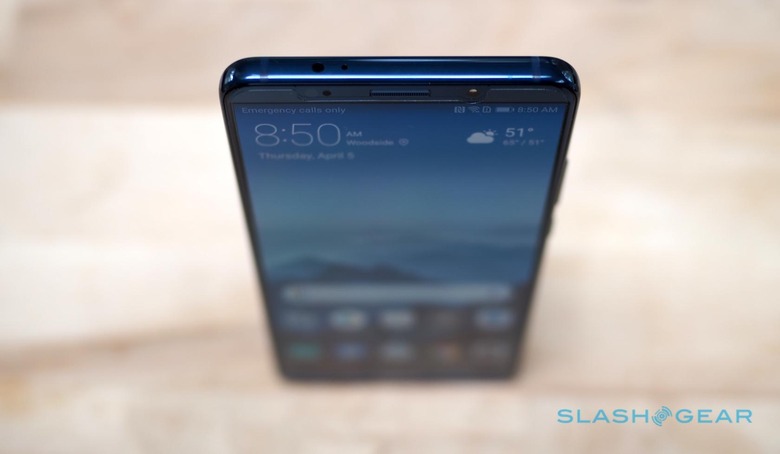 There are hints of iOS which sit awkwardly with Android's default UX. At best, they just look odd; at worst, their attempts to make the interface more straightforward simply forces you to make more taps to actually get to the function you want. The gestures added for things like screenshots and split-screen mode proved awkward to enact.
Huawei's other big pitch with the Kirin 970 is the NPU, or "Neural Network Processing Unit": it's the company's play in the terribly fashionable world of smartphone artificial intelligence. As the company tells it, the NPU's presence can help the Mate 10 Pro achieve 50-percent higher performance and 25-percent better power management in AI-related tasks.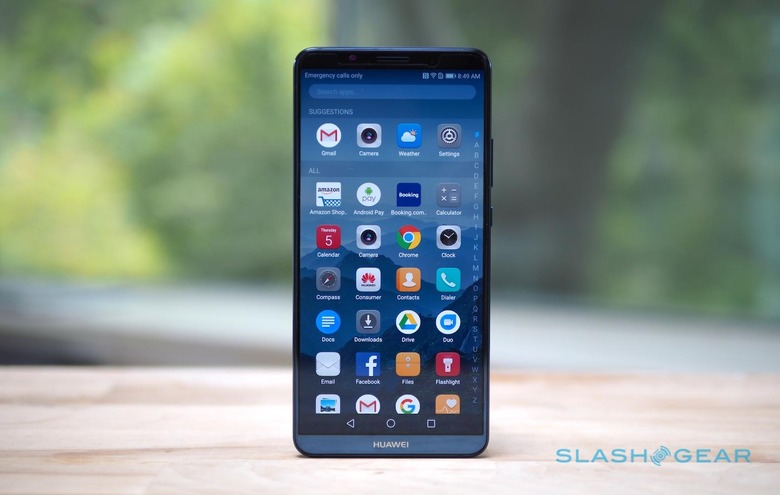 Question is, of course, just what counts as an AI-related task? Microsoft's Translator app is preloaded as one example, dipping into the NPU for on-device conversion between languages. It's certainly swifter than waiting for cloud-based services to translate typed text, voice dictation, or snapshots of foreign menus from the camera, though as always the accuracy isn't going to make you a convincing polyglot.
Other than that, though, the NPU is basically... there. Huawei promises it's doing something, not to mention just waiting to be tapped into by third-party app developers, but as with most AI boasts in the smartphone space it's more a case of potential over anything practical today. That is, aside from in one area.
Camera
Bad news: the Mate 10 Pro doesn't come with the triple camera array of the freshly-announced Huawei P20 Pro. Instead you get two cameras on the back, Leica-branded, and using the NPU for switching between multiple scene modes using image recognition. The theory is that, when you point the Mate 10 Pro at a landscape, or a sunset, or food, or anything else it's been trained to recognize, it can automatically switch to the correct mode without you having to tweak.
It works surprisingly well, in fact – a small icon down to the lower right of the preview screen shows what the Mate 10 Pro believes to be the scene type – though even if it didn't you can override it manually. Alternatively, there's a Pro mode in which the various settings are laid bare, bypassing the scene modes altogether. Avid photographers will be pleased.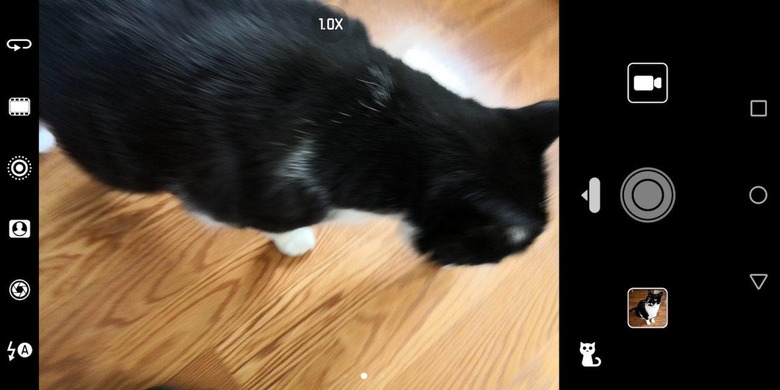 That's because the Mate 10 Pro's twin cameras are rather special. The first is a 12-megapixel, f/1.6 RGB color sensor with optical image stabilization; the second, a 20-megapixel, f/1.6 monochrome sensor. Combined, you get photos with the rich contrast and detail of the monochrome camera and the great colors of the RGB camera, together with a 2x hybrid zoom. Alternatively, you can use the monochrome camera on its own, for some really pleasing shots that rise above the regular black & white setting other phones offer.
There's a bokeh mode which actually delivers photos that don't look like they've been through the post-processing wringer, though it's probably best to avoid the beauty mode if you don't want to look like a waxwork. The 8-megapixel front camera has a portrait mode too, though like most examples it isn't especially effective and can get confused around the edges.
Wrap-up
Huawei is having a tough 2018. The Mate 10 Pro was meant to be its triumphant debut with a flagship on a US carrier: instead, AT&T pulled out at the last moment, after pressure from the government. Since then, there've been whispers of retail partner Best Buy getting cold feet too. It's a string of bad luck that, honestly, the phone itself doesn't deserve.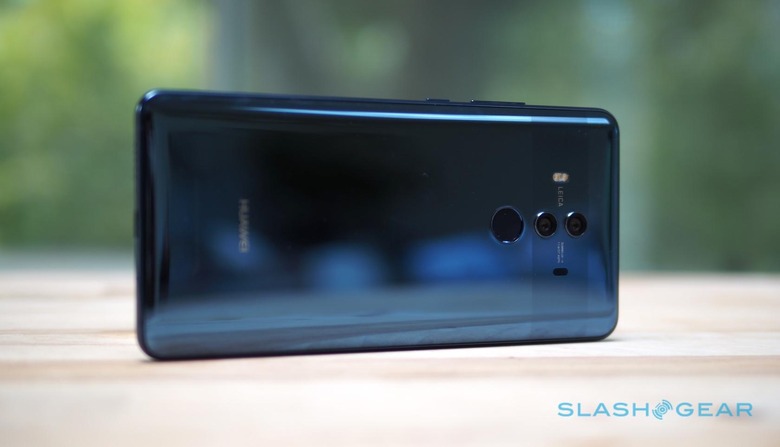 For a start, you're getting a whole lot for the price. The Mate 10 Pro may have launched at $800, unlocked, but currently it's available for $649.99. That undercuts big names like the Galaxy S9 and iPhone X. It'll work on AT&T and T-Mobile in the US, though not Verizon or Sprint.
Some of the Mate 10 Pro's "headline" features still feel like gimmicks: the NPU is under-utilized, and frankly the phone would be better were EMUI left off altogether. However the core of it is admirably solid: the Kirin 970's performance, the excellent cameras, and the long-lasting battery. More capable Android users will probably want to oust Huawei's software tweaks for a different launcher, but everybody should be able to appreciate the combination of affordability, speed, and some great photography.
SlashGear uses affiliate links, and if you buy a product sometimes we'll get a percentage of the sale