Huawei leaks P30 camera details before its own reveal next week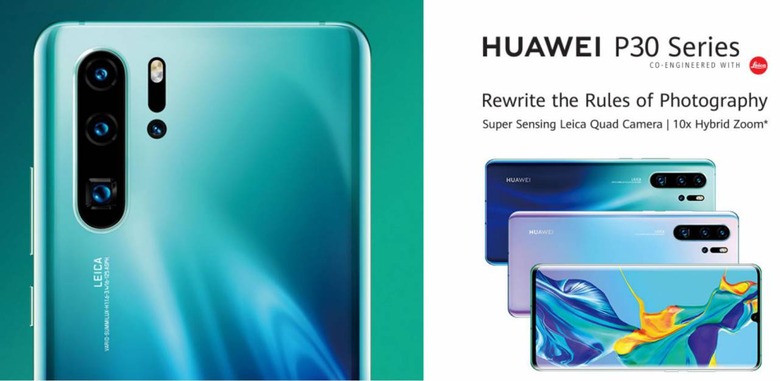 Next week, Huawei is set to reveal its P30 series of flagship phones at an event in Paris. That's all well and good, but there's one problem: the P30 series has been leaked to high heaven already. Even if just a portion of the leaks are accurate, we already know quite a bit about these phones. Details on the P30 series have been leaked yet again, but this time around, it's all Huawei's fault.
A page for an upcoming P30 launch event went live on Huawei's site last night, complete with plenty of marketing blurbs about these new phones. The launch event is scheduled to take place on April 6 at the VivoCity mall in Singapore, with the company offering a free Huawei Watch GT Active Edition – a device that'll likely be revealed next week – and a JBL Clip 2 to anyone who shows up to the event and buys a P30 or P30 Pro.
It immediately became clear that this event page (which is archived on the Wayback Machine) wasn't intended to go live until after Huawei's March 26 reveal in Paris, as it was taken offline shortly after it was discovered by Evan Blass, who astutely asks "It's like, why bother even having a launch?" Indeed, that now-scrubbed page seems to hit a lot of the P30's major talking points, at least as far as the camera is concerned.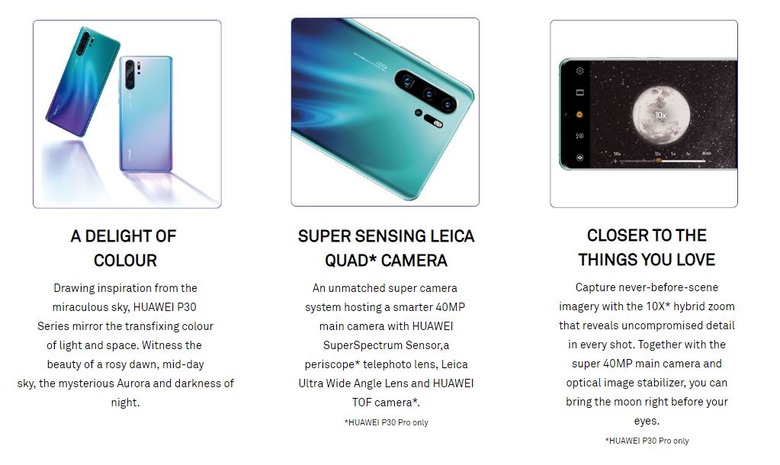 The campaign page features blurbs about the P30 Pro's quad camera, which is comprised of a SuperSpectrum sensor from Huawei, a periscope telephoto lens, an ultra wide angle lens from Leica, and Huawei's TOF camera. There's another blurb dedicated to the P30 Pro's 10x hybrid zoom capabilities, and a couple that center around the P30 series' low-light photo and video chops.
There's even mention of an interesting feature called Huawei Dual-View Video, which allows you to use two of the phone's rear sensors to view wide-angle and zoomed in shots side-by-side. Most of the features highlighted on this page are things we knew about thanks to previous leaks, but that information on Dual-View Video is new. We'll look forward to hearing more about that on March 26, because the blurb Huawei published about it obviously doesn't go into very much depth.
So, there you have it: Huawei is really excited about the camera on the back of the P30 Pro, and it seems that a lot of the company's marketing materials will focus on its capabilities. Huawei's event is scheduled for Tuesday, March 26 at 9 AM Eastern time, and we'll be covering it here at SlashGear as it happens. Stay tuned for more.