Huawei Honor (U8860) Review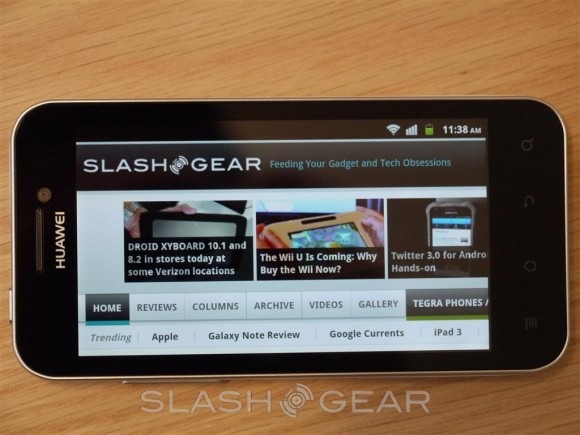 When Huawei sent over their new and soon to be released smartphone set to debut in Asia in Q4 called the Huawei Honor (U8860) also known as the Glory, I was expecting another run of the mill Android smartphone for the budget crowd like their previous devices. I couldn't have been more wrong. The Honor offers a 1.4 GHz processor, Android 2.3.6 Gingerbread, an HDR capable 8 megapixel camera and a huge battery. I quickly realized this was a much better phone than I'd thought. Now that I've had some time with it here's my thoughts.
The complete specs rundown and official release can be found here but I've also got all the details for you. The Honor takes things up a notch from previously released Huawei (pronounced Wha-whey) products and shows that they do in fact have some awesome hardware and great performance to offer the mid and high-end smartphone buyer in this crowded Android market.
Hardware
The hardware and general feel of this device is a definite step up from what we've seen thus far from Huawei. They've provided a bright and crisp 4.0" 480 x 854 resolution display on a thin and not so wide chassis that comes in around 10.8mm thick. Covered in Corning Gorilla Glass it will also hold up to daily abuse. The good stuff comes with the innards and the camera though.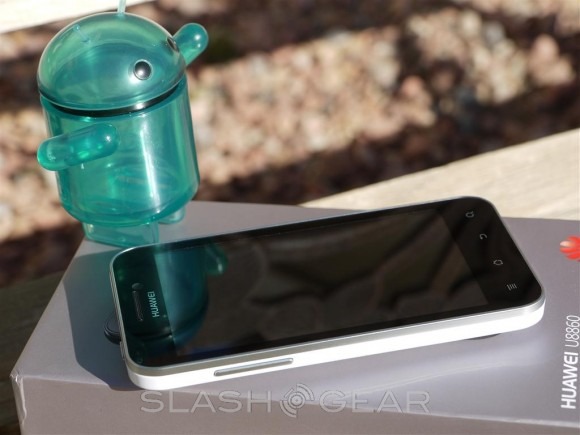 Hauwei's equipped this smartphone with a Qualcomm 1.4 GHz single-core processor, 512MB of RAM (only downfall) and 4GB of internal storage. With micro-SD and micro-USB ports we should be fine with adding additional storage. The good news doesn't end here either. The Honor has an awesome 8.0 megapixel camera on the rear and a much better than most 2 megapixel front camera for video chat. All of this is powered by Android 2.3.6 Gingerbread and a huge 1930 mAh battery under the hood.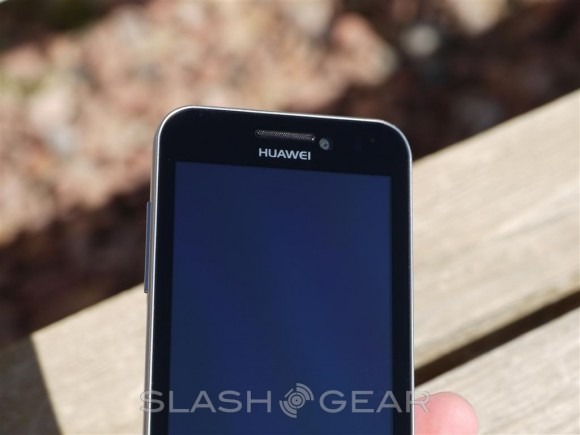 For a device rocking a 4" display the entire phone is small and pleasant to hold. Being average in size compared to most 4" offerings Huawei decided on a thinner and longer screen. The device being so thin actually gives it a very small footprint and makes it seem much smaller than other phones I've recently held. I like this approach and makes it unique but at the same time the thin design made the on-screen keyboard slightly cramped.
The hardware is some of the best I've seen from Huawei and if I had to gauge it I'd say it fits neatly between the superior hardware of HTC and the lightweight plastic of Samsung. The back and battery cover is a thick glossy plastic that feels both lightweight and durable giving it an overall favorable build quality. The call and speaker volume was exceptionally clear and loud too.
Software
Powered by Android 2.3.6 Gingerbread any past experience with Android users will feel at home. Other than a few visual changes with the home screen, launcher, and a few menu's the entire UI is the same. Similar to Samsung's approach they've made a few things better while not tackling the entire OS like HTC does with their Sense UI. We do have a custom home launcher that makes the icons and general scrolling through screens and applications different than we're used to but nothing overly crazy. Performance here was great.
We have a Ice Cream Sandwich style unlock screen and while our unit was running pre-production software the entire build seemed very stable and extremely smooth and fluid. The writing on the lockscreen should be ignored in the video. As far as bloatware apps we have TouchPal Keyboard (that helped on the thin screen), Security Guard, App Installer for third party apps, and Documents to go. Much less than we've seen from others. The video demonstration below will go over the few small changes to the OS including the launcher and their custom multitask/task manager they've included.
Performance
From the video above you can clearly see there is no slowdown or lag present with the Honor. In a world of dual-core smartphones this 1.4 GHz single-core device is the highest end of what we now call a mid-range device — and the performance backs it up. In terms of benchmarks, because we love benchmarks, the Huawei Honor came in quite average although for a stock single-core system the results were higher than expected.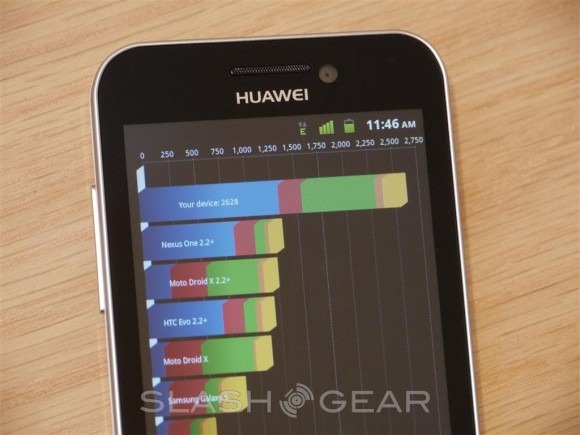 Scoring well over 2600 in 3 different Quadrant Advanced tests that was more than enough for me. I've seen multiple older dual-core smartphones score lower (think Motorola Photon, Droid X2). We also ran Vellamo for good measure and its result has me questioning its validity. Beating every single and dual-core smartphone or tablet available but one. This was quite a concern but I'll just share the results and conclude in saying performance was excellent from gaming to web browsing so take these results as you will.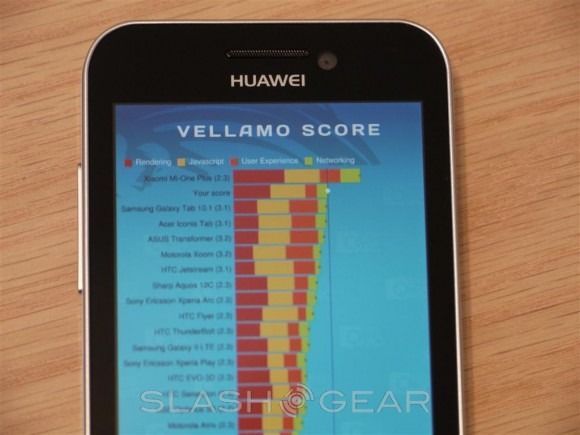 Camera & Battery Life
The battery life has been amazing thus far, putting the Honor up near the top of my list. Having a single-core processor and no overly huge screen the 1930 mAh battery kept this phone running well throughout a single days use. If you want a phone that wont require being attached to a power outlet or car charger this would be a decent place to start.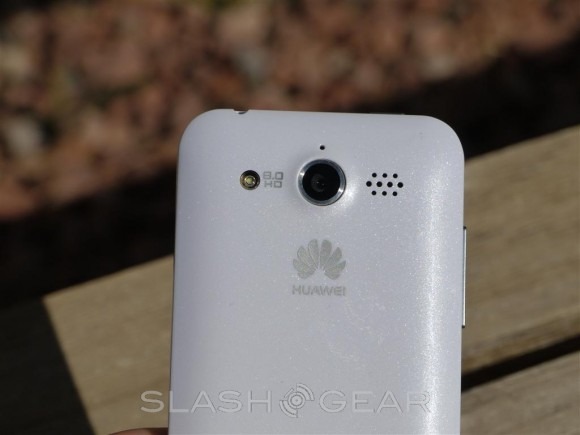 The Huawei Honor packs an 8 megapixel HDR capable camera on the rear with LED flash and for this phone being a cheaper and contract-free smartphone I was extremely pleased with its performance. Most budget devices supply users with a crap camera but that isn't the case here. Its shutter speed puts even the DROID Bionic to shame. Check out this sample photo here with even more in the full gallery below.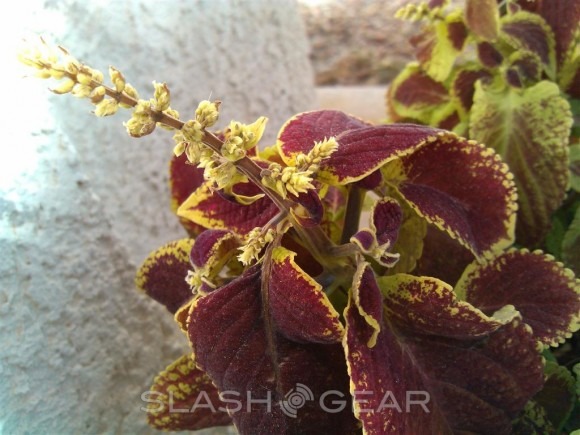 Wrap-Up
Huawei might not be as popular or widely celebrated as the HTC's and Samsung's in the mobile world, but that doesn't mean they shouldn't be. If Huawei continues to put out great hardware like this here phone and the award winning Huawei Vision I see no reason to think otherwise. The Huawei Honor is launching in parts of Asia this month and is said to be coming to Cricket Wireless stateside as the Glory fully unlocked and contract free for $299. This is bringing high-end to the contract free budget smartphone market.