Huawei Ascend P7 Review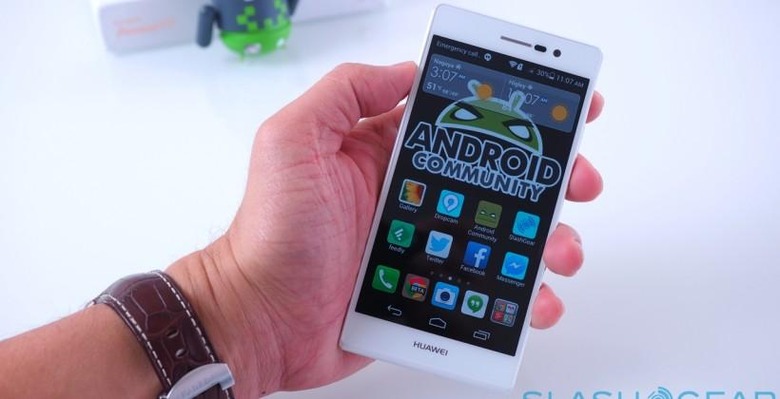 Huawei is hungry. With 2013's Ascend P6, the Chinese firm showed us it wasn't afraid to build a flagship and take on the big names; with the new Ascend P7, here on the SlashGear test bench, Huawei wants to prove that not only can it sit at the table with the key smartphone players, but that it can more than take them on. Eye-catching design, megapixels aplenty, and some Android massage have been Huawei's recipe, but is the final meal worth tasting? Read on for the full review.
Hardware and Design
The Ascend P7's design is familiar for a few reasons. It's clearly a descendent of the Ascend P6, with the same combination of squared-off upper edges and a curved base, though it's larger in all directions at 5.5 x 2.7 x 0.25 inches to accommodate the bigger display.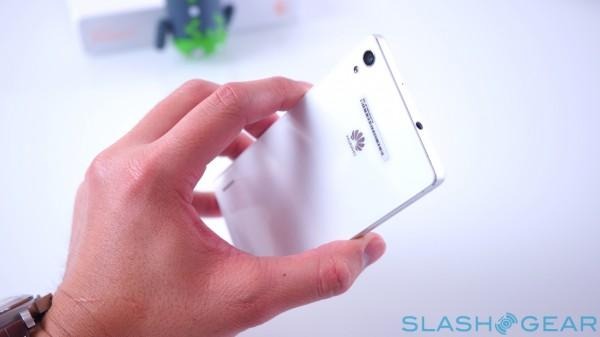 The other reason is the unmistakable similarity to certain other smartphones. Aesthetic comparisons with Apple's iPhone weren't unusual for the P6, and that's unlikely to change for the Ascend P7: the "sandwich" design is most reminiscent of the iPhone from side-on, where the closeness in external antenna bands is particularly striking. From the front, there are elements of Sony's recent Xperia phones.
Huawei, at least, doesn't stint on the construction. Gorilla Glass 3 front and back, aluminum, and a little polycarbonate plastic combine to make a sturdy, flex-free phone that's slim and easy to grip. The volume rocker on the right edge is short, but it falls neatly under the left forefinger, as does the power/lock button under the middle finger. I may have lingering questions about Huawei's inspiration, but I can't criticize its construction, with the P7 feeling better in the hand than Samsung's Galaxy S5.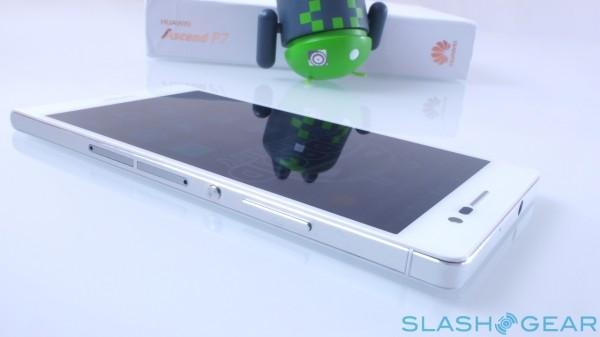 You could be forgiven for thinking the mobile market is a two-horse chip race these days, with Qualcomm's Snapdragon and NVIDIA's Tegra dominating, but Huawei takes a less-travelled route. The Ascend P7 turns to HiSilicon for its Android heart, with a Kirin 910T 1.8GHz quadcore chip paired with Mali450 graphics.
It's paired with 2GB of memory and – a welcome improvement over the 8GB Ascend P6 – 16GB of storage as standard. Of that, we had 11.77GB free out of the box; there's a microSD card slot on the side which, like the SIM tray, needs a pin to open. The unusual "stopper" pin design of the P6 has been replaced with a more normal clip with the Ascend P7.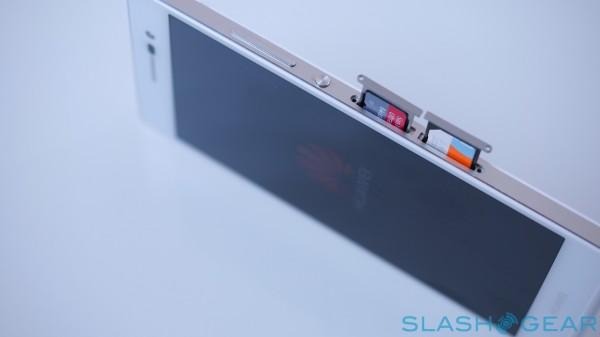 Connectivity includes LTE Cat4 (though not for US carriers), HSPA+ 42Mbit, and GSM/EDGE. There's also Bluetooth 4.0, WiFi b/g/n, and NFC, while a microUSB port is on the bottom edge. Sensors include GPS, an accelerometer, proximity, ambient light, digital compass, G-sensor, and a gyroscope; all par for the course, though we wouldn't have argued with 802.11a or ac. There's a single speaker on the lower left corner of the rear, which can sound tinny compared to other handsets like HTC's One M8.
Display
The push toward bigger and bigger screens is relentless, though Huawei's step up from 4.7- to 5-inches on the Ascend P7 is almost conservative. More welcome is the switch to Full HD 1920 x 1070 resolution from the 720p of before, with the in-cell display now mustering a pixel density of 445 ppi.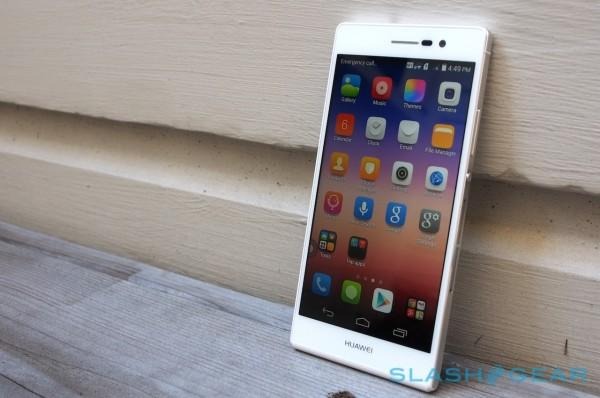 Whether your eyes are actually good enough to see the difference is an argument we'll leave for the opticians. More important is the overall quality, which is a step up from the P6, though still not the best LCD we've come across. At 50-percent brightness things are noticeably dimmer than on, say, the HTC One M8 or iPhone 5s; viewing angles from the side suffer, too.
Crank up the brightness manually and those angles improve, with colors looking richer too. However, that obviously has an impact on battery life.
Touchscreen responsiveness was solid, with none of the occasional smushiness the Ascend P6 could suffer from; a "Gloves Mode" switches it into higher sensitivity for when you're out in the cold. Unfortunately, the increase in size means single-handed use is slightly less straightforward.
Software and Performance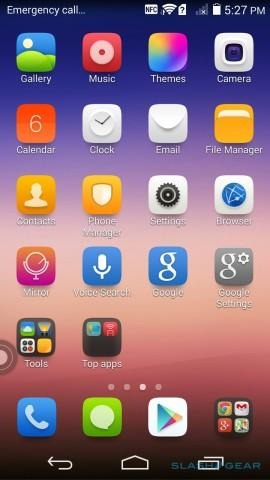 In an age where too many new devices launch running old versions of Android, I have to give Huawei some credit for pushing the Ascend P7 out of the door with 4.4 KitKat. On top of that there's the company's own Huawei Emotion UI 2.3.
Emotion UI has grown up a little since last year's flagship. The fussiness of some of the iconography has been shed, and the interface now feels less like TouchWiz on Samsung's Galaxy range, and more akin to the "squircles" of Nokia's ill-fated MeeGo on the N9. It's an altogether flatter UI, in keeping with today's phone trends.
Android manufacturers love to throw settings options at their custom UIs, and Huawei is no different.
Thankfully the cluttered settings screen in the drop-down notifications bar of the P6 has been replaced with a cleaner version that's easy to switch between on the P7. There's also a "Simple" homescreen UI which pares things back to simple icons.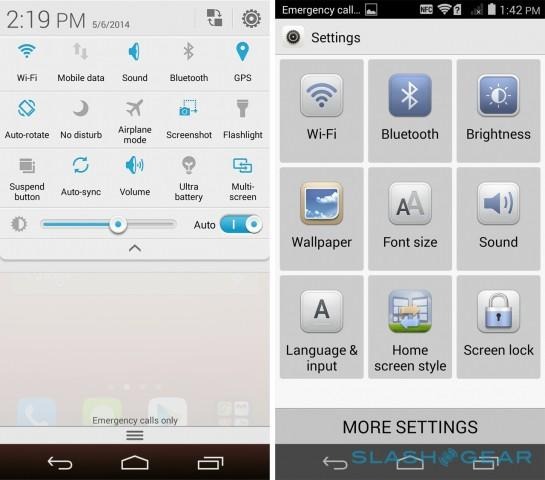 From the drop-down, you get swifter access to wireless settings, screenshots, airplane mode, the flashlight feature, and Huawei's Ultra battery mode for prolonging runtimes. You can reorder them, too, though not replace them with other apps.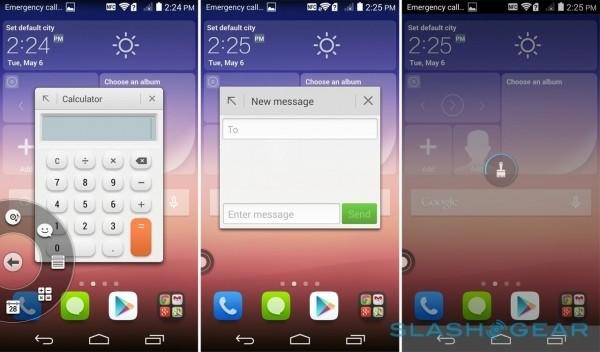 They're part of what Huawei calls its "Smart Assistance" features, which also includes a clutch of motion controls. The P7 can mute when you flip it face-down, for instance, or answer incoming calls automatically when you raise the handset to your ear. They can be useful, though only if you remember they're there, and like so many of these motion-triggered shortcuts I had trouble keeping up with the range of gestures actually supported and what each did.
It's a similar story with the "Suspend button", an odd name for what's actually like a shortcut launcher summoned by a hotspot on the edge of the display. It's switched off by default, but turn it on and you get a two-level radial menu, first offering quick access to the homescreen, locking the phone, and cleaning up the currently running apps to make the most of the current menu, and then a second layer with media player, messaging, note, calculator, and calendar mini-apps that float on top of whatever it is you're currently looking at.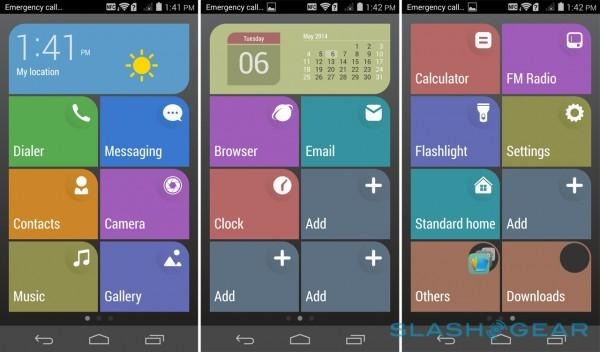 Again, the actual usefulness of that menu proved mixed. The swift access to a new message and the calculator are handy, but I'd have liked to have been able to pull them up to the top menu, rather than have their icons buried a level down. Unfortunately that's not currently possible.
One thing we're particularly pleased to see is Swype, a custom version of which has been created for Huawei and the Ascend P7. There's also a useful Do Not Disturb toggle which mutes all incoming calls and messages unless you've whitelisted the contact. It can be activated manually, or set to automatically switch on and off at scheduled times each day.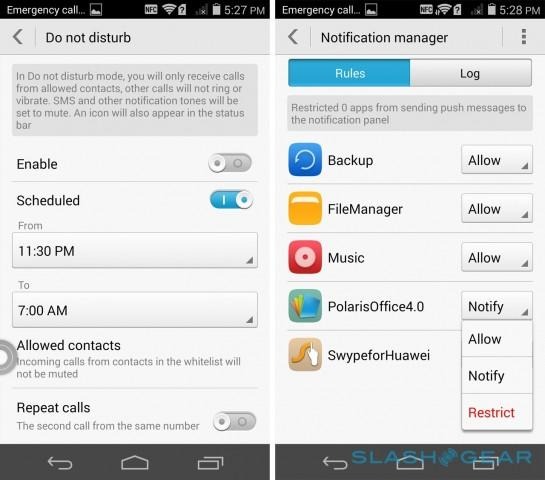 In the SunSpider 1.0.2 test of browser performance (where lower scores are better), the Ascend P7 completed the test in 1,045.4ms. That's considerably slower than the iPhone 5s – which did it in 413.9ms – and worse than the HTC One M8, which took 762.8ms, and the Samsung Galaxy S5, which took 738.2ms.
Synthetic benchmarks are always of mixed usefulness, though we still ran the Huawei through the gamut. It scored a low 6,840 in Quadrant – versus 23,091 for the HTC One M8 – and 25,053 in AnTuTu 3 – compared to 34,633 for the HTC – suggesting either HiSilicon hasn't tuned its chip for benchmarking, or that it's simply slower than what Qualcomm's Snapdragon can achieve.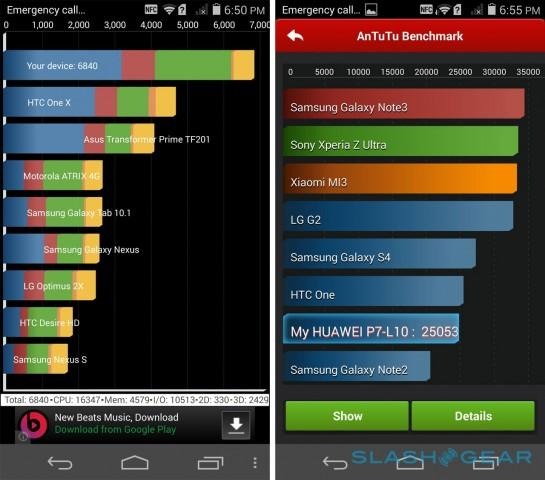 Day to day, our feeling is that the reality is somewhere in-between. Regular use encounters no problems, with the P7 multitasking and running the common apps with no issues. We were able to play Real Racing 3 side-by-side with a One M8, and while the HTC loaded the game a little quicker, it was hard to tell the difference during actual gameplay.
Camera
Somehow, Huawei has managed to squeeze a total of 21-megapixels inside this skinny smartphone. Both front and back cameras have been upgraded, with 13-megapixels on the back and a whopping 8-megapixels on the front.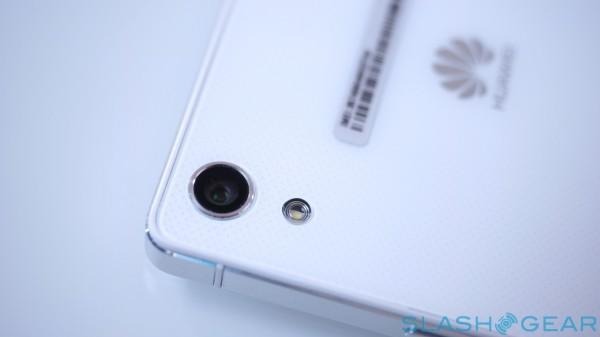 The main camera uses a Sony 4th-gen BSI sensor, and I won't blame Huawei for its choice of CMOS since Sony's camera kit is among the very best. It has an f/2.0, 5-component lens and an LED flash, and can record 1080p Full HD video; no 4K recording, but I'm still not convinced that Ultra HD is good for much other than chewing through storage space on a smartphone.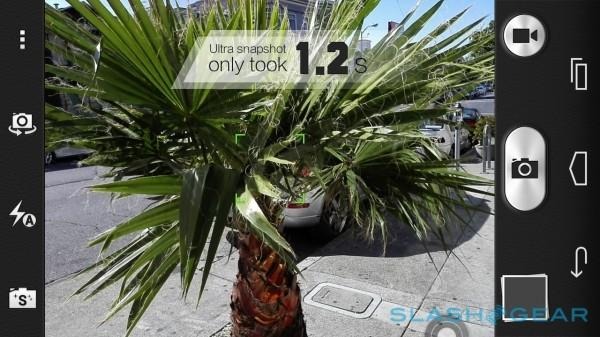 There are software features galore, including voice-triggered photos for hands-free group shots, panoramas, and Ultra Snapshot, which not only loads the camera straight from standby, but snaps a photo too when you double-tap the volume button. As long as you're holding the P7 steady you get solid results, too, though I'm pretty sure I could do without the drag race style "Ultra Snapshot only took X seconds" message that's flagged up after you take each image; after the first couple of times, it seemed redundant.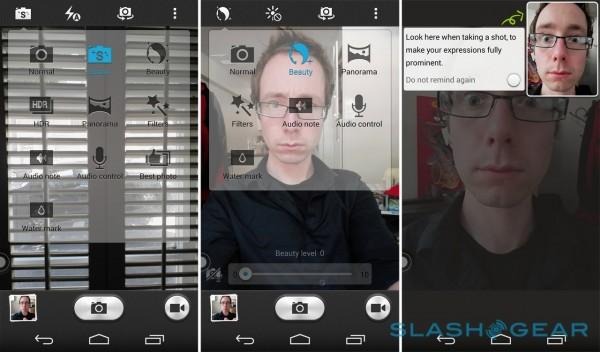 On the front, where many cameras are still making do with a couple of megapixels, the Ascend P7 brings an 8-megapixel sensor with 5-component lens to the party. It's accompanied by a range of software features, including automatic panorama – which stitches three side-by-side shots together into one, for fitting in more people – which Huawei has, bizarrely, tried to brand "groufies" as some awkward portmanteau of "group" and "selfie".
Huawei's beauty mode makes a reappearance, essentially an adjustable softening filter which evens out skin tones to hide blemishes. It's fairly effective when used sparingly, but quickly starts to make people look like store dummies when you crank it up. More useful is the integral "mirror" which gives those in frame something to focus on, and makes sure they're looking at the camera lens when the image is captured.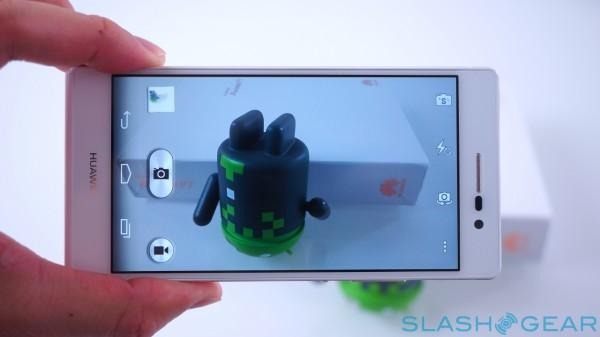 The end result is mighty impressive, no matter the camera. The main shooter pulls out accurate colors and plenty of detail, working best in well-lit scenarios – like just about every smartphone camera I can think of – but still delivering fair shots when the lighting is dimmer. Macro shots show just how close the P7 can focus, with the touch-focus system working swiftly and accurately.
Flip over to the front camera, meanwhile, and the excess of pixels makes its play. Compared to the 1.2-megapixel front camera on the iPhone 5s and even the 5-megapixel camera on the One M8, the Ascend P7's 8-megapixels delivers far more detail and increased accuracy in these wind-swept samples my colleague Chris Davies shot, not just on the foreground subject but, most tellingly, the background too.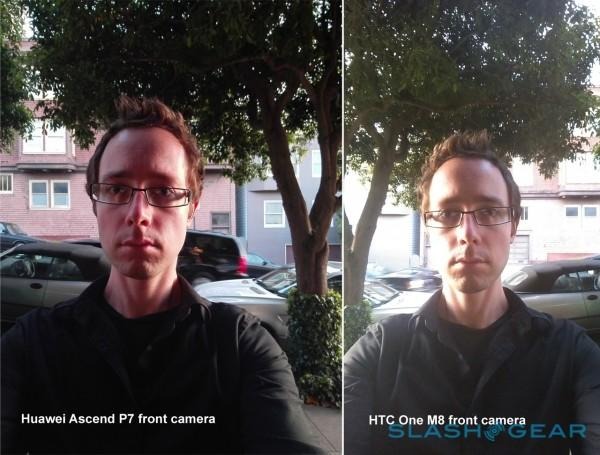 In fact, it's tough to tell the difference in detail between the Huawei's front camera and the main camera on the iPhone 5s. Whether selfies actually demand that sort of clarity is questionable, but it's hard to argue with the Ascend P7 being the current king of vanity shots.
Battery
Like the P6 before it, the Ascend P7 has a non-user-accessible battery, here 25-percent larger than its predecessor, at 2,500 mAh. That's still smaller than the 3,000+ mAh in flagships from rivals with similar-sized displays, one of the inevitable compromises you make for a skinnier phone.
Huawei rates it as good for up to 422 hours of 3G standby or up to 14 hours of 3G talk time, and claims a full charge is done in 3.5 hours.
In practice, I got a full day of solid usage out of the P7 before needing to recharge – though that was on HSPA+ rather than LTE, since Huawei isn't currently planning on offering the P7 on US 4G networks – and the times when I was some more sparing, the standby time stretched well into the next day.
Wrap-Up
For a long time, Huawei has been one of those "other" phone manufacturers. Never mind its rapidly growing global market share among smartphones, or its increasingly impressive feature sets; breaking into mind-share has proved far more difficult than actually breaking into the market itself.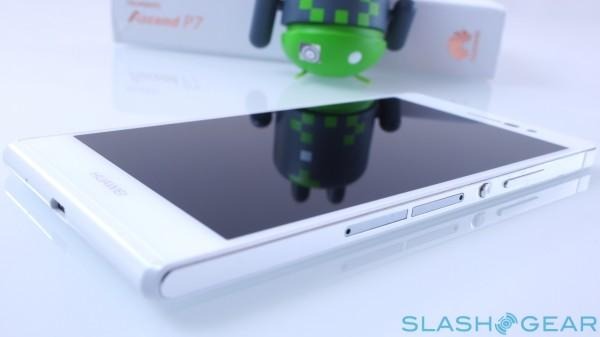 Times in the smartphone world are changing, however. Lumia is no longer Nokia; BlackBerry has a legacy but is struggling to find its future; and exactly what Lenovo can do with Motorola Mobility remains to be seen. Sidelining Huawei out of hand, simply because it's a relatively unfamiliar name, will no longer fly.
The Ascend P7 is an excellent example of why that's the case. True, its design feels derivative – I wish Huawei would turn what's clearly a capable hardware team to pushing its own unique aesthetic – but it's an ambitious phone unafraid to take big steps over and above the device that came before it.
I find that pretty admirable, and even though not all of the features quite hit the spot, there's a lot to like about the new Huawei flagship. What the company – and the Ascend P7 specifically – needs now is for a US carrier to take a chance on it for their shelves.
Chris Davies contributed to this review of the Huawei Ascend P7.
Make sure to check out SlashGear's Android hub for everything Android news, reviews and rumors.