Huawei Ascend P6 official: 6.18mm thick and aiming for your iPhone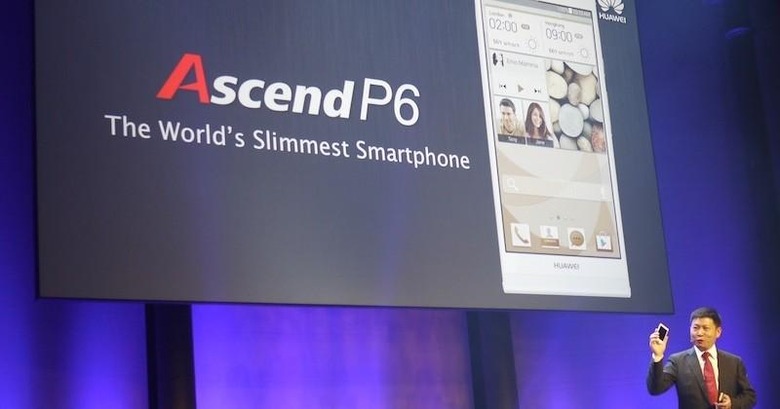 Huawei has officially announced the Ascend P6, the Chinese company's attempt to muscle in on the flagship tier of Android smartphones. 6.18mm thick – Huawei's CEO Richard Yu was keen to point out that the P6 name isn't a pre-emptive strike again Apple's iPhone 6, but a reference to the dimensions – is the company's first full-metal-body handset and, according to the company, is inspired by paper rather than, as some have observed, the iPhone 5.
In fact, the Ascend P6 only really looks similar to the iPhone at the top; at the bottom, there's a curve (which Huawei says is like paper bending over as you turn pages) that keeps things distinctive. All of the physical controls are placed on the right edge, including both SIM and microSD slots.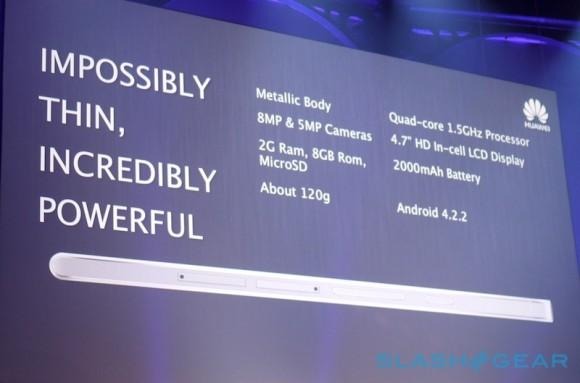 Inside, there's a 1.5GHz quadcore processor and a 2,000 mAh battery, along with 2GB of RAM and 8GB of storage. Connectivity is HSPA+ initially, with an LTE version due in Q4 2013. The front gets a 4.7-inch 720p In-cell LCD display, which also accommodates the on-screen Android buttons – the Ascend P6 runs Android 4.2.2 – rather than physical keys underneath. On top there's Huawei's own EmotionUI, which now has 300 changes, tweaks, and new features over and above the last version.
That includes new security features, tools to stop the P6 from accessing mobile or WiFi data if you're roaming, or lock down rogue apps downloading in the background. Huawei will also offer more than 100 different themes for the EmotionUI online, though three will come preloaded – black, white, and pink – to match the three physical colors.
On the back there's an 8-megapixel camera, while a surprisingly high-resolution 5-megapixel camera is on the front. The whole thing weighs in at around 120g, Huawei says, and includes four hours of buffing on the aluminum back panel.
The camera has been put in for some extra work, too. Huawei calls it IMAGEsmart, basically a super-auto mode that tries to pick out the best shooting mode for the scene. There's also a 4cm macro mode that Huawei says it developed in recognition of the fact that people often use their smartphones to take photos of their food.
As for the front-camera, that gets a special beauty mode that, by sliding a control from 0-10, automatically smooths out skin texture, adjusts the clarity of your eyes, and generally tries to make you look more attractive.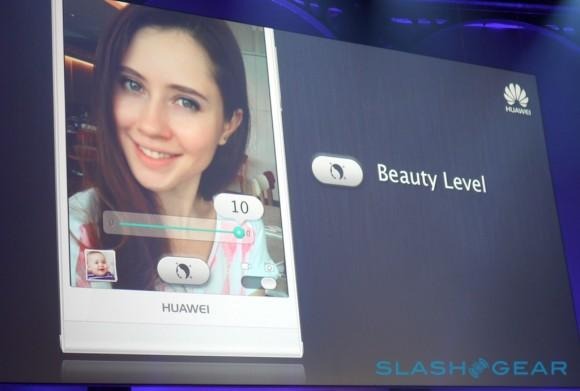 There'll be various rubber cases and bumpers, to add more color to the three variants, along with a leather flip-case. In China, the Ascend P6 will go on sale from today, with availability in 18 countries by the end of July, and then over 100 countries from August. It'll have an RRP, off-contract, of €449 ($601).