Huawei Ascend D quad XL tops benchmarks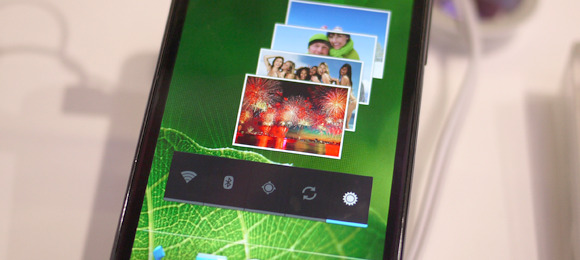 It was somewhat of a surprise back at MWC 2012 when Huawei announced that their new flagship smartphones, the Ascend D quad and quad XL, would not be using chipsets from NVIDIA or Qualcomm. Instead, Huawei would be using their own SoC, the Huawei K3V2, a quad-core chip clocked at 1.2Ghz in the Ascend D quad, and 1.5Ghz in the quad XL. Benchmarks have now surfaced pitting Huawei's performance against other chipsets.
Huawei were keen to boast about how their offering was "the world's fastest", and that certainly seems to be the case if you rely on these benchmarks. The first test is Basemark, comprised of several individual tests designed to stress an Android device, then correlated one easy to understand number. As you can see from the chart, Huawei's chip manages to beat NVIDIA's quad-core Tegra 3 processor found in the Transformer Prime, and the dual-core 1.4Ghz Exynos processor found in the Galaxy Note.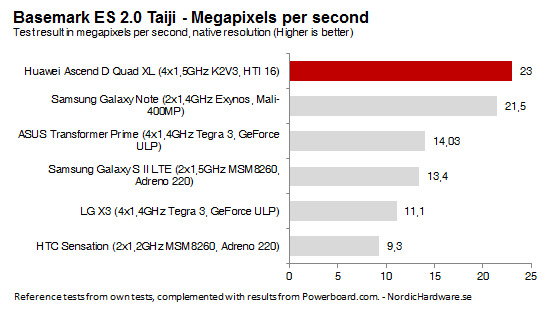 Second is Nenamark, primarily a GPU test run at the device's native resolution. The Ascend D quad XL tops the list with 62.75 frames per second, beating Qualcomm's dual-core Snapdragon S4, as well Tegra 3 once again.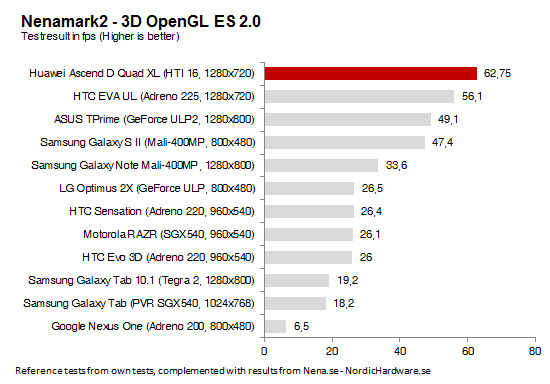 As for the rest of the device, the Ascend D quad XL has a 4.5-inch 720p IPS display, 1GB of RAM, eight megapixel camera with 1080p video recording, plus a large 2,500mAh battery, all running on Ice Cream Sandwich. There's no word on what carriers the device is headed to, although Huawei have promised a Q2 launch.
[via Android Community]