HTC VIVE Tracker Review with Gun, Straps, and Paddles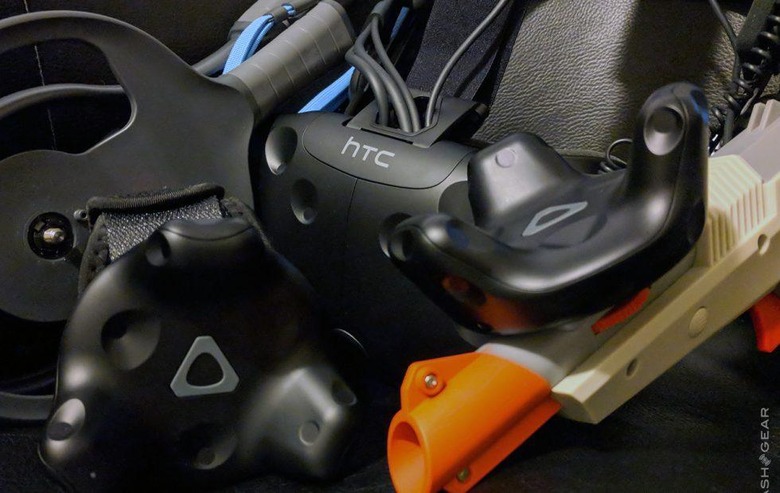 The HTC VIVE Tracker is a new tool for the VR universe – an extra bit of zazz that opens up new doors and dimensions. Over the past few days I've had the opportunity to test out the HTC VIVE Tracker with the relatively limited set of games it already works within. Included with this review package was a set of accessories with which the tracker works. The best of these is the Hyperkin Hyper Blaster – a VR-ready version of a pistol, extremely similar to that of the original NES Zapper from Nintendo.
With the release of this gun which works when attached to the VIVE Tracker comes none other than Duck Hunt. The game isn't made by Nintendo, and it's not actually called Duck Hunt, it's called Duck Season – but the inspiration is clear. It's been a while since I'd played Duck Hunt on my old NES, so I was a bit sloppy at first, but the natural feel of shooting virtual ducks with a handgun returned to me swiftly.
The VIVE Tracker activates the gun. The gun acts as the controller once the tracker is attached. This is just one way to use the VIVE Tracker.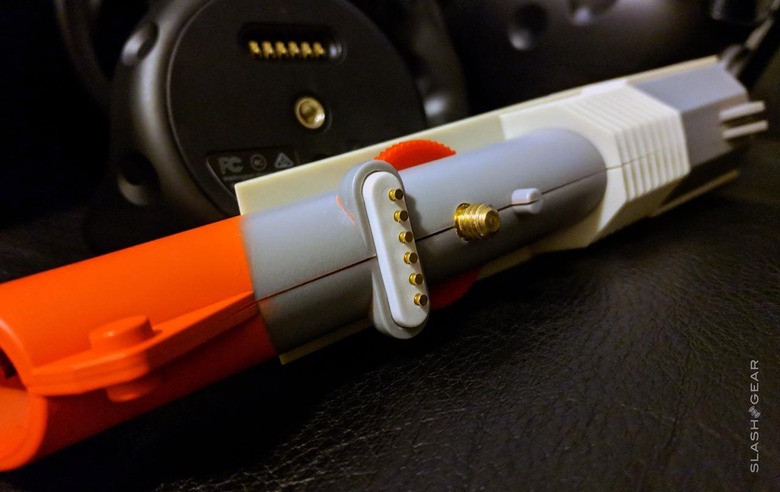 I also attached the tracker to two different types of accessories, one shaped like a tennis racquet, the other like a pingpong paddle. These two accessories simply make the act of attaching a VIVE Tracker to said accessory simpler. They do not have any special buttons – they're only really a modification for the tracker-as-controller.
The Racket Sports Set includes a game called Virtual Sports. Don't confuse the word "sports" for anything other than tennis and pingpong, because that's all you'll get. Both are excellent, full experiences with options aplenty. But they ARE pingpong and tennis, so if you're not interested in either outside VR, you probably wont be inside.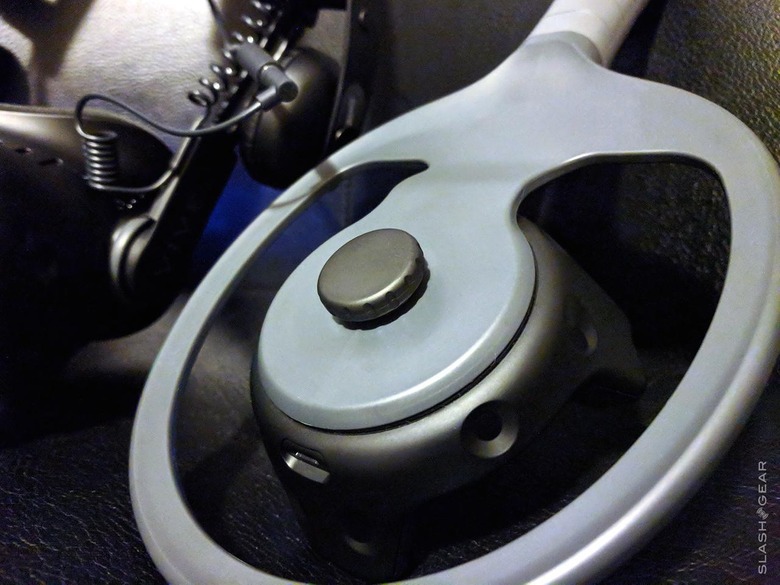 Perhaps the most surreal experience I've had so far with the VIVE Tracker was with a set of Track Straps. These accessories have screws, like the paddle and racket, that make attaching the VIVE Tracker simple and secure. Each of these straps is designed to wrap around whatever body part or other object the user finds most appropriate for the game they're playing.
When I played the game Final Soccer VR, I wrapped the Track Straps (with VIVE Trackers) on to my feet. When a ball was kicked above me, I blocked with my hands, with the original controllers. When a ball was kicked just to my side, I kicked it right back. The VIVE Trackers felt odd with their ever-so-slight addition of weight on my feet, but only for a moment.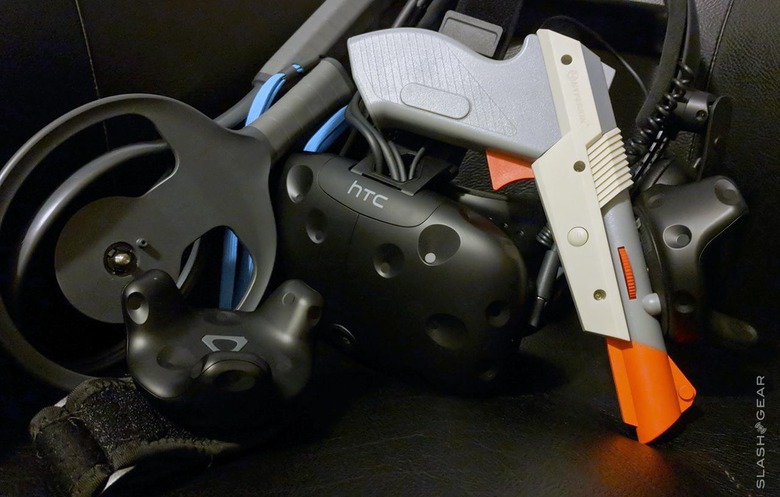 Redfoot Bluefoot Dancing is included with the straps. As Duck Season is inspired by Duck Hunt, Redfoot Bluefoot Dancing is inspired by Dance Dance Revolution. It's absolutely insane and most certainly not for those users that don't want to get a good workout.
SEE ALSO: HTC VIVE Tracker hands-on: Simply Versatile
As it is with the controller accessories above, the experiences I had with the Track Straps all felt as natural as they did with the original VIVE Controllers. The tracking technology is just as good. If you've ever used a VIVE before, you'll know right away – that tracking is second to none. HTC continues that tradition with the VIVE Trackers, top to bottom.
Accessories used in this review included:
• Rebuff Reality's TrackStrap (with Redfoot Bluefoot Dancing)
• Hyper Blaster (with Duck Season)
• Racket Sports Set (with Virtual Sports)
• HTC VIVE Trackers
The Hyper Blaster is set to be sold exclusively through Amazon in a package that also includes Duck Season and one VIVE Tracker for $149.99. A number of retailers will sell the Ping Pong and Tennis handles in a package that comes with a VIVE Tracker for $149.99 USD as well – that also includes Virtual Sports. Easily the best deal of the bunch is a pair of TrackStraps for $24.99, available through rebuffreality.com – that includes Redfoot Bluefoot Dancing, but not the VIVE Tracker.
One single HTC VIVE Tracker is available for $99 USD. All of these accessories are available for sale through VIVE dot com right this minute – head to Product, then Hardware to see the lot.