HTC "Virtual Book" UI patent app for touchscreen devices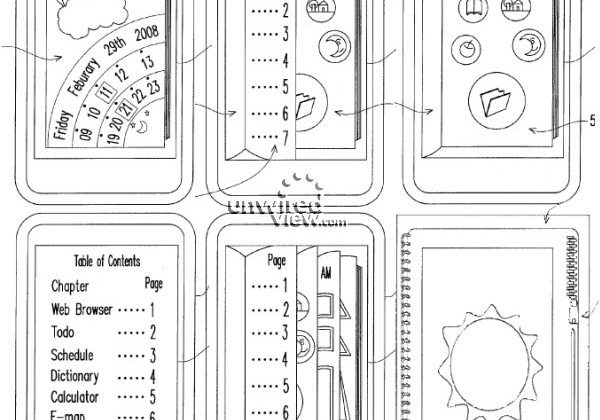 A new HTC patent application could indicate the company's next direction in smartphone UI, following on from TouchFLO 3D and HTC Sense.  Described as "Electronic device and user interface display method thereof", the application outlines a "virtual book" in which different pages are different applications, and can be rifled through with a fingertip.
"[The UI] organizes applications, widgets, and web pages into pages of a virtual book. Each page of the virtual book is the UI of a service or function of the handheld electronic device. Flipping the pages of the virtual book means browsing and selecting the services and functions provided by the handheld electronic device. This book-like UI enables the user to use and manage these applications, widgets, and web pages in an easy and intuitive way like browsing a conventional printed book. The book-like UI hides the differences among applications, widgets, and web pages so that the handheld electronic device can be accessed through a uniform and convenient UI." HTC patent application
HTC claim that the layout would make for a more intuitive method of browsing the device, while also making it straightforward to add new software into the menu structure.  As well as the traditional "book" layout, HTC also envisage a library card-style system with scrolling, flexing tabs that could concertina a little like how the Palm Pre's Synergy calendar app squeezes empty time slots.
Of course, while an obvious prediction from this application might be that HTC are planning some sort of ebook reader or tablet-style device, CEO Peter Chou has already squashed such rumors.  Instead, it seems likely this is one possible avenue future iterations of HTC Sense might follow; the company admitted that the current UI's development took place over a roughly three year period, so it would be naive to assume they're not already working on what we might be seeing on Windows Mobile and Android smartphones over the next few years.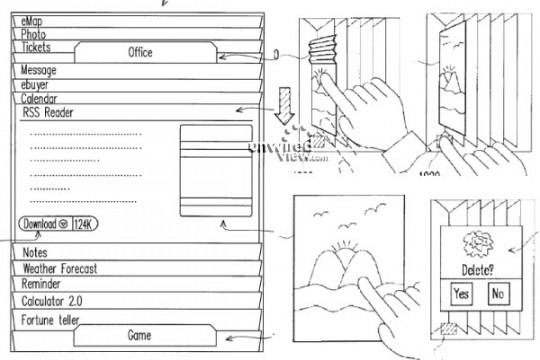 [via Unwired View]