HTC U12 spied in Taiwan with 5G data speeds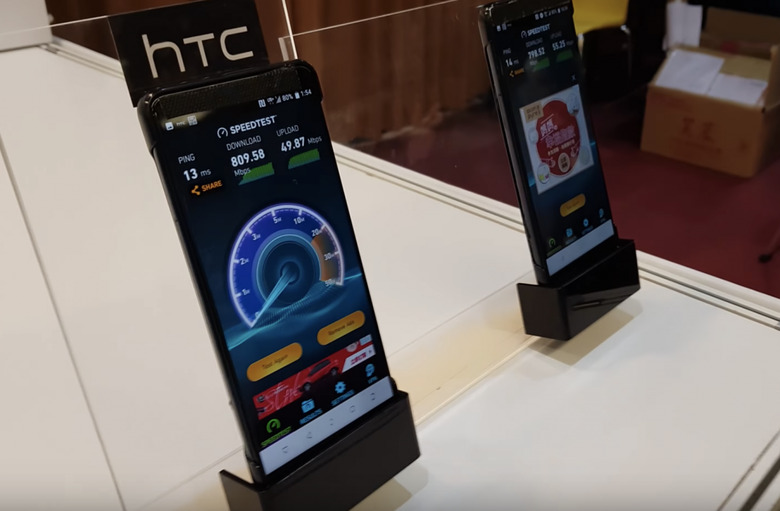 The next big HTC smartphone release seems to have been spied in Taiwan wearing a bit of a protective cover. This next device will likely follow up on the relative success of the HTC U11 with the name HTC U12, coming with a body that's not all that unlike its predecessor. This next-generation device was seen at a 5G data speed industry event which also showed the HTC VIVE PRO, Vive Focus, and other smartphones.
With theoretical data speeds of up to 1Gbps, this device is shown here at the event late last month running at 809.58Mbps. That's no speed to scoff at – but it'll probably be a bit of a lofty goal for the data network speed averages we have in the United States. For example the speed of non-mobile data I'm running with here in Bismarck, North Dakota is barely above 105Mbps.
It seems clear that the display on this smartphone will be approximately 6-inches large with an 18:9 aspect ratio. That's similar to the build of the HTC U11+ and U11 EYEs (not released in all regions). The front of the phone is obfuscated by a long, textured piece of tape over the frontside camera and earpiece speaker. The back is hidden by a protective case.
What we can see shows the smooth, rounded edges and the simplicity of the face of the phone. This device does not look particularly different from the HTC U11+, though it won't be shocking to find one or two changes between now and whenever HTC decides they'll release this smartphone.
Images here were captured by the publication SOGI (as seen in the video above) in Taiwan. Little else can be seen of this device at the moment, but we can now safely begin to twiddle out thumbs in anticipation. Especially since HTC suggested in November that they'd be bringing a dual-camera phone to the mix in 2018. "We'll definitely be releasing a dual-camera phone next year, but we'll need to figure out how to make this feature stand out," said HTC President Chialin Chang.