HTC Trophy Gets Clearly Pictured: QWERTY/touchscreen WinMo Candybar [Update: It's A Fan Render]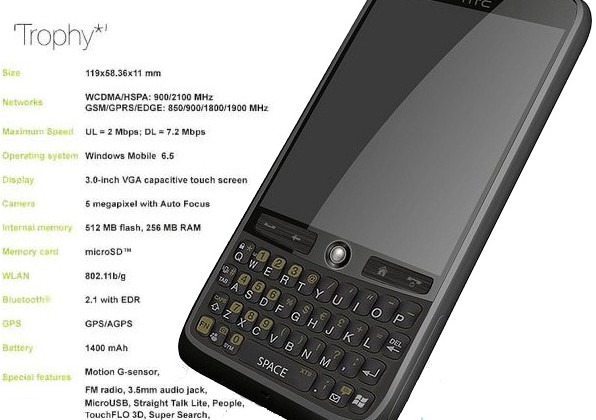 HTC's 2010 smartphone roadmap may have skewed heavily toward Android, but that wasn't to say the company were planning to abandon Windows Mobile altogether.  The first clear render of the HTC Trophy – a Windows Mobile 6.5 candybar with a 3-inch VGA capacitive touchscreen and a full QWERTY keyboard – has leaked, and despite the OS it looks to have potential.
Update: Too good to be true; this isn't HTC's work but that of ElCondor from xda-developers; somewhere along the line his watermark has been edited out.  He's done a great job, too: compare it to the fuzzy image in the leaked roadmap.  If the Trophy looks this good in real life, we'll take one! [Thanks Sohaib!]
The Trophy is tipped to run a Qualcomm MSM7227 600MHz processor with WiFi b/g, Bluetooth 2.1+EDR, dualband (900/2100) WCDMA/HSPA and quadband GSM/EDGE.  There's also a 5-megapixel autofocus camera, microSD card slot, GPS/AGPS, a g-sensor and 512MB flash/256MB RAM.  Connectivity includes a 3.5mm headphone socket and microUSB port, and HTC's TouchFLO 3D UI with People and Super Search is preloaded on top of WinMo.
Best of all, it's a skinny little devil, measuring just 11mm thick.  While Windows Mobile might not have the fashionable allure of Android or iPhone OS, there are still plenty of businesses who won't use anything else and the Trophy could prove a reasonably slick alternative to a BlackBerry.  No word on when it might launch, though with Mobile World Congress 2010 fast approaching there's a chance we'll see it sooner rather than later.
[via WMPowerUser]