HTC 2010 roadmap leaks: HTC Bravo 1GHz Android confirmed [Updated]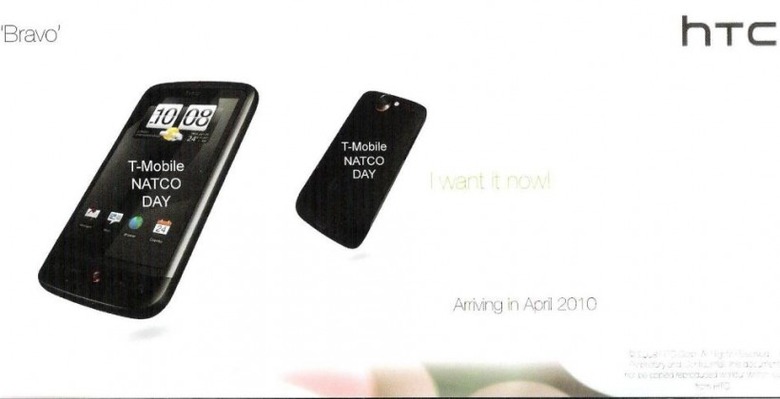 HTC's device line-up for the first half of 2010 has apparently leaked, courtesy of xda-developers, after a prototype brochure fell into the wrong hands.  The range consists of five Android devices and three Windows Mobile handsets, including the so-called hero model of 1H 2010, the Android-based HTC Bravo.  The Bravo will pack the same 1GHz Snapdragon processor as the HTC HD2 along with a 3.7-inch AMOLED touchscreen and HD 720p video capture.  Full line-up details after the cut.Updated: We've contacted HTC for a comment, and unsurprisingly they're not confirming anything.  "We cannot comment on speculation or rumour," HTC tell us, "but we're excited about our upcoming roadmap and encourage you to watch this space."
HTC have seemingly organised the devices between four categories: Design/Lifestyle; Social; Performance; and Productivity.  All of the Windows Mobile handsets drop into that final category, while the HTC Bravo is the sole Performance device.
Design/Lifestyle: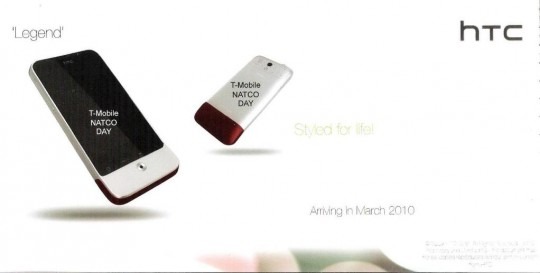 HTC have two handsets in this category, the HTC Legend – described as the successor to the HTC Hero – which is just 11.4mm thick, drops the trackball in favor of an optical mouse, and is set to arrive in March 2010, and the HTC Salsa.  The Salsa is a new form-factor for HTC's Android devices, being an 8.6mm thick candybar with full QWERTY keyboard; it's set to arrive in June 2010.
Social: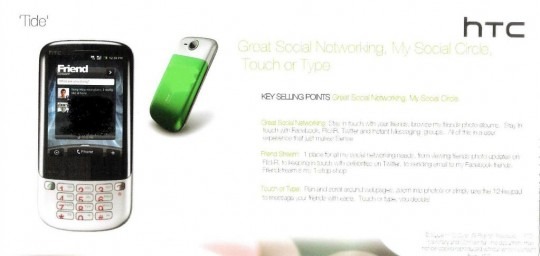 The HTC Tide will arrive in April 2010, and look more like a traditional cellphone with a touchscreen above a regular numeric keypad; meanwhile the HTC Buzz uses replaceable covers, similar to the HTC Tattoo, but in a larger device with a 3.2-inch display and 5-megapixel camera.  The Tide and Buzz will arrive in April and May 2010, respectively.
Performance: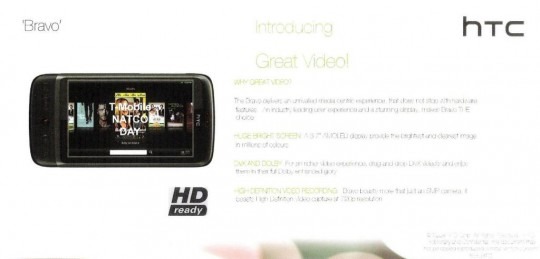 Sole resident in the performance category is the HTC Bravo, the company's "killer phone".  As well as Snapdragon it will pack 256MB or 512MB of RAM, a 16GB microSD card in the box and a 1,400mAh battery, and arrive in April 2010.  This seems to be the same handset as referred to as the HTC Passion, though DigiTimes is reporting that the Passion would have a 3.5-inch OLED note 3.7-inches.  Their release estimate – early 2010 – does at least fit with this roadmap, however.
Productivity: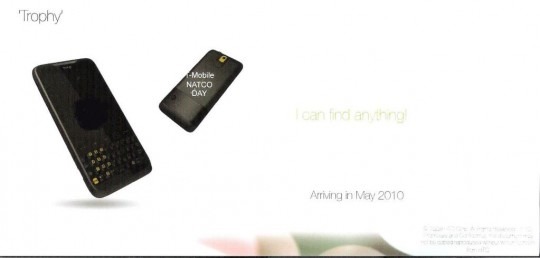 Three Windows Mobile 6.5 handsets occupy this category, the HTC Photon, HTC Trophy and HTC Tera, apparently set to launch in April, May and April 2010 respectively.  The Photon has a 3.2-inch HVGA touchscreen, 5-megapixel camera and 600MHz Snapdragon processor, while the Trophy is a QWERTY candybar with a slightly smaller 3-inch VGA display and the same 5-megapixel camera.  Finally the HTC Tero has a Touch Pro2 form-factor with a slide/tilt touchscreen revealing a QWERTY keyboard and a 3.2-megapixel camera on the back.
Full details and images in the gallery below.
[Thanks Peter and Dom!]