HTC Touch2 WinMo6.5 smartphone arrives [Updated]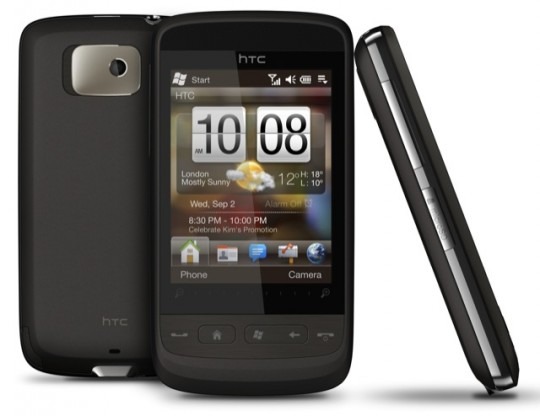 Obviously HTC missed the memo that Nokia World is going on right now, because they've just announced their latest Windows Mobile smartphone, the device formerly known as the HTC Mega.  The HTC Touch2 runs Windows Mobile 6.5 and has a 2.8-inch QVGA touchscreen.
There's also WiFi b/g, Bluetooth plus A2DP support, a 3.2-megapixel fixed-focus camera and a standard 3.5mm headset jack.  Also onboard is Exchange support and the latest build of Internet Explorer Mobile which supports full Flash.  It'll also have access to the Windows Marketplace for Mobile, GPS and a 1,100mAh battery good for up to 370 minutes WCDMA talktime or 500hrs standby.
The full specifications have been added to the phone's new product page.  It's expected to land first on October 6th, followed by broader European and Asian availability in Q4 2009.  No word on pricing as yet.
Press Release:
NEW HTC TOUCH2™ SMARTPHONE DELIVERS FULL TOUCH EXPERIENCE

With new Windows phone software, HTC Touch2 delivers a simple and smart experience that makes it easier to stay in touch with the people and information in your life

TAIWAN – SEPTEMBER 2nd, 2009 – HTC Corporation today introduced the HTC Touch2™, a compact and stylish smartphone that is one of the first mobile phones to include Microsoft's new Windows Phone software. Utilizing Windows Mobile 6.5 and new Windows Phone services like My Phone and Windows Marketplace, HTC Touch2 delivers a full touch experience that enables you to do all the things you want on your phone easily. The Touch2 expands HTC's portfolio of touch-based phones and is focused on delivering an advanced touch experience to a broader group of people.

"The HTC Touch2 delivers a familiar touch experience that millions of people have come to expect and rely on from HTC in their daily lives," said Peter Chou, Chief Executive Officer, HTC Corporation. "Whether it's making a call, checking in with a friend or simply responding to an important email, the HTC Touch2 puts you in touch and in control."

The HTC Touch2 ensures that everything is at your fingertips in a compact design that fits comfortably in your hand. An advanced smartphone with everything you expect and more, the HTC Touch2 includes a variety of HTC enhancements including TouchFLO, an enhanced user interface that includes integrated weather updates and quick touch access to a variety of the most popular applications. In addition, the Touch2 includes Google Maps for Mobile, YouTube and more.

As a new Windows phone, the HTC Touch2 showcases the powerful messaging, browsing and productivity capabilities delivered by the new Windows Mobile 6.5. Offering a best in class e-mail experience complete with the ability to synchronize with Microsoft Exchange, you have the ability to check and manage multiple email accounts.

With the Re-designed Internet Explorer Mobile, the Touch2 accurately displays desktop style Web pages, allowing people to experience content in the way it is meant to be viewed. The HTC Touch2 includes a zoom bar for reflowing text to an optimum size. In addition, you can pan and zoom to find and enjoy what you are looking for more easily. Internet Explorer-Mobile also supports Adobe Flash, enabling Flash video content, like YouTube, to be viewed easily.

With Windows phone you can now easily find and download a wide variety of applications onto the HTC Touch2 via the new Windows Marketplace for Mobile. Microsoft's new My Phone service enables you to automatically back up and synch photos, music, contacts and text messages for free from the Touch2 to the web.

Availability

The HTC Touch2 will initially be available to customers on October 6 with broad availability in a variety of European and Asian markets in early Q4 2009.

About HTC

HTC Corporation (HTC) is one of the fastest growing companies in the mobile phone industry and continues to pioneer industry-leading mobile experiences through design, usability and innovation that is sparked by how the mobile phone can improve how people live and communicate. The company is listed on the Taiwan Stock Exchange under ticker 2498. For more information about HTC, please visit www.htc.com.