HTC Touch Pro 2 Landing On Verizon With Huge $199.99 Impact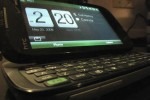 No, that doesn't mean that the price is huge. Actually, in comparison it seems pretty low. And considering the amount of people anxiously waiting for the Touch Pro 2 to land, it looks like Verizon has a huge one-up on the competition. And if you're in the range of getting a new contract, or are waiting to get a contract for this phone to launch, then Verizon might have found a way to wiggle into your hearts.
The HTC Touch Pro 2 is set to land on the Big Red network on September 11, for $199.99 after a $100 mail-in rebate. This seems like a standard price for the phone, but considering that both Sprint and T-Mobile USA are launching the same exact device for $350, after rebates, we're pretty shocked at the news Boy Genius Report's ninjas are revealing. Along with the mail-in rebates, you'll also need to sign a new two-year contract, but everyone should be used to that by now. This is the reason why Verizon has a leg-up on the competition. The pricing is at that mid-range for phones, and especially considering the feature set available with the Touch Pro 2, it could look staggeringly good to someone shopping around for the best price. Of course, if you're on the fence about buying this phone, you should read our review. That will probably sway your decision.
We can't say for sure whether or not this is a phone to make people go ahead and jump ship from their current carrier, if they aren't already on Verizon, but we wouldn't be surprised to see at least a few people meander away from either of the two companies brave enough to charge that much, especially compared to Verizon's pricing. So what do you think?
[via Boy Genius Report]