HTC Touch HD2 full spec list revealed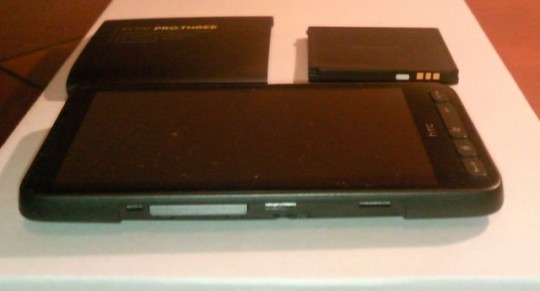 HTC's HD2 (aka the HTC Leo) keeps showing up in various carriers' promo material, though since they only ever say "biggest WinMo phone yet!" it's been hard to pin down exact specifications.  Happily, that's all changed thanks to one talkative xda-developers board member; he's managed to sneak out the full spec sheet – which you can read after the cut – together with a few new live photos of the smartphone itself.
While we already knew the HD2 used Qualcomm's Snapdragon MSM8250 1GHz chipset, what's been newly confirmed is the digital compass, multitouch-compatible 4.3-inch WVGA touchscreen and microUSB port.  That port also supports USB host, meaning you can plug in a keyboard, mouse, thumb-drive or other peripherals, and it's next to a 3.5mm headphones jack.
Unfortunately for would-be North American buyers, the specs also confirm that the HD2 supports merely the 900/2100MHz 3G bands, making it ideal for Europe but less useful for the US and Canada; just like the HTC Touch HD, in fact.  Full specification list can be found below the gallery; more images to be had at the original forum post.
HTC Touch HD2 specifications:
Platform

Ultra slim bar type touch phone / Windows Mobile 6.5 Professional

Processor/Chipset

Qualcomm MSM 8250, 1GHz

Memory / Internal Storage

ROM: 512 MB / RAM: 320 MB / HD: 207.13MB

Display Module

4.3-inch 480x800 WVGA resolution / 65K-color / Sensitive touch screen (Capacitive) / Keep support Multi-Touch capability for WM7 Chassis

HSPA/UMTS/EDGE/GPRS/GSM Function

Internal antenna

HSPA/UMTS 2100/900 MHz and GSM/GPRS/EDGE

Quad-band (850/900/1800/1900 MHz) / HSDPA / 3GPP Release 5 compliant

Up to 7.2Mbps / HSUPA / 3GPP release 6 compliant / UE category 5, up to 2 Mbps peak rate / EGPRS Functionality / EGPRS class B / Multi-slot class 12 (10 Operator dependent) / PBCCH

Standalone GPS

Internal GPS antenna

Sensors

Motion G-sensor / Proximity sensor / Ambient Light Sensor / FM Radio

Digital Camera

Main camera: 5 MP Color CMOS with auto focus / 2x LED flash

Key/Button/Switch

Volume up and down control / Send Key / End Key (Power Key) / Windows Key / Home Key / (Cinema mode Key, TBD) / Back Key / Reset

Notification

Notification by sound, vibration, LEDs or status shown on the display

One dual colors (Green and Amber) LED in the left / lens for PDA event, battery and charging / status

Audio

Built-in microphone / Receiver / Loud speaker with hands-free support

Connectivity & Interface

Bluetooth / Version 2.1 compliant with EDR / Wi-Fi / IEEE 802.11 b/g compliant / Micro-USB: / USB 2.0 High-Speed client / 3.5 mm stereo audio jack with mic / 1.8/3V USIM/SIM card slot / microSD card slot with SDHC support

Power

Battery / Removable and chargeable battery, 1,230 mAh / AC adaptor / AC input: 100 ~ 240V AC, 50/60 Hz / DC output: 5V and 1A

Accessories (In-Box)

Quick Start Guide [Inbox] / Travel Charger, TC P300 [Inbox] / USB Sync Cable (Micro-USB to Standard USB) [Inbox] / Battery [Inbox] / Wired stereo headset with 3.5mm audio connector, HS G335 [Inbox] / Premium pouch (Carrying Case) [Inbox] / Car Charger [optional] /Car Holder with

battery cover [optional]

Microsoft Windows Mobile 6.5 Professional Applications

Microsoft Outlook Mobile / Messaging (SMS/E-mail), Contacts, Calendar,Tasks, Email Set Up Wizard / Microsoft Internet Explorer Mobile / Microsoft Media Player Mobile / Microsoft ActiveSync / Microsoft Windows Mobile Update / Internet Sharing / Pictures & Videos / Games / MSFT Zip

File Explorer / Device Management / Security Enhancement / Microsoft Office Mobile / Microsoft Windows Live! / Microsoft Smart Dial / Microsoft Remote Desktop Mobile

Value-Added Applications

Windows Mobile Enhancements / Pictures & Videos enhancements / Ring Tone enhancements Telephony (HTC) Phone Canvas(HTC) Phone Experience Multimedia / (HTC) Camera Album / MP3 Trimmer / Streaming Media Player / FM Radio / Presentation mode / Web / Push Internet / RSS HUB / YouTube Client Social Networking / Input Method EZ-INPUT / Messaging SMS/MMS Client / GPS/LBS Navigation (CoPilot, Papago) / Google Maps / Quick GPS / Support CLL.dll library for indoor positioning andreverse geo-coding / Navi-panel / Calendar to Navi / User Interface (Enhanced Manila) / TouchFLO Footprints / Auto Screen Rotation /

Tools & Utilities

HTC Common Sense / 3G to WiFi router / Task Manager / Text selection (HTC) Connection Setup / OOBE / Voice Recorder / Document Viewer / PDF / OMA DRM Engine / Java virtual machine / Long Press / End Key Confirmation (to shut down) / STK SIM manager / (HTC) Volume Control / Business Card Reader / Document Printing / Magnifier.
[via Engadget]