HTC Touch HD SlashGear Review: Part 2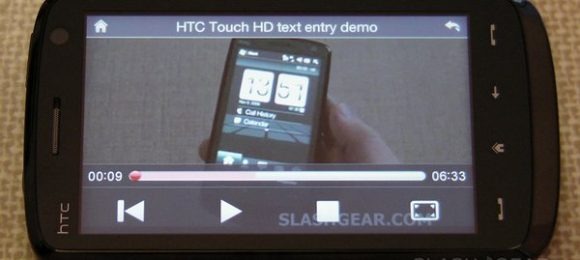 In the first part of our HTC Touch HD review, we looked at the physical design, the display, the touchscreen, TouchFLO 3D, messaging and internet browsing.  Now, in the second part of our exclusive SlashGear review, we'll look at GPS and media performance, camera ability and battery life, together with how the Touch HD performs as a cellphone.  We'll also tackle the biggest question of them all: is the Touch HD an iPhone killer?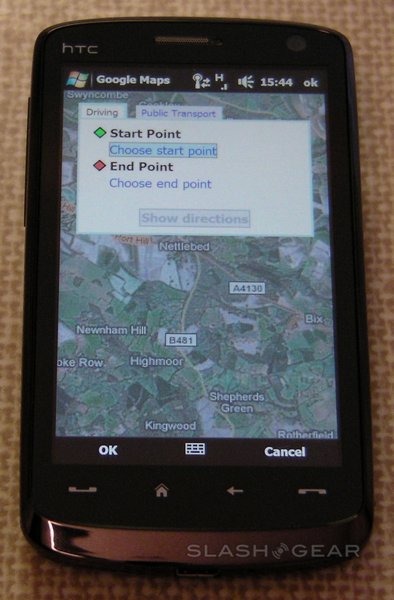 Google Maps is preinstalled on the Touch HD, and take excellent advantage of a display larger than that of some standalone satnavs.  As with Opera, zooming in can be triggered by double-tapping the screen (either with finger or stylus) and the page dragged around with a fingertip; unlike Opera, to zoom out you must use the translucent zoom controls in the bottom left-hand corner.  Rendering is fast and, in our experience, dependent more on your connection speed than the smartphone's processor.
Options include toggling satellite imagery, traffic conditions (for major roads) and directions, which can be either entered on-the-fly or taken from the Touch HD's address book.  Google Maps will give either driving or public transport instructions, presented on the map itself or in a list.  Use of the integrated GPS receiver is optional; we found initial acquisition times to be slow, certainly in excess of four minutes, though future "warm fixes" were quicker.  In recognition of this, HTC preload an app called QuickGPS which downloads the latest satellite data via your internet connection and speeds up acquisition times.  QuickGPS can be set to update automatically (which happens once a week, when the information becomes outdated) or manually.
The HTC Touch Diamond has been criticised for its GPS performance, which can lag behind actual position when moving at speed.  Hopes were high for the Touch HD to avoid such a fate, but unfortunately that doesn't appear to be the case.  Whether from the processor (the same 528MHz Qualcomm MSM7201A as in the Diamond) or the GPS receiver itself, when driving the indicated position is always 50-80ft behind.  This makes navigating via the on-screen directions incredibly difficult.  At lower speeds, such as when walking, the Touch HD has no problems, just like the Diamond.  We're still attempting to get hold of some alternative GPS programs, such as TomTom or Garmin Mobile XT, and will update this review when we've had an opportunity to try them out.
Unlike the Touch Diamond, which has 4GB of integrated storage but no way to expand that, the Touch HD has a mere 512MB of built-in memory and uses on microSDHC cards.  An 8GB card will be included in the box; HTC tell us that the Touch HD is fully SD 2.0 compliant, so practically speaking if you can find a 32GB microSDHC card it'll work on this smartphone.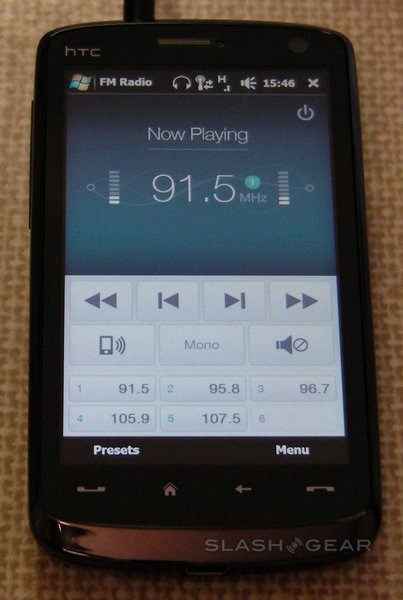 That's great news, because the Touch HD plays the part of a mobile media device very well.  Audio is playable directly from the TouchFLO 3D GUI, with AAC, AAC+, eAAC+, AMR-NB, AMR-WB, QCP, MP3, WMA and WAV formats supported.  That means no protected iTunes tracks, but since that's nothing new outside of the iPhone we can't criticise HTC too much.  Music can be organized by artist, album, song, genre and composer, with on-device playlists created.  Purchased Windows Media Audio files with DRM can also be displayed, and there's an FM radio with autoscan.
Sound quality is more a function of the included headset than the Touch HD itself.  It's the standard HTC wired earbuds (complete with an in-line microphone and answer-button) and while they won't win any awards they're nonetheless better than those Apple supply with their iPods.  Thankfully the standard 3.5mm jack meant switching to a set of Sleek Audio SA6 earphones (which we reviewed here) was easy; they made a far better impression, and when we loaded the smartphone with some 320kbps MP3s (and turned off the equalizer) there was an impressive depth to the sound which, subjective as it may be, we'd compare favorably to that of the iPhone.  Needless to say, we'd have with no issue using the Touch HD as our primary audio player. 
Video playback had mixed results.  We had high hopes for the Touch HD's 480 x 800 display, and indeed it's richly colored, bright and shows decent, if a little murky, black levels.  Playback of 720p high-definition WMV files proved a literal non-starter; we then tried a 1000kbps, 25fps, 768 x 576 WMV file, the audio of which was no problem but the picture stuttered.  A 650kbps, 29fps, 320 x 240 video played with no problems at all, but a 740kbps 640 x 480 file suffered jerky video.  Scaled down to 545kbps 640 x 480 the video was reasonable.
DivX and XviD proved more flexible; we converted the same 740kbps WMV that proved unwatchable into a 1248kbps 640 x 480 25fps DivX file that ran with no problems at all.  After testing out a number of different codecs we'd recommend serious video users consider converting into DivX for the best viewing experience on the Touch HD.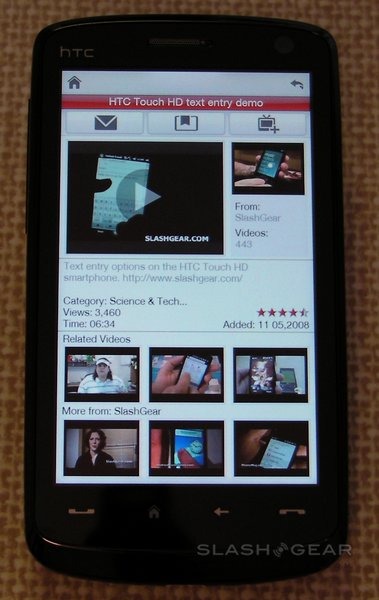 The standalone YouTube application (which you can see in our demo video) offers access to the top rated, featured and most viewed videos across all of the media site's categories (sports, music, etc.)  The only setting on offer is the choice between high quality or fast download (or an auto-select option which switches based on connection speed).  There's also access to bookmarks and history, as well as the ability to search videos.
Select a clip and the screen automatically rotates to landscape and it begins downloading.  Alternatively, hit "i" and there's an overview page, with text summary, upload details and star rating.  While there's no way to rate the video on the Touch HD itself (in fact you can't log into your YouTube account at all) you can add them to the handset's bookmarks, add the channel to your program guide, or send the link by email, MMS or SMS message.  The info page also shows thumbnails of three related videos and three further videos from the same channel.
We found the YouTube client slower to load than the version on the iPhone, but once started and updated it was quick to move between screens.  The Touch HD's impressive display is really the clincher here; video plays smoothly and with better resolution than on the Apple device.
The Touch HD has a 5-megapixel camera with autofocus, though sadly not even an LED flash, never mind a Xenon one.  It's capable of stills and video recording, with reasonable quality in both.  Camera options include a choice of resolutions – from 'M' (320 x 240) up to full 5-megapixel – and white-balance settings – auto, day, night, incandescent and fluorescent – together with adjustable brightness.  The whole display is used as a viewfinder, while focus points can set by tapping any point; an on-screen shutter release replaces a hardware key.
Among the advanced settings are image effects – grayscale, sepia and negative – the option to switch metering mode between the center and the overall average, flicker adjustment (auto, 50Hz and 60Hz) and an optional on-screen grid.  A preset menu lets you change between normal still images, normal video, photo panoramas, MMS-quality video, contact-size images and "fun" frames (such as fake magazine covers).  There's no optical zoom, but the Touch HD does have a digital zoom (that, as always, sacrifices quality for close-up).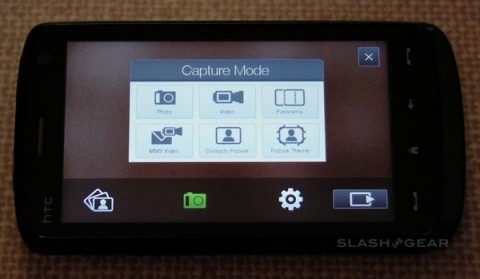 Video can be shot for as long as there's memory (either internal or microSDHC card) in MPEG4 or H.263 format.  Sound can be toggled on and off, and there's the same metering mode, effects and flicker adjustment as in still captures.  Both have a self-timer with adjustable delay.
As could be expected, indoor and nighttime shots and footage aren't as impressive as their daytime counterparts.  The autofocus is relatively quick to lock on, but several users commented that the preview image looked somehow crisper than the end result.  While the "shutter release" requires only a soft tap to trigger, it can be difficult to do so without wobbling the handset forward slightly.  Nonetheless all the controls are easy to press with a finger, and don't demand you pull out the stylus; in fact, we know of many digital cameras which could do with learning from the Touch HD's straightforward menus.
Natively, the Touch HD lacks general screen rotation; the option is only available in the Opera browser, together with when the camera is being used or photos being viewed.  We tried third-party app GSen (which is freeware), which uses the accelerometer to track orientation and extend that functionality to other apps; it works well, particularly when messaging.  Rotating the phone closes the on-screen keyboard, but when re-opened it automatically changes to the horizontal layout as seen in the browser.  GSen's developers suggest that certain apps won't play nicely with the software, but so far it's only been TouchFLO 3D and the YouTube client that have refused to rotate.  It does, however, screw up the YouTube video rotation; if you use GSen, you'll need to add "#window(youtube)" into the app's config file (instructions are included with the program).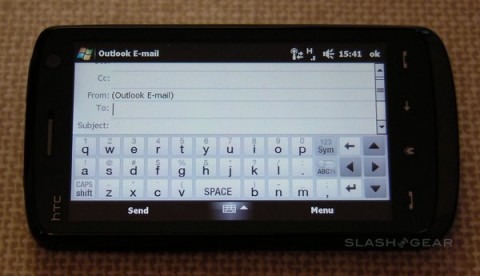 As a phone, the Touch HD performs well.  We tested it both in metropolitan areas and more residential, where we've found the HSDPA connection generally more tenuous, and the handset rarely lost a signal.  Moreover, even with just one or two bars (a subjective measure, yes, but what most users will go by) calls were clear and loud on both ends, with no noticeable artifacts.  We didn't experience a single dropped call in our time with the handset; bear in mind, however, that our Touch HD was supplied by HTC themselves, not Orange (who have an exclusive on the smartphone for the first two months) and as such we weren't always using the Orange network.
Bluetooth performance was strong, with PC connections possible even when the phone is in a bag or coat pocket across the room.  We tested with several Bluetooth headsets, including both cheap entry-level models and more expensive versions, and experienced no noticeable difference in sound quality over holding the phone direct.  As well as the handsfree and headset profiles, the Touch HD also supports the A2DP Wireless Stereo, PAN (Personal Area Networking), SPP (Serial Port), HID (Human Interface Device), OPP (Object Push), BPP (Basic Printing), SAP (SIM Access), AVRCP (Audio/Video Remote Control), DUN (Dial-up Networking), PBAP (Phonebook Access) and SDAP (Service Discovery Application) profiles.
One obvious omission, however, is the lack of a proximity sensor.  In other touchscreen cellphones that has been used to good effect, automatically turning the display back on when you take the phone away from your face.  The Touch HD requires you to press one of the touch-sensitive keys in order to wake the display again mid-call; alternatively, pulling out the stylus does the same thing and, optionally, brings up the notepad for you to scribble down a number or address.  It's neat, but we'd like to have seen it coupled with a sensor.
A device like this lives and dies, though, by the quality of its touchscreen; ironically, this is the toughest aspect to convey in words or even video.  The obvious comparison is with the iPhone and no, by picking resistive over capacitive, the finger-touch sensitivity of the Touch HD isn't as good.  However, the difference between them is absolutely tiny: the Touch HD has the best resistive touchscreen on a cellphone that we've tried.  At times you could trick yourself into believing it to be capacitive, there's so little screen-flex.  Dragging and scrolling requires moderate pressure, but not unduly so; similarly, the resistive layer on top of the display is so thin you still get a reassuring hard 'tap' as you stab at buttons.
Perhaps the most telling statistic is how often you feel the need to pull out the stylus.  Sadly the Touch HD doesn't keep track of that (now there's an opportunity for third-party developers) but from our own use over the past week it's a rare occurrence.  As the text-input video demo in the first half of this review showed, typing on the Touch HD is perfectly manageable using only your fingers.  Browsing is also finger-friendly, as is any aspect of the GUI which HTC have fettled.  In fact the only real stylus-demanding moments are Windows Mobile's tiny little up/down buttons, used to set alarm times and the like; yes, a well-aimed fingernail can hit them, but it's easier to whip out the stylus. 
Battery life with a 3.8-inch display could have been measured in minutes, not hours, if HTC hadn't made a sensible powerpack choice, and thankfully they squeezed a capacious 1,350mAh unit inside.  It takes up a little less than half the length of the phone and, together with the Touch HD's 12mm depth, makes you realize why features like a camera flash simply couldn't be fitted in.  HTC claim the battery is good for up to 420 minutes of 3G talktime or 680 hours of 3G standby (non-3G talktime is estimated an hour higher, standby a full 240 hours less).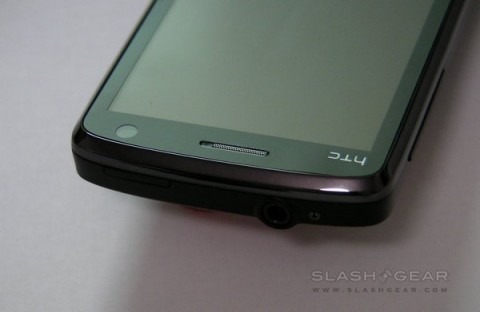 We tracked everyday use of the Touch HD, allowing the phone to latch onto a 3G network when it could (which was pretty much all of the time).  With WiFi turned on, push email active, and with a few short calls, the occasional SMS message and some web browsing, we managed a full day and a half of use before the battery warning popped up.  Turn off WiFi (which is straightforward with the HTC Communications Manager) and that's easily extended to two days. 
Users happy to trigger their own email checks, rather than receive them as they arrive, will be able to stretch that out even further, which we think impressive for a smartphone.  Certainly, on the iPhone 3G we were recharging at least every night under conditions similar to the first scenario.  The Touch HD's battery is user-replaceable, too, so you could feasibly carry a second pack around; alternatively, it seems relatively unfussy as to which powered USB port it sucks from, so a standard USB to mini-USB cable can top it up from any available Mac or PC. 
In doing so, we noticed that the option to set the handset to display as either an external drive or as a smartphone to be synchronized would not let us choose the former option without a microSD card in place.  However, plugging the Touch HD into a PC did first bring up the standard Vista dialog offering the choice to browse the handset's storage or run the photo transfer wizard.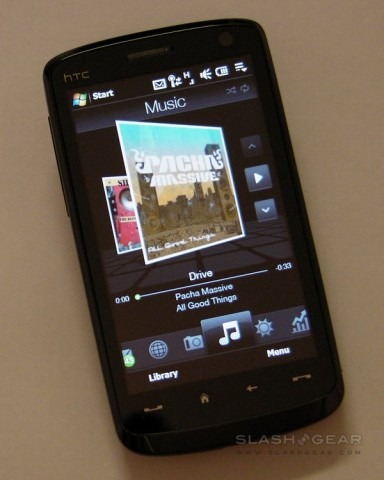 With the Touch HD performing so well as a PMP, media playback battery times are also key.  Our criteria for testing were that the Touch HD should continue to operate as a phone despite its media functionality; that given, we switched off WiFi and push email but left the cellular radio (in an area with 3G service) turned on.  Volume was set to its highest level and, in the case of the audio player, the screen turned off.
With continuous audio playback, the Touch HD lasted around fifteen hours before playback ended.  With continuous full-screen WMV video playback the handset lasted roughly seven hours.  Obviously switching off the phone component of the Touch HD will stretch out the battery life, just as turning on WiFi and/or push email will reduce it.  We should also point out that this is a brand new battery; after several charge/discharge cycles its capacity is likely to increase.
HTC have now confirmed to us what will be included in the final retail package.  This is the bundle sold by Orange; contents could change when their two-month exclusivity agreement ends. Until then, Touch HD buyers will get:
HTC Touch HD
8GB microSD Card
Screen Protector
Stylus
AC adapter
Pouch (Carrying Case)
USB Sync Cable (mini-USB/USB)
Battery
Wired Stereo Headset
Quick Start Guide & CD
So, have HTC managed the nigh-on impossible and snatched the cellphone crown from the Apple iPhone 3G?  Predictably, the answer is "maybe", and it all hinges on what you want from your mobile.  The Touch HD is a true smartphone and Windows Mobile 6.1 a truly flexible OS: there's a wealth of applications out there spanning the breadth from business through to games, built upon a software ecosystem that's been in development for years.  Microsoft and/or HTC really need to step up and deliver a straightforward way for new users to plow through that back-catalog, because otherwise they're wasting its potential.  If you're an enterprise user, or simply someone with an Exchange account, Windows Mobile is still a more stable and straightforward way to access that, compared to our experience with Exchange on the iPhone.
What the Touch HD does well, it does very well.  The camera may lack a flash but photos and video are both decent (easily besting those taken by other smartphones), media playback, with a few tweaks, is great, and the internet experience on the huge 3.8-inch display is addictive.  Once Flash compatibility, in one shape or another, reaches the Touch HD we'll be able to wholeheartedly recommend its online prowess; until then, it's two qualified thumbs up.  Opera does the best it can with a resistive, multitouch-lacking touchscreen, cleverly rendering to make the most of space and not, in all the time we've been using it, crashing once.
Which brings us, of course, to the touchscreen, and what will likely be the whipping point for most geeks considering the Touch HD.  If you're starting from the point of view that a capacitive screen is the pinnacle of interfaces (and trust us, many would disagree on this point) then no, a resistive touchscreen is never going to match up.  That said, we stand by our assertion that this HTC handset has the best resistive panel we've used on a mobile device; firm, responsive, and capable both of precise taps with the stylus and bold gestures with fingers.
For many, though, having the ability to use both stylus and finger is a benefit, rather than the sign of a lesser technology.  If you find yourself in that camp then run, don't walk, to your nearest Touch HD stockist; it has 97-percent of the feel of a capacitive display – no squish, no sluggish drag – coupled with not only a stylus but the ability to use it wearing gloves.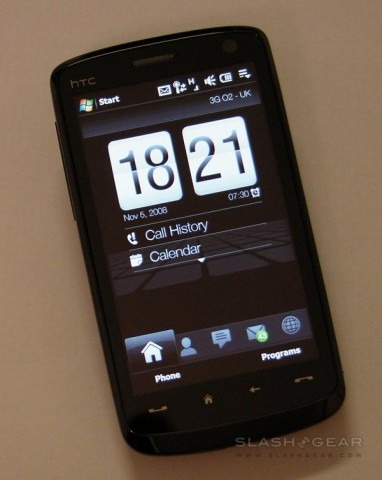 There are undoubtedly disappointments – the lazy GPS, for one - but the biggest issue comes down to Windows Mobile.  HTC have done a great job with TouchFLO 3D in hiding the underlying OS, but as long as there are menus and settings pages where you're dumped into basic Windows Mobile territory then it's simply not enough.  A good example of this is the alarm: tap the clock on the TouchFLO 3D homepage to change what time you'd like to wake up, and you're faced with a 3/4-inch line-drawn clock face adrift in white space.  A single tap from the homepage and TouchFLO 3D is behind you.
You could argue that's Microsoft's fault, for having an ugly OS.  Or perhaps it's HTC's fault, for not extending their GUI far enough.  In the end, though, the consumer isn't going to care who's to blame: they're just going to look at the interface failings and compare them to Apple's consistent, slick design, and you know which will come out on top.
The HTC Touch HD has the potential for greatness.  Connectivity options are both fast and plentiful, the physical design is attractive, even battery life – which you'd assume would be first victim to the glorious display – surprises with its longevity.  Without TouchFLO 3D it would be a washout, however; with it, many will be able to look past the Microsoft flaws.  We'd love to see the Touch HD running Google's Android OS, or even the next-gen version of Windows Mobile which, if the talk is to be believed, will bring with it an overhaul in usability and design.  Right now, it's not as consistently intuitive as the iPhone, and that will cost it some customers; those who stick with it, though, will be rewarded by an overall brilliant smartphone.