HTC Touch HD: SlashGear First Impressions & Gallery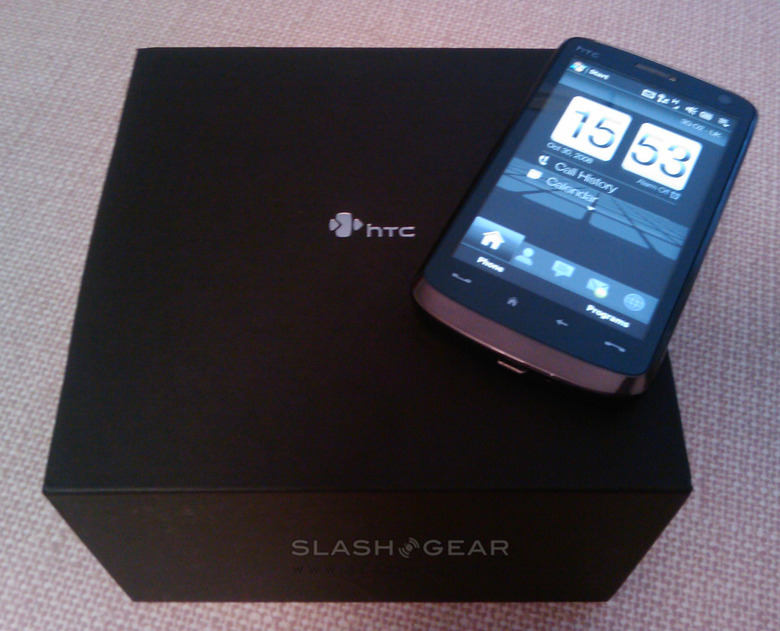 Good things, they say, come to those who wait, and it certainly feels like we've been waiting long enough for the HTC Touch HD.  From the first early leaks, official reveal and through to the disappointment that HTC wouldn't be releasing the smartphone in the US, this 3.8-inch WVGA touchscreen has managed to grab attention away from the best Apple, Sony Ericsson and the rest have to offer.  Now, finally, the HTC Touch HD has landed in the UK, and SlashGear have one of the first.Full gallery and first-impressions of the HTC Touch HD after the cut
First-impressions are good.  The packaging is slick and minimal, with a solid matte black box and magnetic clasp.  Inside there's the Touch HD itself, the AC adapter with UK and Euro plugs, a wired stereo headset and USB sync/charge cable.  This isn't the final bundle – there are no manuals or guides, for example – so expect slightly different contents in retail versions. 
In the hand, the Touch HD feels solid and expensive.  Unlike the Touch Diamond, with its fingerprint-magnet plastic back panel, the Touch HD is matte-finished and, with the exception of the touchscreen, resistant to finger dirt.  A gloss plastic panel at the rear on the bottom hides the wireless radios as well as bordering HTC's multi-function USB and headset port; thankfully, there's also a standard 3.5mm headset socket on the top of the handset too, meaning no frustrating adapter dongle.  Hardware controls are minimal, and limited to the power/device lock button along the top (which is surprisingly stiff) and a single-piece volume control on the top left-hand side.
Turn on, and prepare to be dazzled by the HTC Touch HD's display.  WVGA resolution means 800 x 480, but it doesn't say how bright it is: photos don't do the touchscreen justice, frankly.  Underneath there are touch-sensitive call, home, back and end keys, which vibrate slightly when you press them.  HTC's familiar TouchPRO 3D interface loads automatically when you power on, and the extra screen real-estate makes it truly finger-friendly.  Although not as responsive as a capacitive display, early impressions suggest it's better than just about any other resistive touchscreen we've tried; it also gives a small haptic vibrate, which is just light enough to be useful but not annoying.
As we've only had the Touch HD in for a couple of hours so far, it's still far too early to make any lasting judgements.  A few stand out improvements are the larger QWERTY keyboard, which now means you can use your finger rather than the stylus and still expect decent accuracy, and the giddymaking space there is to play with in the preloaded Opera web browser.  System speed is good, and there's none of the touchscreen lag that the Touch Diamond sometimes suffers from.
We'll have a full review soon, as well as video demos, hands-on feedback and other coverage of the HTC Touch HD.  If there's anything you particularly want to know about HTC's wunderkind, let me know in the comments.