HTC Tattoo Android smartphone review
Taking the software enhancements from your flagship Android smartphone and injecting it into the runt of the range might throw up warning signs for some, but that's exactly what HTC have done with the Tattoo. It may be smaller, pack fewer megapixels and a less fashionable touchscreen than the HTC Hero, but the Tattoo still totes the well-received HTC Sense along with Android 1.6. Are we looking at the bargain of the season, or is the Tattoo just playing dress-up? Check out the full SlashGear review after the cut.
As we mentioned in our unboxing and initial hands-on article last week, the Tattoo hardware feels a lot like that of its entry-level Windows Phone counterpart, the HTC Touch2. Measuring 106 x 55.2 x 14 mm and weighing a scan 113g, it's lightweight and makes a minimal dent in your pocket. Up front there's a 2.8-inch 240 x 320 resistive touchscreen, while inside there's a 3.2-megapixel fixed focus camera, dualband HSDPA (900/2100MHz) supporting up to 7.2Mbps downlinks and 384kbps uplinks, quadband GSM and both WiFi b/g and Bluetooth 2.0. There's also a true GPS receiver, a standard 3.5mm headphone jack and HTC's ExtUSB connector which is compatible with mini-USB.
That connectivity is roughly on a par with HTC's more advanced Android devices, and leaves the Tattoo in no shortage of spec sheet prowess, at least. In the hand, though, it's a less impressive experience. While the plastics are solid and creak-free, the display lacks the brightness and vivid colors of, say, the Hero; it also shows a greenish tint, though that's only particularly noticeable when you have both handsets next to each other. The drop in resolution – most Android devices have used HVGA rather than QVGA panels so far – is disguised to some extent by the smaller panel, but there's definitely less desktop space to fill with HTC and Android icons and widgets.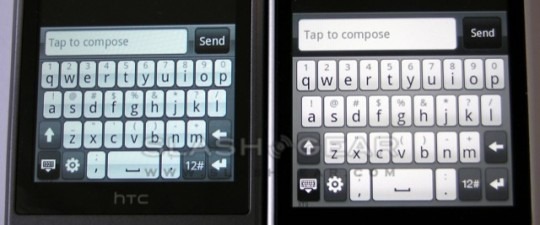 Still, the resistive panel is reasonably responsive to finger-touch, though requires a firmer press than we're used to. HTC's excellent auto-correction comes to the rescue of the on-screen keyboard; while we were obviously making several mistakes in each tapped-out sentence, the Tattoo deciphered our intent with a surprising degree of accuracy. Flipping the phone to the left automatically rotates the Tattoo into landscape orientation, making it surprisingly good for two-thumb typing. HTC have replaced the trackball with a simpler D-pad, the narrow raised edge of which hides the directional buttons with a large center-select. It's not quite as useful as the trackball (and doesn't light up) but it's an acceptable substitute. We found ourself missing the multitouch of the Hero in the browser, where it's a return to the floating zoom buttons, but since nobody has bothered adding pinch-zoom to Google Maps the experience there is little different.
Android 1.6 brings with it a few notable changes, the most obvious of which is the universal search bar that can pull up results from all through the system. A single click of the hardware search button triggers a search box for the currently active app; a second click searches the entire phone. The new OS version also brings with it the latest build of the Android Market, Google's download store. Content available for the Tattoo is markedly different – more specifically, there's less of it – from the Market experience on other Android handsets, because developers have to bring their apps up to speed with the smaller display size. Up until Android 1.5 only HVGA panels have been natively supported, but that all changes in 1.6; unfortunately, third-party apps don't automatically accommodate to the new displays, so it might be a while before the Tattoo gets the same range of software as the G1, Magic and Hero now enjoy.
In use, though, the Tattoo is reasonably speedy, with its Qualcomm MSM7225 528MHz chipset keeping things moving. It won't win any awards for speed, but neither does it demonstrate the lag many complained about with the initial Hero release. Onboard memory is limited to 512MB ROM and 256MB RAM, but there's a microSD card slot (under the battery cover, but not under the battery) to expand that; you still can't install apps to a memory card in Android, however, so pick your software wisely. As for the battery itself, HTC rate the 1,100mAh pack for up to 342 minutes WCDMA talkative or 520hrs standby; with careful use we eked out a couple of days from a full charge, but like most smartphones we're playing with lately you'll likely be recharging every night.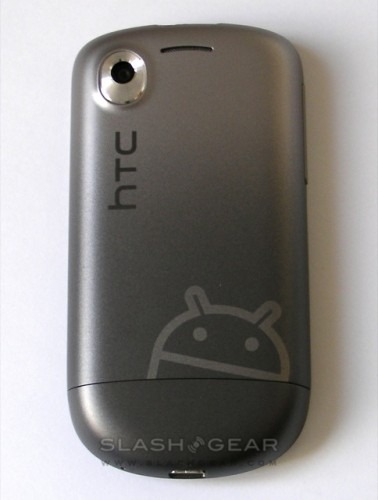 The Tattoo's 3.2-megapixel camera isn't its strongest feature, though like with the HTC Touch2 the absence of autofocus does significantly reduce delay between pressing to take a shot and the image being captured. Indoors, you'll need good, balanced lighting for best results (and even then stills are average), while outdoor shots fair a little better. Low-light is pretty much a no-go, either for stills or video, though once you've taken them it's an easy matter to upload to YouTube, Picassa, Facebook or Flickr.
As a phone, voice call quality is decent. We noticed a little echo at times, and the speakerphone isn't as crisp at high-volumes as on other recent HTC devices, but it'll do in a pinch. HTC Sense neatly pulls in Facebook profile photos for those contacts you've linked in the Tattoo's address book, and shows them whenever there's an incoming or outgoing call.
The HTC Tattoo, then, is serviceable but not especially exciting, lacking the sparkle or distinct design of the Hero. What will make the difference is pricing; in the UK, carrier Orange are currently offering the Hero free on 18 month contracts of around £35 ($57) or above, while the Tattoo Ink (as they call the new smartphone) is free on a mere £20 ($33) contract. When the Tattoo begins to show up on prepaid plans, we'd expect it to be reasonably affordable contract-free too. HTC are hoping to pull some favor among those who like to customize their phones, with interchangeable front and back covers and a website where you can create your own.
While the first handful of Android devices were tasked with showing the platform's high-end potential, the HTC Tattoo – like the Huawei Pulse – now fleshes out the budget end of the market. That fits in perfectly with Google's initial goal for Android, a free OS that makes cheap phones cheaper but that's also capable enough for flagship devices. Feature-phones watch out: Android is gunning for you now.
HTC Tattoo unboxing & overview:
[vms 12acf12457e4d67635a9]