HTC swiftly promises Android Nougat for One M9, A9, HTC 10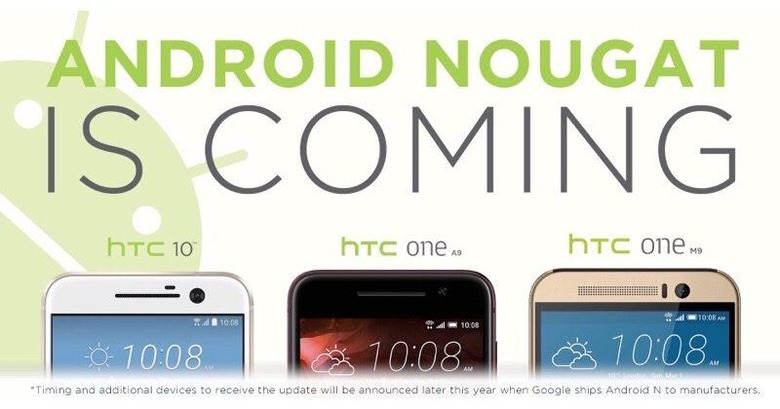 So Google has finally decided that Android N will be forever known as Nougat. We'll leave open the debate of whether it actually matched what the Interwebs voted for (some claim it doesn't). For now, we will focus briefly on the rush of OEMs swearing fealty to the upcoming nutty treat. What rush? It seems that manufacturers aren't that hasty in promising the heavens to their customers. HTC, of course, is having none of that and has indeed promised Android Nougat for HTC One M9, One A9, and HTC 10 smartphones. Without, of course, promising when.
HTC isn't new to this game, of course. It is usually one of if not the first to shout support for an upcoming Android release. But promising something to happen is one thing. Actually delivering that promise intact and without exception is another story. Actually delivering on that in a timely manner is almost too much to ask. Of course, HTC could simply point the finger at other stages down the pipeline (a.k.a. carriers) and say it has done its job.
But there are other concerns that HTC has to address as well. It has named three and only three models, which happen to be its latest flagship level smartphones. But those aren't the only ones in its catalog, even as flagships go. It has variants upon variants of those models. To be specific, there is the One M9+ and the HTC 10 Lifestyle, neither of which are in the extremely short list either. The HTC One (M8) is, of course, absent as well. Despite relative popularity, it has reached its end of life as far as major updates are concerned.
To be fair, there are still many details left out of Android Nougat for HTC to make a promise about other models. Those three just happen to be still within HTC's two-year support scope. It does say that more models could be added as more details about the next Android release is revealed. So there might still be hope. As to when, that will depend on the details about Android's next release.
So yes, HTC has perfected the art of promising everything without really promising anything.
SOURCE: @HTC