HTC Sensation XL Review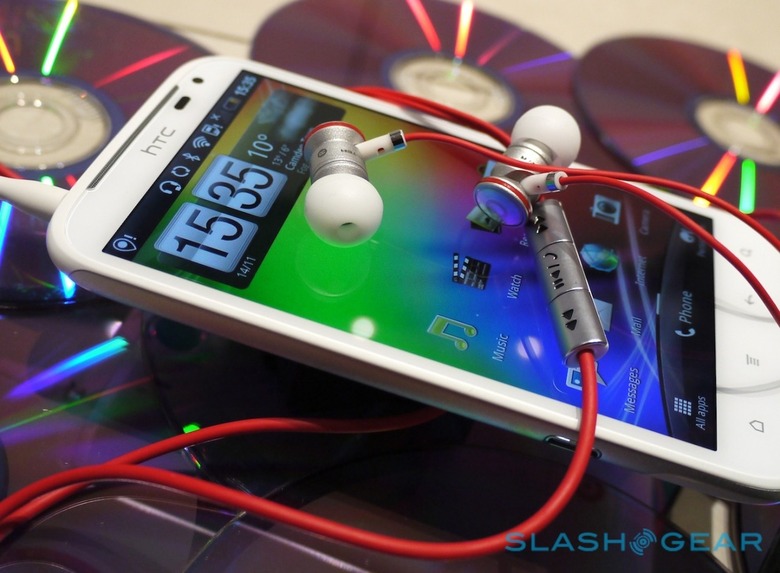 Seldom has the name of a phone been so obviously related to its proposition as with the HTC Sensation XL. Bearing a supersized 4.7-inch touchscreen along with Beats Audio, this "extra large" Android smartphone should arguably be the pinnacle of HTC's multimedia range. However, cost-cutting and some frustrating design decisions could undermine all that. Read on for the full SlashGear review.
Hardware
HTC hasn't had to stretch much to come up with the Sensation XL. Ignore Android for a moment, and you're basically looking at the HTC Titan only in white rather than black: the XL and the Windows Phone share the same 4.7-inch WVGA touchscreen, the same 1.5GHz single core MSM8255 processor and 8-megapixel camera with 720p HD video recording support. There's more RAM in the Sensation XL – 768MB versus 512MB – but unfortunately the missing memory card slot and miserly 16GB of fixed storage (of which 12.64GB is available to the user) remain: unimpressive when you consider HTC has included Beats Audio functionality and is pushing the handset as a multimedia maven.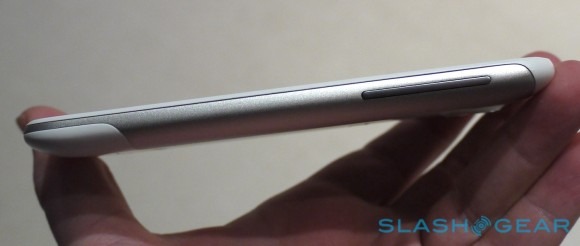 Connectivity includes the usual triband HSPA/WCDMA and quadband GSM/EDGE, along with WiFi b/g/n and Bluetooth 3.0. There's a microUSB port for charging and syncing, along with GPS, a digital compass, gyroscope, proximity/ambient light sensors and a 1.3-megapixel front facing camera for video calls. DLNA streaming is supported out of the box, but not MHL HDMI for a wired connection to your big-screen TV.
The Beats Audio premise is the same as we've seen on other recent HTC phones, like the Rezound and the Sensation XE, offering a custom tuning profile that automatically loads (though can be turned off) when the bundled urbeats in-ear headphones are plugged in. HTC will offer the Sensation XL with a special, folding pair of Beats over-the-ear headphones in some markets, though they weren't available for us to test. The overall result is certainly better than the usual shoddy earphones thrown in the box with cellphones, for which we give HTC credit, though the tuning itself lends itself to a pretty specific type of music. Heavy on bass and with a broad, punchy soundstage, if you listen to RnB or dance music you'll likely be pleased but those preferring classical, jazz or primarily vocal tracks may have better results turning the EQ off.
HTC Sensation XL Video Review:
As for the display, it's tough to get too excited over WVGA resolution, even if the panel itself is large and bright. HTC told us at the Sensation XL's launch that its display choice was partly down to supply availability and partly down to cost when we voiced our concerns about the number of pixels on offer, then promptly wowed us with the HTC Rezound for the US market, complete with a 720p panel boasting a higher pixel density than the well-esteemed iPhone 4S. In comparison, while the Sensation XL's Super LCD has vivid colors and solid viewing angles, we couldn't help but feel short-changed when browsing and reading email and ebooks.
Software
Android 2.3.5 Gingerbread is the order of the day here, though with HTC's usual UI revamp. HTC Sense 3.5 is carried across from the Rhyme, with its lockscreen shortcuts, colorful widgets that look good on the sizable display, and exclusive apps like HTC Watch along with social networking integration in FriendStream. By now it's all very familiar, though HTC is careful to buff up the visual gloss every so often.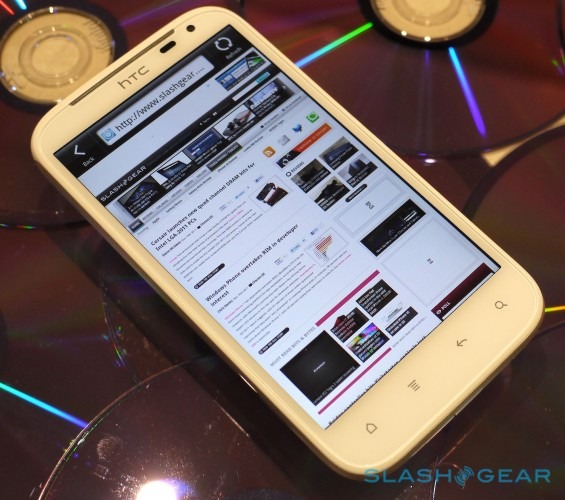 Performance from the single-core processor is satisfactory, and we experienced no real slow-down during use. The browser is particularly solid, with smooth pinch-zooming and panning. With no HDMI output option, wasting the Sensation XL's limited internal storage for 720p or higher resolution video didn't seem sensible, but clips played smoothly nonetheless. YouTube HD footage was judder-free, and all that display space did at least allow the on-screen keyboard plenty of room for even the thick-fingered to use easily.
Camera
The Sensation XL brings an 8-megapixel camera to the table, with an f2.2 lens and backside-illuminated sensor for improved low-light performance. There's a dual-LED flash but only 720p HD video recording, not 1080p like its Sensation siblings, thanks to the limits of the processor. A 1.3-megapixel front-facing camera does video call duty.
Stills are good if you feed them with plenty of light, and the shutter release – despite the absence of a dedicated camera shortcut – is speedy. Touch-focus is supported (in both stills and video) and there are the usual bevy of effects and exposure/contrast tweaks in the settings. Noise is the inevitable companion of darker shots, with the dual-LED flash proving powerful but also prone to washing out closer subjects.
As for video, the Sensation XL seems particularly dependent on good lighting, with anything less than daylight leading to dim, murky scenes. The touch focus is useful, but exposure seems to adjust in steps rather than smoothly, as the sensor struggles to catch up. We've definitely seen better on other devices, including from HTC's own stable.
Phone and Battery
In-call audio proved good, with the Sensation XL quickly finding and clinging well to a signal. Speakerphone performance also impressed. The Beats Audio headset has an in-line microphone and call buttons (along with music controls) though there's Bluetooth support if you prefer to go entirely wireless.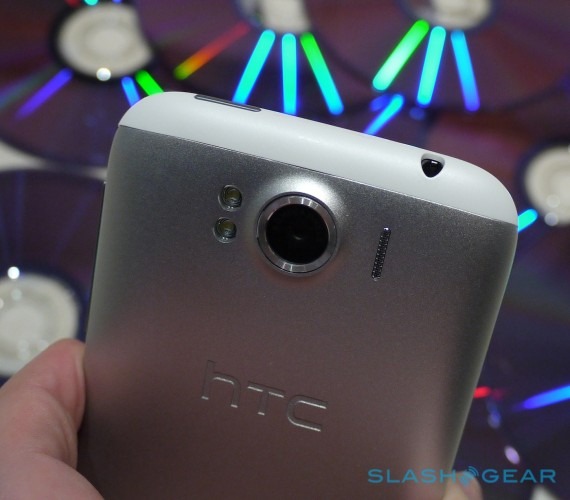 With a 1,600 mAh battery and a big display, we weren't expecting miracles from the Sensation XL when it came to runtimes. If you use the phone as HTC arguably expects you to – plenty of video and music playback, along with browsing – then don't be surprised if you have to sneak in an extra top-up while the evening is still young. More casual use – with push email turned on and a mixture of WiFi and 3G – saw the Sensation XL stick to the typical nightly-recharge cycle.
Wrap-Up
Once upon a time you got points merely for bringing extra inches to the party. Now the smartphone world has caught on to the fact that it's not size that matters but what you do with it that really counts. The HTC Sensation XL plays the size card but doesn't back it up with pixels, and – unless you have particularly poor eyesight – we're not convinced it warrants such a display.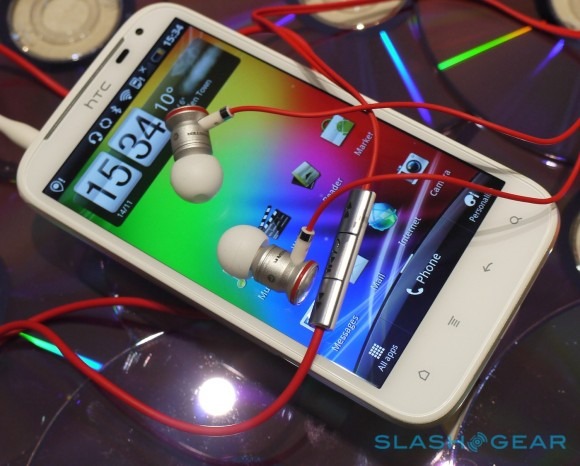 It's not the only questionable decision on HTC's part. Limiting storage in a multimedia handset to under 13GB and then failing to provide a way for owners to expand it is a huge oversight, and one that smacks of designing to a budget rather than to realistic expectations of what users may want to do.
At times it seems like HTC is trying to follow Samsung's strategy, with a phone for each and every possible price-point. Unfortunately, Samsung has a direct tap on the latest and greatest display, processor and memory hardware, while HTC is dependent on its suppliers. That doesn't mean it can't produce brilliant devices – the Rezound is a good example of that – but it does mean that handsets like the Sensation XL can feel like filler in the range. Serviceable yes, but the HTC Sensation XL lacks top-tier appeal.