HTC Sensation: Sense-style Tablet UI or new branding push?

A new HTC trademark has prompted speculation about the company's software intentions for upcoming tablets, though the company could also be looking to better brand its overall ecosystem of devices. The EU trademark filing for "HTC Sensation" could be interpreted as an evolution of the existing HTC Sense interface and online services, perhaps tailored to tablets like the HTC Flyer.
"Mobile phones, smartphones, wireless phones, wireless devices, portable computers and personal digital assistants, computer hardware and software for mobile, portable and wireless devices; user interface software; computer hardware and software for user interfacing, telecommunications and telecommunications services; computer hardware and software for transmitting and receiving voice, image, data, audio, video and multimedia content; wireless modems; headsets, headsets with wireless transmission function, connection cables, cradles, mounts, face plates, batteries, power adaptors, chargers, cases, in-vehicle chargers, in-vehicle holders, remote controls, keyboards, microphones, loudspeakers, leather pouches for mobile phones" Trademark description
Alternatively, HTC could be looking to use "HTC Sensation" as an overall experience brand for their growing range of devices. That could be implied by the broad-ranging trademark description, which covers everything from hardware and software in mobile devices, smartphones and PDAs, to accessories and peripherals.
With three tablets expected from HTC in the first half of 2011 alone, a growing peripheral range and a previously stated desire by CEO Peter Chou to continue pushing the HTC brand and raise consumer awareness, that would certainly all seen to fit together under the "HTC Sensation" umbrella. More details are likely to be revealed at MWC 2011 next month.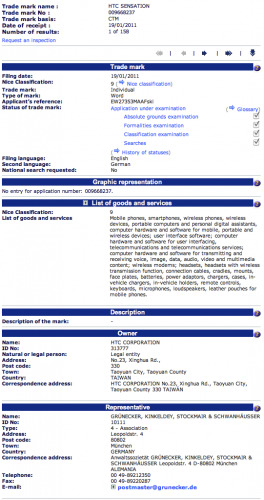 [via Android Community]