HTC Sensation 4G Available Now At T-Mobile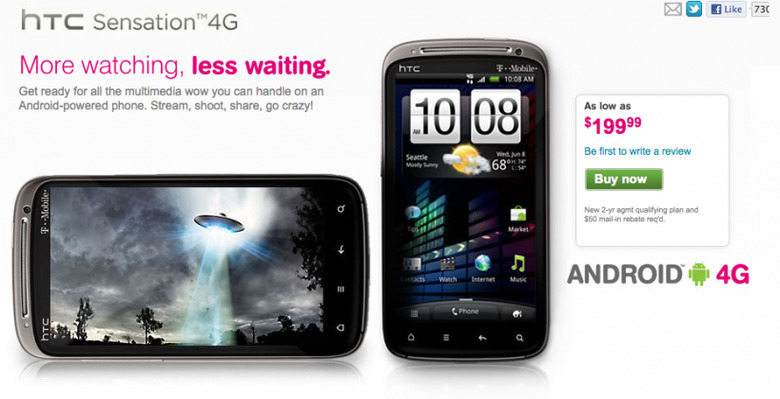 That beast of a smartphone, the HTC Sensation 4G is now available at T-Mobile. Some lucky folks were able to get them early and at a discount from Walmart, but for the rest of us, we can now head to T-Mobile retail stores or online to pick up HTC's new flagship smartphone.
The HTC Sensation 4G features a 4.3-inch qHD display, 1.2GHz dual-core Qualcomm Snapdragon processor, and an 8-megapixel rear camera. It will come running HTC Sense 3.0 UI on top of Android 2.3.3 Gingerbread. The new UI promises new features such as enhanced 3D widgets, smart lock screens, and HTC Watch for media downloads.
The smartphone is priced at $199 with a new two-year contract that includes both voice and data plans. However, that price is only after a $50 mail-in rebate, which means it's $249 out-of-pocket right away. That sure makes the $148.88 Walmart deal seem awfully sweet. If you've been able to find the phone at your local Walmart, let us know in the comments.
[via T-Mobile]