HTC Sensation 4G On Sale Early At Some Walmarts

HTC's new flagship phone, the HTC Sensation 4G, is reportedly going on sale early at some Walmart locations. The phone was recently knocked for having an iPhone-like "death grip" signal strength problem, which the company quickly dismissed as false. If the issue doesn't perturb you and you'd like to grab one early, then be on the look out at your local Walmart.
According to some pictures taken and sent in to Android Community, the HTC Sensation is already being sold at Walmart for a low price of $148.88. The pictures were sent in from two readers based in Texas, who claim that they had just picked up two of the phones. They said that the manager even checked the system to make sure it was okay to start selling them.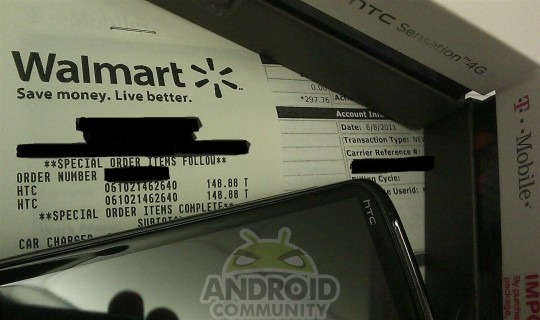 The pictures show the devices along with the boxes and the receipts. But it's not clear if Walmart is selling the HTC Sensation 4G with contract only or also offering them off contract. But if you've been wanting to get your hands on this phone, then you might try heading to your local Walmart right now and hope that you're just as lucky.
[via Android Community]