HTC Scribe tablet trademark tips slate intentions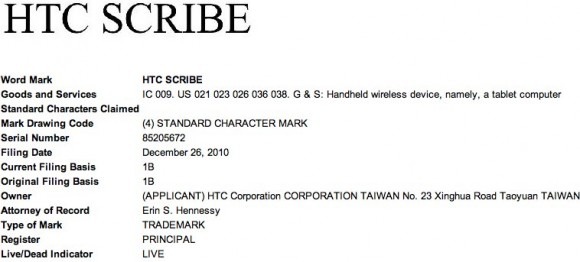 HTC's tablet intentions have been well raked over in the past few months, and now a potential name for the upcoming slate has been unearthed courtesy of a new trademark filing. The "HTC Scribe" is described as a "handheld wireless device, namely, a tablet computer" in HTC's submission, while the name itself would seem to suggest some form of stylus.
That could either be a capacitive stylus, as we've seen HTC offer for the HD2 smartphone, or – more interestingly – it could involve a dual-mode touchscreen that would have an active digitizer from a company such as Wacom. Such a display would mean far higher accuracy for writing and drawing, together with palm-rejection so that leaning a hand on the display while using the stylus wouldn't accidentally trigger it in the process.
As for the rest of the hardware, a 10-inch 1280 x 720 display is expected, while NVIDIA's Tegra 2 processor and 2GB of memory is tipped. That'll be paired with a 32GB microSD card. OS is Android 2.4 Honeycomb, which is expected to arrive sometime before the end of Q1 2011.
[via Pocketnow]