HTC ROMs tip Lexikon and Bee Android phones incoming

Two new HTC smartphones have apparently been detailed, according to 911HTC's work digging through the company's ROMs.  The HTC Lexikon and HTC Bee both run Android 2.2 Froyo, with the former having a 3.8-inch WVGA display and QWERTY keyboard, and the latter getting a smaller 3.2-inch QVGA display.  According to 911HTC, the Bee is headed to Verizon among other smaller CDMA carriers.
Both handsets have a 5-megapixel autofocus camera, but the Lexikon has a faster 800MHz Qualcomm processor while the Bee gets a slower 528MHz chip like the original Hero.  Each handset will run HTC Sense.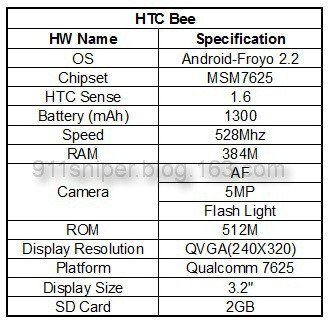 [via Android Community]