HTC Roadmap reveals Omni super-smartphone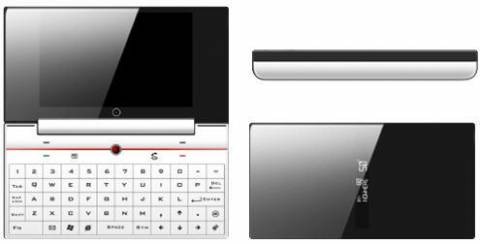 I guess it's a day for slick renderings.  First the Motorola Zante, rumoured to fit somewhere into the Sidekick range, and now HTC's Omni, rumours about which have been rumbling around the internet like discretely-passed wind in a communal bath.  A folding smartphone similar in concept to the Nokia Communicator, sources would have it that this image – and the following information – is taken from an HTC roadmap detailing the device's October launch.
Inside the slick, minimalist casing is a GSM/GPRS/UMTS/HSDPA cellphone with WiFi in b and g flavours, Bluetooth 2.0, GPS and assisted-GPS, running Windows Mobile 6 on a 400MHz Samsung SC244X processor.  The main display is a WVGA 800 x 480 unit measuring 4-inches, and there's a sub-display for caller-ID and status on the outside.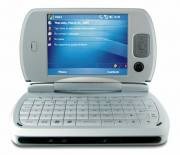 Physically connectivity gets a boost, with both TV and VGA out, offering potential for the Omni to be both a portable office and media player, though you'll be looking to store most things on microSD since internal memory is limited to 256MB ROM and 128MB RAM.
Dimensions run to 130 x 81 x 16 mm, and it's apparently set to be the successor to the successful but ageing HTC Universal.
Unwired View [via the::unwired]