The HTC RE camera now has full streaming functionality for YouTube. This means you'll be able to set up the HTC RE camera to work with your phone or mobile data-connected tablet to stream video from the Re to YouTube on the web live. Live streaming videos do have some limits – 30 minutes and 480p – but are otherwise available for all devices that currently work with the HTC RE – again, just so long as they're connected to mobile data and not just Wi-Fi.
This system requires either 3G or 4G LTE connectivity to send video live to YouTube. Your RE camera will send video at whatever quality your mobile network's strength will allow. You'll need to set up and sign in to your Google account – with YouTube – on your smartphone or tablet for this system to work.
NOTE: HTC RE live YouTube broadcasting was activated on Android previous to this week. Today iPhone and iPad YouTube broadcasting has been made live for the first time.
While recorded videos will be directly uploaded to your YouTube account, they will not be saved to your RE camera.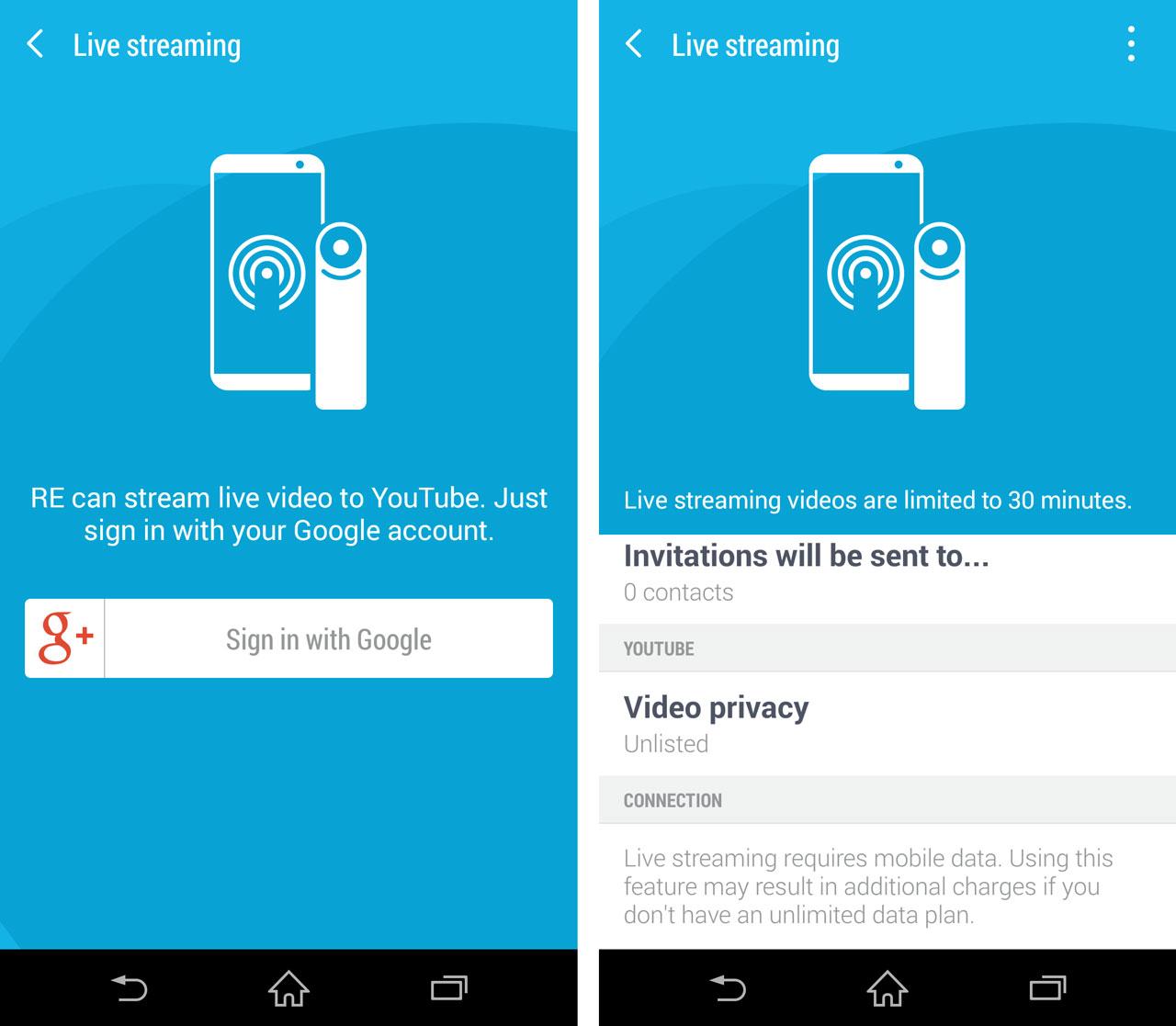 To connect to RE live streaming with YouTube, you'll have to go through the following steps. Note that these steps are for Android devices and may be ever-so-slightly different for iPhone and/or iPad.
1. Connect your phone and your RE.
2. Go to Settings.
3. Tap Live streaming.
4. Sign in with your Google®.
5. Tap Enable live streaming, then follow the onscreen instructions to complete the setup.
6. When you see a confirmation message onscreen that you have successfully enabled live streaming, tap Done.
Once you've activated live streaming, you'll need to make sure your phone is connected to your RE camera and tap the camera icon to go to Live viewfinder. From there, in portrait mode, you'll want to touch the camera button to switch to Video, then select the Live streaming checkbox.
Once the live streaming checkbox is checked, you'll have to tap the blue transmit button to start recording. Once the progress bar that appears is fully blue, your stream will be live.
Have a peek at our full HTC RE camera review for more information about the hardware in this article, and hit the timeline below for more HTC action.