HTC Pyramid leaks again: qHD display and front-facing camera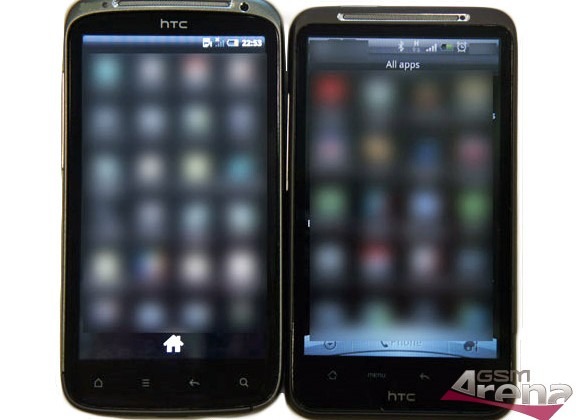 Having been caught flaunting its electronic rump at us yesterday, the HTC Pyramid has turned up again with a face-on shot so we can marvel at its qHD display and front-facing camera. Shared to GSMArena, the image shows the Pyramid (on the left) next to the WVGA HTC Desire HD, with the difference in screen resolution clear from the menu bar.
Otherwise, stylistically it seems like a mixture of other recent HTC handsets, so you get the speaker section and forward camera of the Desire S while the touch sensitive buttons look more like those on the Desire HD. From the back we know it's one of HTC's distinctive unibody chassis, similar to the HTC Mozart.
Inside, we're expecting a 1.2GHz dual-core processor, like the HTC EVO 3D, along with 768MB of RAM, an 8-megapixel autofocus camera, DLNA support and v3.0 of HTC's Sense system, all on top of Android 2.4 Gingerbread. Last we heard, HTC was preparing to out the Pyramid at CTIA 2011 this week, so we shouldn't have to wait long for all the news.
[Thanks Anthony!]