HTC One X+ Review
HTC's One X, which launched earlier in the year, turned out to be quite a capable Android handset, and it was leaps and bounds above the company's 2011 lineup. However, HTC decided to launch an updated version just a few months after the release of its predecessor. It's available now exclusively on AT&T's network, and it's priced at $199 after a two-year contract. While the One X+ may not look any different than the One X, it does come with some decent and welcomed updates on the inside. It comes out of the box with Android 4.1 Jelly Bean, a NVIDIA Tegra 3 chip, 64GB of storage, and a slightly larger 2100mAh battery. These changes certainly are key updates that are crucial if HTC wants to keep up with other flagships going into the holiday season, but are the upgrades worth the higher price? And more importantly, can it compete with the other top-tier handsets on the market?
Hardware
To answer that last question, the answer is simply, yes, it can. It doesn't necessarily stand alone, but it should make the shortlist for anyone narrowing down what top-of-the-line smartphone to get themselves or their loved one this holiday season. The unibody design that we saw on the One X is the same as what we're seeing on the One X+. Thanks to the polycarbonate housing, the handset is pretty light and also really thin, and the soft-touch finish allows for a firm grip on the device, but our black version was quite a finger smudge magnet. However, despite the large 4.7-inch Super LCD 2 720p display, the entire device doesn't feel overwhelming to hold at all, unlike other 4.7-inch handsets that I've played around with.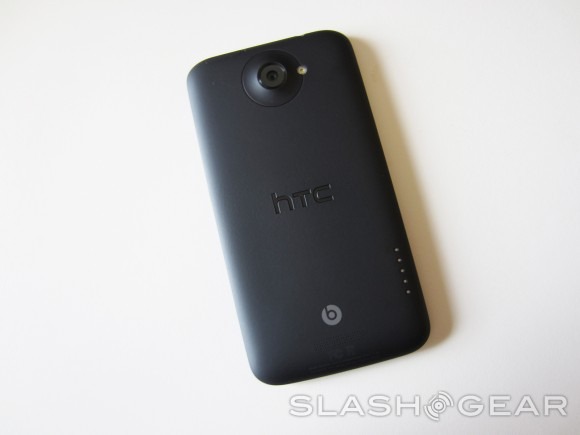 Since it's a unibody device, there's not a lot of things that you can take apart easily. There's no battery cover, which means you can't replace the battery with a bigger one or use a spare, but that also means it's a lot sleeker than non-unibody handsets. On the top, there's a headphone jack along with the ambient noise sensor, with the power button on the right. On the left side, there's the microUSB port, with the volume rocker sitting on the right side. On the bottom, there's just the microphone. And finally, on the front, you have the three capacitive soft buttons — Back, Home, and Recent Apps — as well as the typical elongated earpiece that HTC is known for, with a notification light hidden within.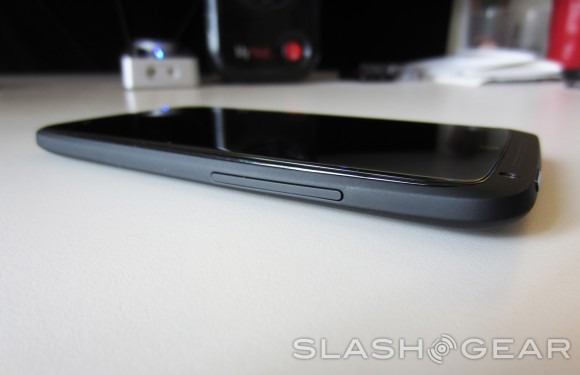 There's a bit more happening on the back of the One X+, though. The 8MP camera protrudes just a tad from the surface, and there's a single LED flash to accompany the camera. Also on the back is the microSIM card slot. It's not necessarily situated on the back of the phone, but it's also not really situated at the top — it's mostly located in between on the curve, which is almost an odd place for it, but it actually works. The speaker is also located on the back towards the bottom, as well as the five small gold contacts for docking purposes.
On the inside is where all the real changes occur, though. The HTC One X+ trades in the dual-core Qualcomm S4 Snapdragon processor of the One X for a NVIDIA Tegra 3 chipset that pairs a quad-core ARM Cortex-A9 processor clocked at 1.7GHz with GeForce ULP graphics. The device also comes with 1GB of RAM and a whopping 64GB of internal storage. While there's no microSD card slot, we think the 64GB of storage is plenty of space for any user.
The 4.7-inch display has a resolution of 1280x720, giving it a pixel density of 312ppi, which pegs it right up against the Samsung Galaxy S III and the LG Optimus G. It's the same display in the One X, which arguably has one of the best displays on the smartphone market (before the DROID DNA came along). It's super crisp and clear, and it provides an excellent viewing experience with text and images showing up extremely sharp and bright.
Software
The HTC One X+ runs Android 4.1.1 Jelly Bean right out of the box, with HTC's Sense 4+ UI running on top. If you're already familiar with HTC's user interface, you won't see many surprises in Sense 4+ other than the new Jelly Bean features like Google Now and Project Butter. Of course, if you're looking for a device that offers a pure Android experience, you may not like HTC's excessive skinning, but it adds a lot of nice features that many users will take advantage of. While HTC is sometimes accused of over-skinning, they actually left a couple of Jelly Bean features alone. For instance, they didn't implement their own speech recognition tool over Google's own solution. Instead, you'll be greeted with pure Google Now and Voice Search on the One X+.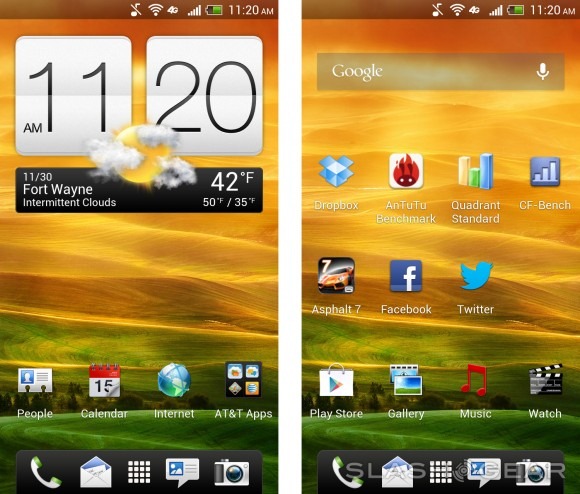 A lot of the differences between Sense 4.1 (on the One X) and 4+ are mostly behind the scenes and very subtle. The update claims smoother navigation, improved performance, and better battery life. HTC also seemed to remove shadows and embossments from text and replaced them with sharper effects in order to make text easier to read, although that may just be my mind playing tricks on me, but I did notice that text seemed a little crisper compared to other HTC devices I've played around with. Infinite scrolling has made a return as well, after being removed on the One X. This allows you to jump from the furthest left home screen to the furthest right, and vice versa.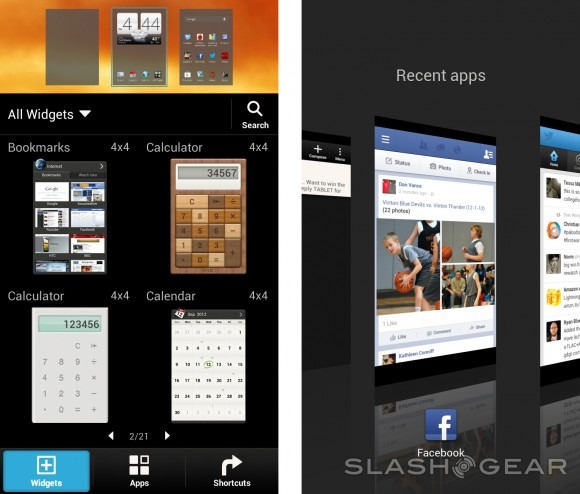 As far as a possible update to Android 4.2, we wouldn't be surprised if the One X+ eventually received it. It's a new-enough device and a powerhouse of a smartphone for HTC and AT&T to definitely consider giving one of its best handsets an update to the latest Android version. Plus, an update to Android 4.2 would make the handset just that much more appealing to buyers who are wanting a future-proof device.
Benchmarks & Performance
With the HTC One X being an excellent smartphone, we knew going into it that the One X+ would only be an improvement, and that benchmarks would be a little better. However, the benchmarks showed that the One X+ provides quite the performance boost over the One X. In AnTuTu, the One X+ scored just over 16,200, which is right on par with Samsung's Galaxy S III, but not quite up to snuff with the LG Optimus G or the Nexus 4. Of course, though, the difference is most likely negligible. Compared to the One X, which scores as high as 11,000, the One X+ is certainly quite a bit faster.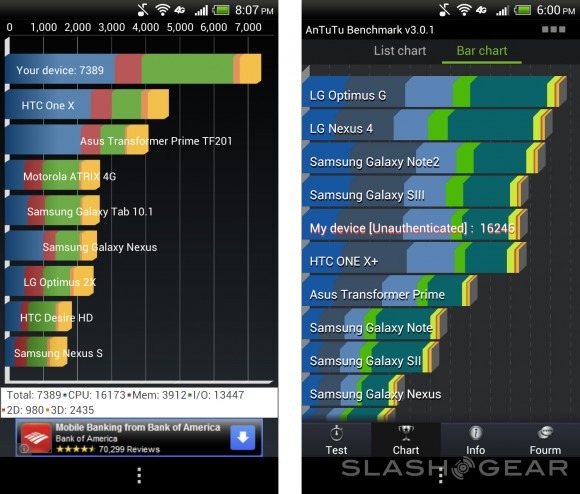 In Quadrant, the One X+ scored a 7,400, which is over double of what our scores were with the One X (3,400). It also does better than the Galaxy S III, which scored 6,000 during our testing, and performed just slightly better than the Optimus G. Of course, benchmarks aren't everything, and what truly matters is if users will be happy with the performance of the phone and its user interface. Thanks to Project Butter that was introduced in Android 4.1 Jelly Bean, the One X+ is both snappy and smooth. Navigating through different screens and switching between apps was really quick. Surprisingly, playing a little bit of Asphalt 7 was a less-than-stellar experience, though — it was really laggy and framerates were disgustingly low. However, Mass Effect: Infiltrator played much smoother and provided better performance all around, which makes us think that Asphalt 7 may be an isolated issue.
Camera
The One X+ has an 8MP rear camera with a 1.6MP front-facing shooter. It's essentially the same camera found in the One X, but with a slightly improved sensor that's capable of recording 1080p video at 30fps instead of 24fps in the One X. The front-facing camera has also been upgraded to 1.6MP from the 1.3MP on the One X.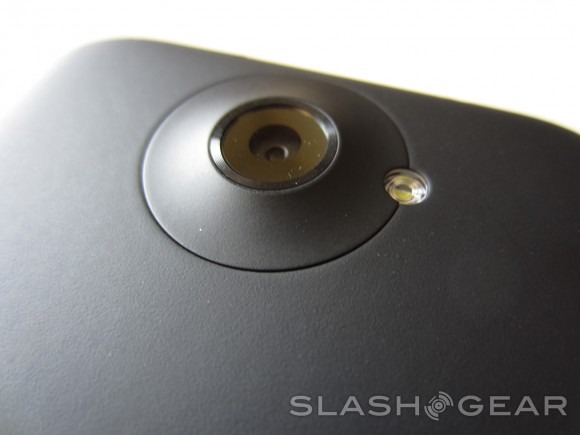 Overall, I really like the camera app's user interface. It's really easy to access all of the settings, and there's even two shutter buttons, one for taking photos and the other for taking videos. This is extremely handy, since there's no need to have to wait a few seconds in order to switch between the two.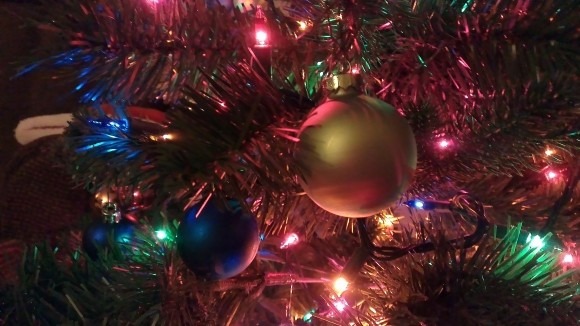 Photo quality varies depending on the situation. With enough lighting, images can appear really crisp and sharp, but low-light conditions offer a different experience. Taking pictures in low light adds a ton of noise, almost to the point where images appear blotchy. Of course, you can manually adjust the ISO in the settings, but lowering it when you want to take a picture of a night scene opens the door for blurry photos, which is arguably worse than just having a lot of noise. Contrast and saturation is a bit too high as well, and sometimes exposure isn't perfect at times, but with HDR mode turned on, photos get exposed a lot better. However, a lot of users won't even bother with HDR mode anyway, since it's a lot slower than just the automatic setting.
As far as different features, there's Panorama mode and the aforementioned HDR mode, as well as a built-in Slow Motion mode. These aren't anything new, as we're already used to seeing these in the HTC One series. There are also a handful of color effects that you can choose from and apply them to photos and videos in real time — sort of like Instagram, but not quite as comprehensive.
As far as video quality goes, it was slightly above average, but it wasn't without its faults. The increase to 30fps is certainly something that we don't mind, but the difference from 24fps is negligible. Most videophiles will be able to tell the difference, of course, but casual videographers won't care too much. Exposure changes going from dimly-lit areas to well-lit areas and vice versa is quick, and continuous autofocus works fairly well too, although there were times when it took a bit of time to refocus.
Battery
The HTC One X+ now comes with a larger 2100mAh battery compared to the One X's 1800mAh battery. This is always a good thing, of course, but with the internal hardware enhancements, the 300 extra mAhs may have been required rather than just an amenity for picky users. Plus, the unibody design means that you won't be able crack open the device in order to change out the battery for a spare or larger alternative.
However, we couldn't find anything to complain about as far as battery life is concerned. HTC has certainly improved on the battery life of devices of yesteryear, and it seems the company is even advocating longer battery life in the software as well, with a permanent and easy-to-get-to "power saver" toggle in the notification tray. I ended up going all day long and well into the evening before I had to plug the One X+ into the wall. This was after I started the day on a full charge and with moderate to heavy usage, such as running benchmarks, playing games, and streaming Netflix at various times throughout the day.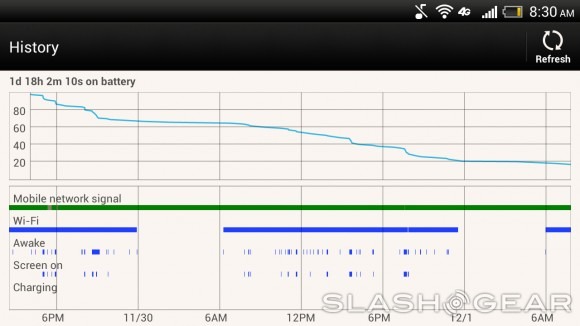 With typical usage, I ended up getting well over a day and a half out of the battery, doing things like checking email, surfing social media, browsing the web, and keeping up with sports scores throughout the day. However, any hardcore gaming for an extended amount of time, as well as GPS navigation will certainly drain the battery faster than a water pipe can drain water, but that's obviously to be expected, and we would hope that anyone who ended up playing mobile games on the One X+, or even have navigation up for an hour or two at a time would most likely have an outlet or car charger nearby.
Wrap-Up
The design and looks of the One X+ haven't changed a whole lot since the One X, so if you were hoping for a cosmetic change of some sort with this updated model, you'll be sorely disappointed. However, the real upgrades are on the inside, and while they may not be extremely significant (think Apple upgrading from 3G to 3GS, or 4 to 4S), they're compelling enough that we'd easily recommend the One X+ if you don't already have a HTC One device.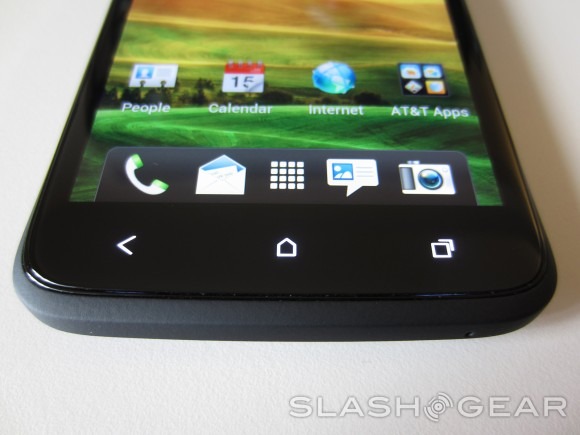 The presence of LTE alone can make this phone a viable competitor against the Nexus 4, even if it is just a slightly faster handset than the One X+. Other devices, like the Galaxy S III and the Optimus G are powerhouses, but if you're not a big fan of their user interfaces, you wouldn't be sacrificing a lot performance-wise if you ended up going with the One X+, except maybe the removable battery if that's a concern for you. Other than the company's flagship DROID DNA, the One X+ is certainly one of HTC's best devices on the market right now.