HTC One X prematurely pictured?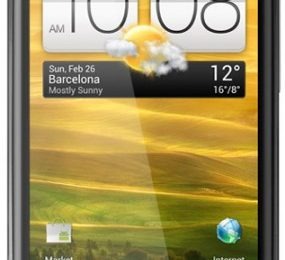 HTC's
 smartphone has been pictured in press-shot form, days ahead of the Android quad-core's official debut expected to take place at
, and complete with dedicated Ice Cream Sandwich control buttons. The handset, previously known as the
and Endeavor, is expected to run Android 4.0 and Sense 4.0 on NVIDIA's Tegra 3 quadcore, according to the rumor machine, and thanks to 
's leaked image we can get a glimpse of the presumably final hardware wrapped around those specs.
Up front is believed to be a sizable 4.7-inch touchscreen, running at 720p HD resolution, while we're expecting an 8-megapixel camera on the back with 1080p Full HD video recording. There's clearly a front-facing camera too, while the ICS controls for back, home and task-switching that, on the
, are rendered in software, get dedicated touch-sensitive buttons on the One X.
It's unclear what material HTC has opted to use for the One X. The black handset could be plastic, or it could follow in the footsteps of previous unibody HTC devices and be constructed out of metal. That could lead to a hefty handset, given the scale involved, but we're unlikely to know for sure until we go hands-on next week.
HTC's press conference is on Sunday in Barcelona, so there's not long to wait. Still, plenty of time for shots of the HTC One S (aka the HTC Ville) and HTC One V to beat Peter Chou to the big reveal. Join us on Sunday when SlashGear heads to
 to bring you back all the details!
[
Android Community]