HTC One mini 2 Review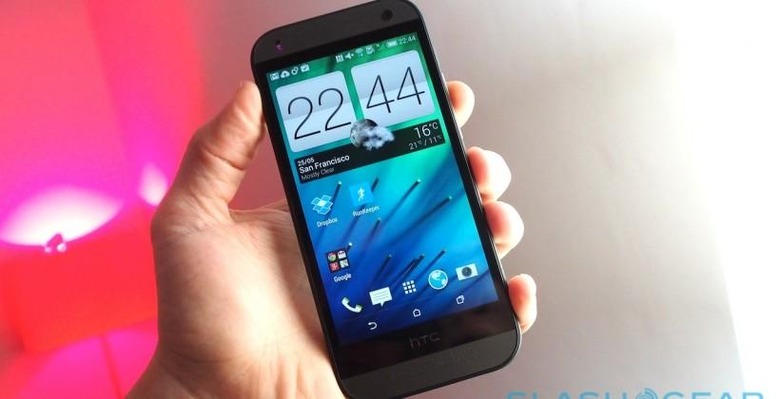 HTC makes a great flagship smartphone but overlooked its midrange, and it has the dreary sales figures over the past couple of quarters to prove how shortsighted that was. Swinging in to save 2014, then, is the HTC One mini 2, a 4.5-inch version of the One M8 which promises to distill down the best of its bigger brother, but with a more palatable price tag. We've been burned by lackluster "Mini Me" phones before, though, so does the One mini 2 keep enough of the charm? Read on for our full review.
Design and Build
It's saying something when the most awkward thing about a phone is its name. HTC will win no awards for clarity with One mini 2's ungainly title, but we can't much fault the handset's design and construction.
The familial resemblance between it and the One M8 is instantly clear. Both have the same curved, brushed metal chassis design, with slightly oversized top and bottom bezels up front, and a pleasingly arched back with only minor strips of plastic crossing it for antenna purposes.
The budgetary restraints of a midrange phone have forced HTC to range in its designers some, however, and so the One mini 2 misses out on the M8's obsessive-compulsive construction technique. Rather than milling a solid chunk of aluminum, injecting plastic into the groves, and then running the whole thing through a CNC machine to make a zero-gap unibody, as on the flagship, HTC instead uses separate pieces.
The back, then, is made of three separate panels, broken up by the ridges of plastic. Where your finger can run the length of the One M8 and not feel the bump of its antenna strips, those lines are noticeable on the One mini 2. Similarly, while the aluminum of the more expensive phone curves all the way round to meet the display, the One mini 2 uses a strip of plastic there instead.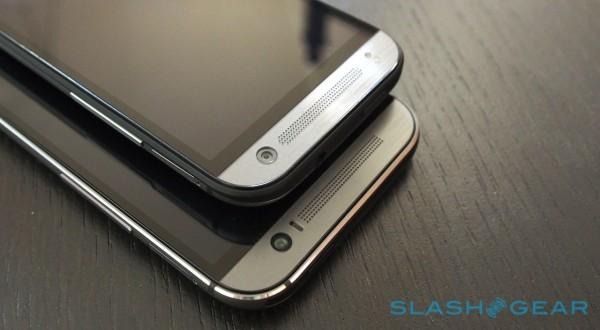 It's a very color-dependent device, I'd say. HTC will offer the phone in a choice of three finishes at launch – gunmetal grey, glacial silver, and rose gold – with the grey version the most successful to my eyes. There, the plastic ridge that runs the edge of the phone's bezel is so sufficiently disguised as to be readily ignored.
In contrast, on the silver version, the white plastic is a more noticeable. Certainly not as awkward and jarring as the plastic on the One mini, but a reminder that you're using a cheaper device all the same. Finally, the rose gold opts for a contrasting finish, which I've a feeling will be one of those "love it or hate it" things.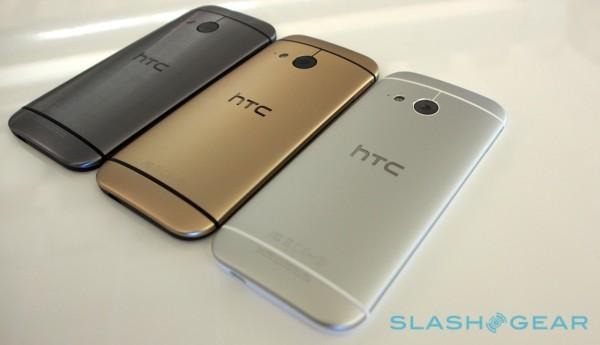 No matter the color, though, it's a beautifully made phone. Solid and creak-free in the hand, it legitimately feels like a simply smaller version of the One M8, not necessarily a cheaper one. It's still slippery, but the smaller form-factor – 137.43 x 65.04 x 10.6 mm and 137g – means it nestles into the hand more readily.
Hardware
You could argue that making a flagship phone is easy: you simply throw in the best components available at the time, and price it accordingly. Designing for the more budget-conscious midrange audience is tougher: HTC was stung last year by not having a sufficiently appealing device that came in cheaper than the original One M7 but carried enough of its charm to keep shoppers from jumping ship to Samsung.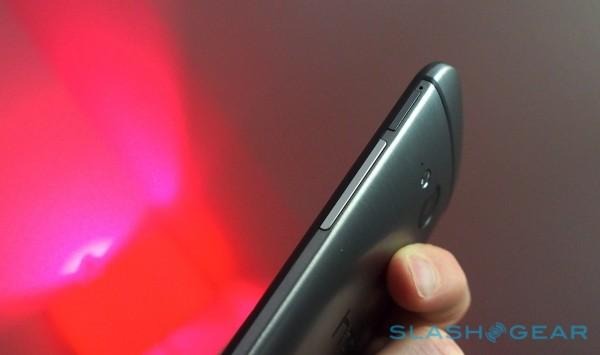 So, careful compromise is the name of the game. For the One mini 2, that means a lower resolution for its smaller screen – 1280 x 720 spread across 4.5-inches – and a lesser processor, the 1.2GHz Snapdragon 400 quadcore.
Neither is a bad choice. The display may only be 720p rather than 1080p, but the Super LCD 3 panel is a solid one, with broad viewing angles and bright, accurate colors. Pixel density is, at 326, down from what its bigger brother manages, but it's not something you notice in everyday use.
As for the processor, if you're a mobile gamer then some of the more ambitious titles for Android may become a struggle, but if anything it's the 1GB of memory that is going to be more of a limitation than the quadcore. I had no issues using our normal mixture of productivity and entertainment apps, or indeed multitasking between them.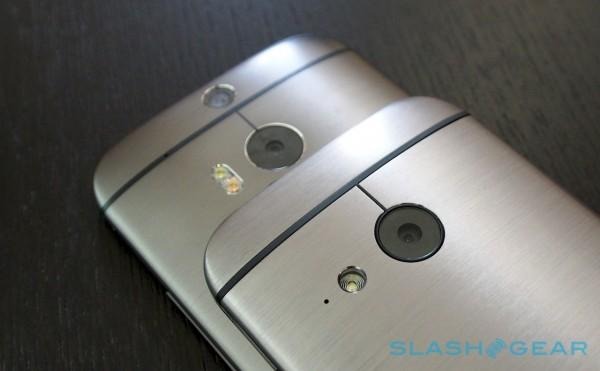 Only one version of the One mini 2 will be offered, with 16GB of internal storage, though the microSD slot can handle up to 128GB cards. You get the same connectivity, too: LTE for Europe and Asia – HTC has no current plans to release the One mini 2 in the US, sadly – along with HSPA+ and GSM/EDGE. WiFi tops out at 802.11n rather than 11ac, and while you get Bluetooth 4.0 (with aptX support) and NFC there's no infrared port, though I can't say I particularly missed the HTC TV app.
What I was pleased to see – or, rather, hear – was HTC BoomSound. HTC's extra attention to the speakers, putting both on the front of their phones and giving them a better-than-average amplifier and larger chambers pays dividends in audio quality. By virtue of its reduced size, the One mini 2 is a little quieter than its bigger brother, but it's still a huge difference from most other smartphones around today.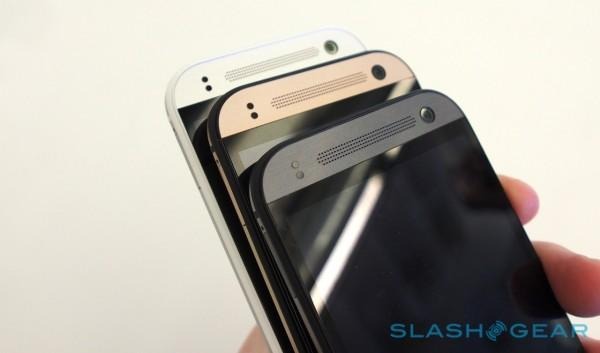 Software
Just as with the One M8, it's Android 4.4 KitKat out of the box, with HTC Sense 6 on top. HTC's redesigned interface looks smart, with its flat and crisp icons, while BlinkFeed is a good way to waste idle time queuing if you spend a few minutes to log into your social networks and set up your preferred topics.
While I already mentioned HTC TV was absent, it's not the only software change. The Motion Launch feature on the One M8 isn't present on the smaller phone, which means no shortcuts based on how you pick up or twist the handset. I missed the quick camera access in particular, though there's a shortcut button on the lock screen.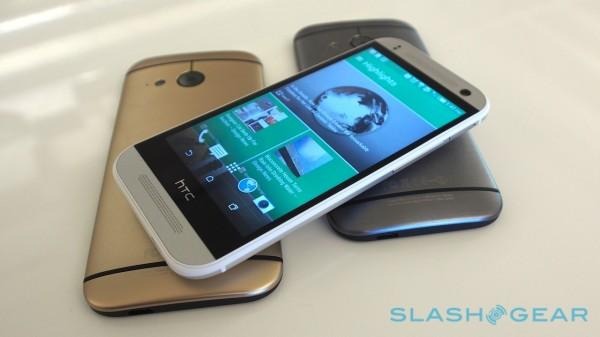 Extreme Power Saving mode has been carried over, promising lengthy battery life in return for limiting you to calls and messages, along with manual checking of email, and access to the calendar and calculator. It's good if you're in a pinch, though the fact that it's HTC's email client – not Gmail – and there's no way of switching out, say, the phone (which I don't use much) for the camera (which I do) limits its usefulness for me.
Interestingly, when you turn Extreme Power Saving mode on, it mentions it'll turn off the pedometer in the process. However, HTC's partnership with RunKeeper on tracking steps and exercise hasn't seemingly been carried over from the M8, with the One mini 2 lacking the preloaded app or the ability to show stats from it in BlinkFeed, even if you install it manually from the Play store.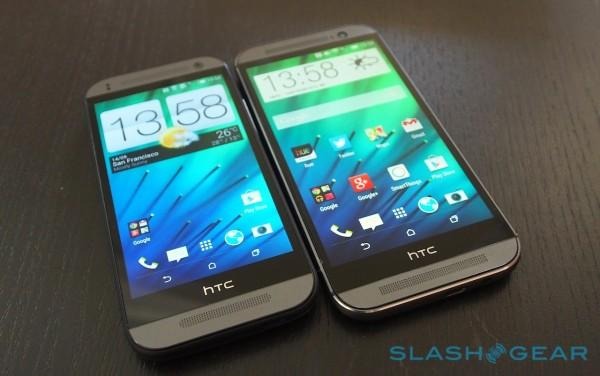 As introduced on the One M8, the One mini 2 sees HTC separate out its own app suite from the underlying Android firmware. That means great flexibility in how quickly it can update and distribute its apps. HTC also throws in 50GB of Google Drive storage for two years when you first turn the phone on.
Camera
HTC's UltraPixel sensor and Duo Camera technology is expensive; too expensive for a midrange phone like the One mini 2. Instead, HTC has taken a more mainstream approach, fitting a 13-megapixel camera with a BSI sensor and f/2.2 lens. On the front, there's the same 5-megapixel sensor with wide-angle lens as on the M8.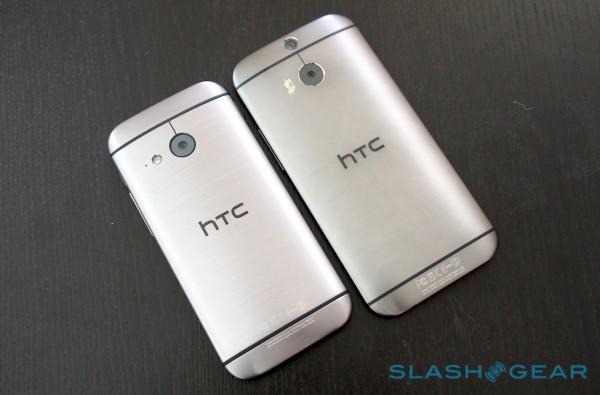 The choice of main camera is an interesting one. For some, the sheer number of pixels involved – 13-megapixel versus the effective 4-megapixel of the One M8 – will seem counterintuitive. HTC insists to me that it's a cost decision and not any sort of indication that its enthusiasm for UltraPixel is waning. Nonetheless, it's upfront in recognizing that, for the sort of midrange buyer who'll pick based on simple comparisons between spec sheets in-store – rather than, say, researching what difference actual pixel size makes – the One mini 2's resolution should stand it in good stead versus the competition.
Still, there's more to a device than how many megapixels it's toting. The One mini 2's optics aren't going to be quite as adept in low-light conditions, after all, and without the oversized pixels the sensor can't compensate either. Compounding things is the simple, single LED flash, rather than the tone-mixing dual LED flash of the One M8.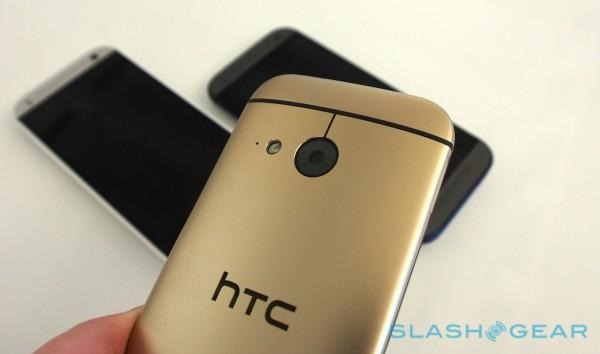 There's also no Duo Camera, HTC's use of a secondary sensor on the back to factor in depth data and allow for clever computational photography things like selective refocusing post-capture. The effects I enjoyed playing with on the One M8 are missing on the One mini 2, as is Zoe mode, which simultaneously grabs both burst stills and a brief clip of 1080p video.
In fact, when HTC releases its Zoe app this summer, One mini 2 owners will be able to run it, and even edit and remix the videos their friends with One M8 handsets share. They just won't be able to author them themselves. Similarly, there's no Panoramic 360 shots, either.
In practice, it's a fair camera but not a great one. The app loads promptly but there's a little sluggishness in actually capturing a shot, whether it's slightly lagging focus lock or simply delay between tapping the screen and the picture being saved. It's minor, but still enough that I had to consciously make myself pause so as not to end up with blurry frames.
Given natural light, the One mini 2 shoots good images. Mixed frames of dark and light are generally handled well, too, though with a slight tendency to blow-out if the sun is in the wrong place. Colors can turn out a little cooler than expected, with some of the bright blue skies failing to keep their vivid hues in my sample shots. You do, however, get a manual shooting mode with control over ISO and white balance, and you can save preferred settings as a custom preset in the menu.
Things get a little patchier in low-light and macro conditions. Darker images suffer from noticeable grain, and can exacerbate the sluggish focus. Meanwhile, close-up performance doesn't match other phones I've tried recently, with the One mini 2 needing to be further away from the subject than I expected, even when manually put into macro mode.
Phone and Battery
The review unit HTC provided me with lacks official support for US LTE bands; instead, HTC will offer two versions, one with bands 3, 7, 8, and 20 for EMEA, and a second with bands 1, 3, 7, 8, and 28, for Asia. Still, 3G voice calls were fine, with the One mini 2 sounding particularly loud in speakerphone mode, as I've come to expect from the One series.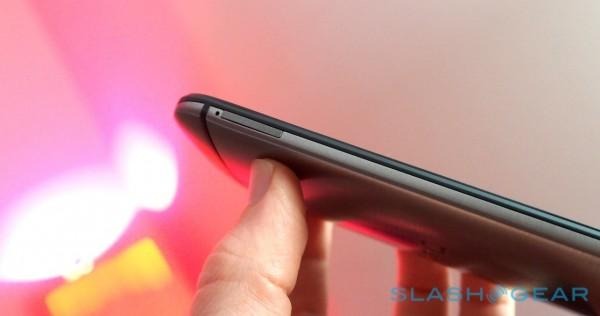 As for the battery, the reduced size means it's a little smaller than the M8, shrunk down to 2,100 mAh. HTC estimates around 16.2 hours of 3G talktime or 556 hours of 3G standby.
In practice, with push Gmail turned on, a couple of calls, and a mixture of apps including the camera, Google Maps, the browser, a little reading in BlinkFeed, and some music playback, the One mini 2 got to the end of the day with no issues.
Wrap-Up
Compromise is difficult. The feature that one person is perfectly content to see omitted is invariably the same feature another user considers a must-have. Paring down capabilities alongside scale, but drawing the dots with a familiar phone by both name and aesthetic, can on the one hand offer a more affordable device for those tempted in by the out-of-reach flagship, but it can also set expectations that HTC simply can't afford to deliver on.
If the One mini of 2013 fell well short of striking that balance, the One mini 2 of 2014 does a much better job. Aesthetically it's my favorite of the midrange phones, and while the camera falls short, the performance, software, and tidbits like BoomSound are most welcome.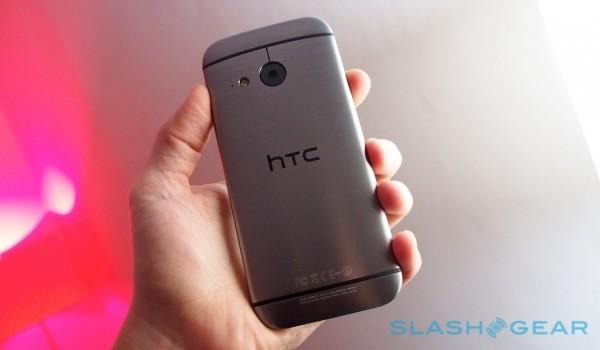 What I'm still not convinced about is the price. In the UK, unsubsidized and SIM-free, HTC expects the One mini 2 to cost around £360 ($609). That's certainly cheaper than the One M8, which under the same conditions has an RRP of £549, but it's also considerably more than the similarly-specified (though nowhere near as handsome) Moto G LTE, which will be a bargain £149, albeit in 8GB rather than 16GB form.
I've a feeling HTC might argue that the One mini 2 and Moto G LTE aren't direct competitors. Certainly, the 5-megapixel camera and 720p video recording the Motorola manages are less impressive than the 13-megapixels and 1080p the HTC can do, and the build quality is night and day. Nonetheless, you'll have to place particular value on them, and on style, to justify spending more than twice as much.
The HTC One mini 2 doesn't knock it out the park, then, but neither does it disappoint in the same way that the One mini of last year did. It's easy to see how a new smartphone buyer, lured into a store by the One M8 but turned off by the price, might look at the smaller device and consider it a saving worth making. Similarly, those who want a more hand-friendly form factor have fewer than the usual compromises to stomach. It's certainly a much-needed phone in HTC's range, though only time will tell whether it's sufficiently affordable to fill in the gaping midrange gap.