HTC One M9 confirmed to already use Snapdragon 810 v2.1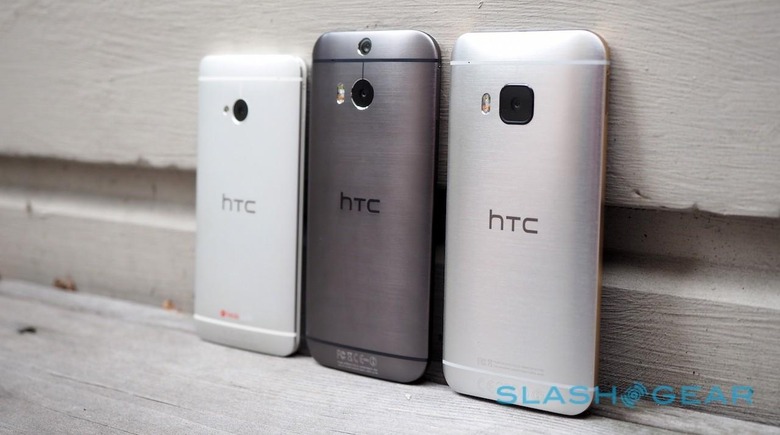 There just seem to be no end to the controversy that looms over the Qualcomm Snapdragon 810 like the sword of Damocles. Varying reports, varying experiences, and varying OEM support all cast a cloud of doubt over the chip. Supposedly, salvation would come from a certain version 2.1 of the embattled processor, but now it seems that even that is for naught. HTC's own Jeff Gordon publicly reveals that the One M9 already runs on v2.1, which, sadly, only reaffirms suspicions that the SD810 is a lost cause.
The context behind this revelation is somewhat amusing. Gordon took a bit of issue with how manufacturers are now brandishing "v2.1" as some magical cure to the Snapdragon 810's overheating ailments. In particular, OnePlus has made it a point of pride for its OnePlus 2, claiming that this particular version of the chip, along with their collaboration with Qualcomm, will make the OnePlus 2 cooler, figuratively and literally.
Big deal! Everyone's already using v2.1. Or at least that's what Gordon claims Qualcomm told him. In short, even the HTC One M9, which Gordon himself confirms, runs on this particular iteration of the chip. That's also the same version that's inside the Xiaomi Mi Note Pro and, of course, our favorite Sony Xperia Z4/Z3+. The newly announced ZTE Axon most likely uses this chip as well, unless Qualcomm managed to quietly sneak out a v2.2.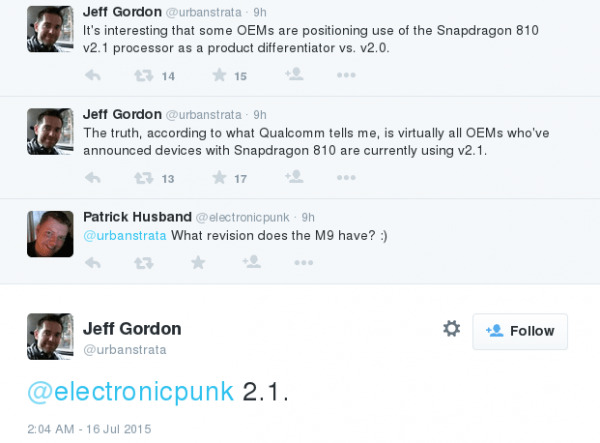 While none record more terrible figures than the Xperia Z4, all of these smartphones do have heat management issues to varying degrees. Some have more or less lessened the impact but there hasn't been a report of a completely cool device. At least so far. The inconsistency in the experience only serves to increase the worry.
Sadly, there is nothing users can do but to hope that their trusted brand is able to at least mitigate the effects of the Snapdragon 810's flaws. We can also only hope that manufacturers quickly switch to less problematic chips for their near future devices, like the way LG opted for a Snapdragon 808.
SOURCE: @Jeff Gordon