After the number of accidental leaks spoiled HTC's announcement of the One M9, the company's latest flagship smartphone, you would think they would have learned to be a bit more careful or put a bit more effort into making a splash. Either HTC has yet to learn that lesson or we're looking at another unintentional reveal, but their new One E9+ phablet has just turned up on the company's Chinese website. While the device appears to be much the same as what was discovered earlier this month, albeit with a few small differences.
The Android-powered device sheds the all metal body of the new One M9, and is instead wrapped in a 7.49mm-thick half plastic, half metal casing. Also different is the overall flat design, as opposed to the curved back the One M-series has been known for. With a 5.5-inch Quad HD screen with 534 ppi, the One E9+ is sporting HTC's sharpest display for a smartphone. The specs detailed on the Chinese site also list a 1080p resolution, but thanks to frequent leaker @upleaks, it appears that is for a non-plus model of the E9.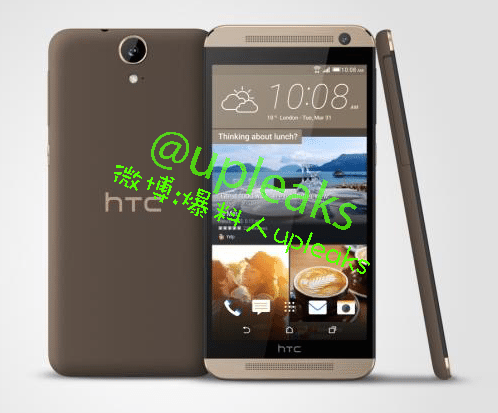 As for the chipset, the One E9+ appears to be coming with a 64-bit, octa-core 2GHz MT6795M from MediaTek, a noticeable replacement for the Qualcomm chipset in the One M9. Other details include 16GB of internal storage, which is expandable to 128GB with a microSD card, dual Nano Sim slots, and a 2,800 mAh battery. The listing states 3GB of RAM and a 20-megapixel main camera, as well as mentions of 2GB and 13-megapixels, which would seem to be for the lesser E9 model.
We can expect an UltraPixel camera and BoomSound stereo speakers on the front of the device, in line with HTC's recent releases. There will also be 802.11ac WiFi and multi-mode LTE for data and voice connections. Judging by the product images, it looks like there will be three color options available: white with gold trim, gray with gold trim, and solid black. There's no mention of pricing or a release date, so we'll have to wait to for more info from HTC.