HTC MAX 4G for Russian WiMAX network announced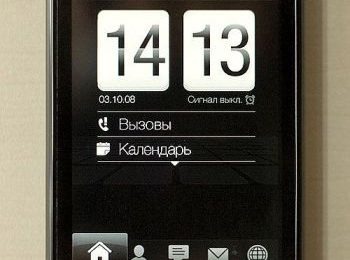 HTC have announced a partnership with Russian carrier Scartel to produce the world's first integrated GSM/WiMAX handset, the HTC MAX 4G.  Seemingly using much of the hardware of the HTC Touch HD, it will use Scartel's Yota WiMAX network as well as offer access to any Russian GSM carrier courtesy of an unlocked SIM slot; however, calls between two Yota customers will automatically be routed as VoIP calls over the WiMAX network.  Like the Touch HD, the MAX 4G has a 3.8-inch WVGA touchscreen, 5-megapixel camera and runs Windows Mobile 6.1 Pro with the TouchFLO 3D GUI.More photos & launch video after the cut
Yota offers Russian subscribers on-demand online films, video and TV programmes, together with online games, maps, messaging and file exchange applications. At launch there are 14 free channels, which should rise to 23 channels by the end of the year. There's also a catalog of ebooks and over 50,000 music tracks; the HTC MAX 4G comes with 8GB of onboard storage.
Like the Touch HD, the MAX 4G has GPS, WiFi b/g, Bluetooth, an accelerometer, FM radio and uses a 528MHz Qualcomm CPU. HTC took pains to point out to us that the MAX 4G is exclusive to Scartel, and will not be available outside the Russian market.
Russian Language launch & demo video:Press Release:
SCARTEL AND HTC LAUNCH WORLD'S FIRST INTEGRATED GSM/WIMAX HANDSET

Designed and Optimized for the Russian market, HTC MAX 4G Will Be Available in Russia on November 26th

Moscow, Russia – November 12, 2008 – Scartel (brand Yota), Russian provider of Mobile WiMAX, and HTC Corporation, a global leader in mobile phone innovation and design, today announced the HTC MAX 4G, the world's first integrated GSM/WiMAX handset. Supported by a broad range of services based on Yota's Mobile WiMAX network, the HTC MAX 4G delivers a rich multimedia and high quality telephony experience in a sleek and powerful touch screen handset.

"Yota was established to provide a unique set of mobile communication services to millions of people in Russia and today we have launched the first device and services to realise its full potential," said Denis Sverdlov, General Director of Yota's parent company, Scartel LLC (brand Yota). "We really believe that these innovative services, high-speed Internet and stylish HTC MAX 4G will completely change the communications industry, just as the introduction of cellular communications did many years ago."

HTC MAX 4G: A New World of Entertainment

The Yota Mobile WiMAX network offers high-speed wireless Internet access that opens a new realm of entertainment and communication possibilities. The basic Yota Home package will provide subscribers with instant access to online games, maps, messaging and file exchange applications while on the move. In addition, the high-capacity Mobile WiMAX network with traffic prioritisation algorithms, allows online films, video and TV programmes to be viewed on the large WVGA screen.

Thanks to mobile WiMAX, high-quality multimedia entertainment is no longer limited. With Yota Video, a full video on demand (VOD) service, users can watch their favourite movies and videos from their personal Yota catalogue anytime, anywhere.

Broadcasting 14 free channels at launch and 23 channels by the end of 2008, Yota TV introduces a powerful mobile television experience. The vibrant, 3.8 inch 800x480 screen of the HTC MAX 4G can display up to nine TV channels simultaneously, allowing quick and easy channel surfing and programme selection. Thanks to the device's TV-out capability, users can also watch content on the big screen, putting the HTC MAX 4G at the very heart of the mobile entertainment experience.

For music-lovers, Yota Music offers an extensive online music catalogue of more than 50,000 titles, including a wide range of music from both international and independent music labels. Users can choose to either play the tracks direct from the online catalogue, or download them to the HTC MAX 4G's 8GB of onboard flash memory.

In addition, a separate catalogue of electronic books is available, so users can download, read and enjoy a broad range of books while on the move.

"The introduction of the HTC MAX 4G represents the culmination of a close partnership between HTC and Yota to develop the world's first integrated mobile GSM/WIMAX handset," said Peter Chou, CEO and President, HTC Corporation. "Russia is a key strategic market for HTC and Yota's Mobile WiMAX network sets a new global benchmark for next-generation mobile services."

HTC MAX 4G: Flexible Communication

The HTC MAX 4G supports GSM calls using a SIM card from any Russian network operator and when both callers are Yota subscribers, the call will automatically be routed as a VoIP call over the Yota Mobile WiMAX network. The Yota Phone service also supports more business applications, allowing users to switch between English and Russian contact records while providing functionality such as call holding, conference calling and video calling using the VGA camera on the front of the device.

HTC MAX 4G: Unparalleled Performance With Intuitive Usability

The HTC MAX 4G was created to take full advantage of Yota's high-speed Mobile WiMAX network without compromising style or ease of use. The device is sleek and elegant and includes a vibrant, large 3.8 inch, 800x480 WVGA touch screen display. The HTC MAX 4G also integrates a 3.5mm headphone jack to create the best possible experience for enjoying movies, music and photos on the go. Running Windows Mobile 6.1, the HTC MAX 4G incorporates HTC's proprietary Touch FLO 3D user interface, allowing swift and intuitive navigation to key applications such as dialling calls, listening to music, taking picture and more.

Introduction of Yota Yap-yap

HTC MAX 4G users can now record their lives through a lens thanks to Yota's Yap-yap service. This allows contacts to be synchronised and edited through the Web and video clips and photos can also be uploaded to www.yota.ru. Images taken with the integrated 5MP camera can also be geo-tagged using coordinates from the integrated GPS.

Key HTC MAX 4G specifications:

Processor: Qualcomm® ESM7206A™ 528 MHz

Platform: Windows Mobile® 6.1 Professional

Memory: ROM: 256MB / RAM: 288MB / Flash: 8 GB

Dimensions: 113.5mm X 63.1mm X 13.9mm

Weight: 151 grams (with battery)

Display: 3.8-inch TFT-LCD flat touch-sensitive screen

with 480 x 800 WVGA resolution

Network: Tri-band GSM/GPRS/EDGE:900/1800/1900 MHz

Yota Mobile WiMAX 2,5-2.7 GHz

Device Control: TouchFLO™ 3D

GPS: Inbuilt GPS

Connections: VoIP

Wi-Fi®: IEEE 802.11 b/g

Bluetooth® 2.0 with EDR

HTC ExtUSB™

Main camera: High-resolution with autofocus

Second: VGA-camera

Additional: Motion G-sensor (automatically rotating picture)

Proximity sensor (saving energy while talking due to the switching the display off)

FM-radio

Audio: Ring tone formats:

AAC, AAC+, eAAC+, AMR-NB, AMR-WB, QCP, MP3, WMA, WAV

40 polyphonic and standard MIDI format 0 and 1 (SMF)/SP MIDI

Battery: Li-Pol, 1500 mAh

Talk time: GSM: up to 420 minutes

VoIP: up to 230 minutes

Standby time: GSM: up to 350 hours

VoIP: up to 50 hours

AC Adapter: Voltage range/frequency: 100 ~ 240V AC, 50/60 Hz

DC output: 5V and 1A

About Scartel

Scartel LLC was founded in 2007 in order to provide mobile services of the most up-to-date mobile broadband access technology (4G) – Mobile WiMAX, where the network is the tool and services – business basis.

First Mobile WiMAX networks (standard IEEE 802.16e-2005) were developed in Moscow and Saint Petersburg within the range of 2,5–2,7 GHz.

The company Scartel is owned by WIMAX Holding Ltd., which also includes such companies as Scartel Star Lab – Mobile Service Research and Development Center, and the media company "More" – media content aggregator.

The head office of Scartel is in Saint Petersburg, the second office is in Moscow. At the moment the company employs 420 people.

The company Scartel offers services under Yota brand. The trade mark is registered in accordance with the laws of the Russian Federation.

www.yota.ru

About HTC

Founded in 1997, HTC Corp. (HTC) designs, manufactures and markets innovative, feature rich smartphone and PDA Phone devices.

Since its establishment, HTC has developed strong R&D capabilities, pioneered many new designs and product innovations and launched state-of-the-art PDA Phones and smartphones for mobile operators and distributors in Europe, the US, and Asia. These machines are available as HTC devices and as products individually customized for operator and device partners.

HTC is one of the fastest growing companies in the mobile device market. The company is listed on the Taiwan Stock Exchange under ticker 2498. For more information about HTC, please visit www.htc.com.