HTC Magic hitting UK in April confirms Vodafone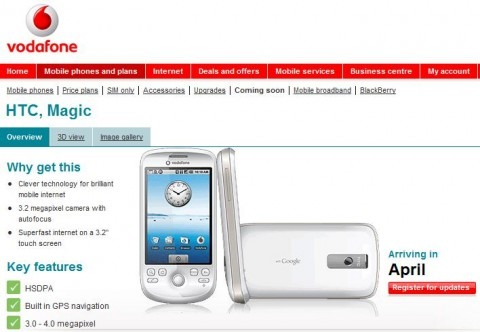 Vodafone UK have confirmed that the Android-based HTC Magic, which officially launched at Mobile World Congress last month in Barcelona, will be available on the network in April.  The handset will be the second official Android device to launch, after the T-Mobile G1.
The HTC Magic has a 3.2-inch capacitive touchscreen, 3G HSDPA, WiFi and Bluetooth.  It also has a 3.2-megapixel camera with autofocus, integrated GPS and a new on-screen QWERTY keyboard to replace the G1's hardware 'board.  You can find out more in our live HTC Magic gallery and hands-on video demo.
No pricing details for the Vodafone HTC Magic are given, either for the smartphone itself or the monthly data and voice plans the carrier will be offering.  Instead it's possible to register for updates when that information becomes available.
[via Android Community]