HTC M4 "HTC One mini" leaked aside 1080p Nokia Lumia and oversized Sony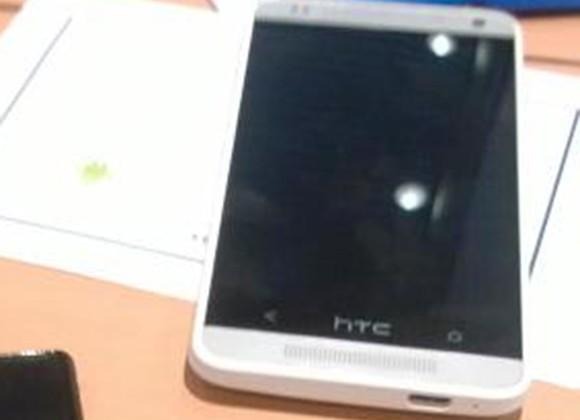 While the HTC One appears as a Google Edition and rumors persist of a Verizon model popping up soon, an image has appeared today that suggests an "M4" model might not be far behind. While the HTC One is part of a hero smartphone strategy that has HTC fulfilling their aim to centralize their aim in one ideal design, the M4 has appeared in system code and here, today, as a fully realized model – albeit in a blurry photo, too.
The similarities between this smaller machine and the original HTC One – if this photo ends up being legitimate – begin with the units basic look. You've still got one large glass pane up front, silver speaker grilles above and below, and the back, HTC, home button arrangement. The display has been suggested to be coming in at a slightly more conservative size than the HTC One's, here at 4.3-inches with 720p resolution.
This machine has been tipped to be coming with a plastic rim, speaker grilles that are a bit less wide than the original, and another "UltraPixel" camera on the back. This release would continue to work with the newest version of HTC's Sense user interface and would have a processor of unknown made and power under the hood.
And the image certainly does seem to be too good to be true, doesn't it? It's quite possible that we're looking at a collection of hand-crafted forgeries here, just as possible as it is that the entire image has been photoshopped and amped-up from previous releases.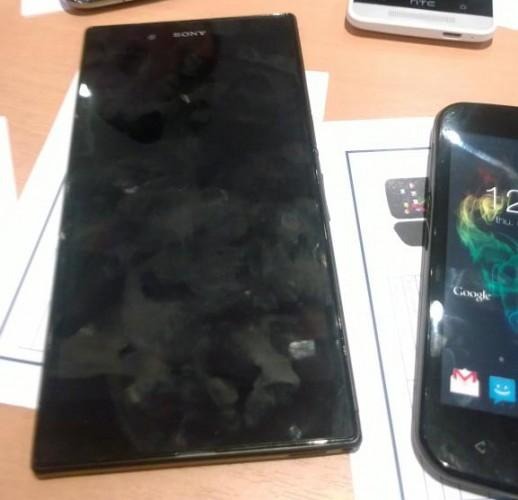 Also appearing in this photo is a massive Sony device rumored earlier this year as an oversized "Togari" model, complete with 1080p display at 6.44-inches. This machine has an aesthetic not unlike that of the Sony XPERIA Z, mind you, but its ultra-thinness does seem a bit suspect.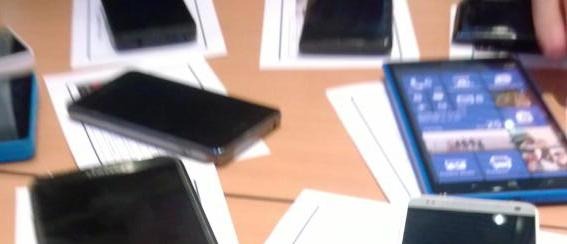 Then there's that massive Nokia device in the background. While it could just as easily be a sort of flattened-out HTC Windows Phone 8X, it's suggested by the leakster himself that it's a 1080p Lumia from Nokia. This image also suggests that Microsoft's Windows Phone 8 will be allowing a third column of live tiles in the near future – getting closer, and closer, and closer to icons the size of those on other operating systems.
VIA: Engadget
SOURCE: Dahny El Perro