HTC Leo spotted in wild again; no compass or TV-out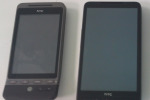 Having seen the HTC Leo frolicking with the HTC Touch Pro2 and the Diamond2, it only seems fair that HTC's Android-powered Hero should get a turn in the leaky spotlight.  Over at xda-developers, a purported beta tester of the Leo has been sharing some first impressions and the images to go with it.
According to the tester, the Leo managed 1.5 days of use – including an hour of video playback, two hours of music, one hour of web browsing, some idle texting and 3G permanently switched on – and comes with USB Host support (as on the Toshiba TG01) for plugging in a keyboard, mouse, or other peripheral.  The Windows Mobile 6.5 phone unfortunately lacks either a TV-out connection or a digital compass.
He's saying the HTC Leo will arrive by the end of November or early December.  That would certainly fit with previous tips from manufacturing sources.
[via WMpoweruser]