HTC Legend official: AMOLED & "Hidden Power" design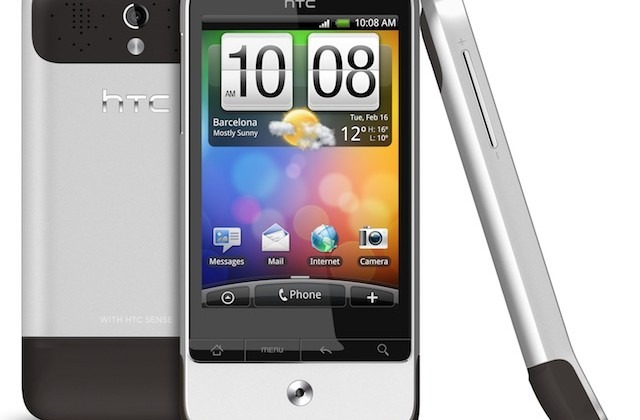 The HTC Legend, successor to the company's widely-loved Hero, has been made official at Mobile World Congress 2010 this week. A little smaller than the Hero, the Legend has a 3.2-inch AMOLED capacitive touchscreen with multitouch support, dualband UMTS/HSPA (900/1800) and a frame milled from a single block of aluminum. In fact the Legend is an example of HTC's "Hidden Power" design ethos, a concept whereby good looks are delivered through slick functionality; in this case, the aluminum is not only the shell but the chassis, meaning HTC can make their devices smaller.
The Legend comes with Android 2.1, and debuts a new version of HTC Sense. As before, Sense augments the standard Android UI and adds various active desktop widgets; in this new build, there's now an Exposé-style "helicopter view" which – with a pinch-zoom motion – shows all seven homescreen panes at once, with a tap taking you straight to that pane. There's also more flexibility in HTC's widgets: you can now place any Contacts group on the desktop, not just the Favorites, for instance.
Most noticeable is HTC's new app, Friend Stream; where before Sense's Contacts app pulled in Facebook, Twitter and Flickr updates to be viewed on a per-contact basis, Friend Stream puts them all into one single feed. It's a little like Motorola's MOTOBLUR "happenings", and there's a desktop widget as well as a full app. You can also reply to or comment on any update directly from the app itself.
The Hero's trackball has been junked in favor of a less damage-prone optical joystick, which HTC reckon has the same accuracy as the previous, physical control. It's not the only neat design touch; since the antenna panel needs to be plastic rather than metal, HTC have integrated it with the battery cover. HTC have slightly updated the Legend's processor, to a 600MHz Qualcomm MSM7227, though it's not the significant jump to Snapdragon that we might have hoped for. Still, when we had a pre-brief with the company last week, the demo units there felt swift and responsive. An obvious – and somewhat confusing – omission is Flash Lite 4, which the Hero (and the new HTC Desire) had but the Legend lacks.
Other specs include WiFi b/g, Bluetooth, a 5-megapixel camera with LED flash and a microUSB port. HTC say the Legend will arrive in Europe through Vodafone and other carriers, together with as an unlocked handset in April 2010, with broader availability – including Asia – in early Q2 2010. No plans for a US 3G version, however, and no news on pricing.
We're heading off for some hands-on time with the HTC Legend, so check back soon for photos and video!
Press Release:
HTC UNVEILS ENHANCED HTC SENSE EXPERIENCE ON NEW ANDROID SMARTPHONES

HTC Legend and HTC Desire take Android 2.1 to a new level with HTC Sense

BARCELONA, Mobile World Congress – February 16, 2010 – HTC Corporation, a global designer of smartphones, today introduced an enhanced HTC Sense experience that will be available on two new smartphones that take Android to the next level, the HTC Legend and HTC Desire.

"At its essence, the mobile phone is the most personal item you have in your possession. HTC Sense was created to magnify your ability to create and define your own unique mobile experience," said Peter Chou, chief executive officer of HTC Corporation. "HTC Legend and HTC Desire take Android to another level in both substance with HTC Sense and style with HTC Legend's revolutionary crafted aluminum uni-body design."

HTC SENSE

HTC Sense is a user experience focused on putting people at the centre by making phones work in a more simple and natural way. This experience revolves around three fundamental principles that were developed by observing and listening to how people live and communicate. These core tenets of Make It Mine, Stay Close and Discover the Unexpected continue to be the key to the new HTC Sense experience.

The new HTC Sense experience continues to focus on improving your interactions with your most important people. This begins with a new HTC application and widget called HTC Friend Stream that seamlessly aggregates all of your social communication including Facebook, Twitter, and Flickr into one organised flow of updates. This simple aggregation makes it easier than ever to focus on what friends are doing as well as to view the images and links that they share. In addition to Friend Stream, people can be organised into specific social circles, such as groups of friends, colleagues or any other way that makes sense.

The new HTC Sense experience also introduces broad improvements to applications including the browser, email client and others. In addition, the new version of HTC Sense includes a new newsreader application and widget, as well as a new seven-screen 'Leap' thumbnail view for quick and easy access to specific screens.

HTC Legend

Built around a newly enhanced HTC Sense, the HTC Legend boasts a unique design with a smooth, continuous surface, machined from a single aluminum block into a seamless compact frame. To complement its looks, the HTC Legend includes a stunning 3.2 inch, AMOLED HVGA display. The traditional trackball has also been replaced with an optical joystick, surrounded by a narrow button to improve usability without interrupting its unique design.

HTC Desire

HTC Desire is the richest way to visually experience news, friends, photos, favourite places and whatever else is important on a mobile phone. With one of the most advanced displays available on a phone today, HTC Desire is designed with a large 3.7 inch AMOLED WVGA display to enhance and maximise content, whether it is pictures and videos, browsing the Web or checking on friends' status updates. HTC Desire is powered by a one gigahertz Snapdragon processor and is Adobe Flash 10.1 ready. As with the HTC Legend, the HTC Desire also includes an optical joystick.

Patrick Chomet, Group Director of Terminals for Vodafone said, "HTC is a valued partner for Vodafone and has made a strong contribution to the growth of the mass market appeal of smartphones. Vodafone endeavours to offer our customers the widest and most compelling choice of smartphones and to that end the HTC Legend, the HTC Desire and the HTC HD Mini will be ranged in selected Vodafone markets across our footprint. I'm particularly pleased that through our collaboration with HTC, Vodafone customers will experience a differentiated experience on the HTC Legend which will come customised for them with pre-loaded Vodafone 360 Internet services."

Availability

The new HTC Legend will be available in Europe through Vodafone and in the direct channel beginning in April. It will roll out to other parts of the world including Asia in early Q2. HTC Desire will be broadly available to customers across major European and Asian markets in early Q2. The HTC Desire will be exclusively available in Australia through Telstra. The enhanced HTC Sense experience will also be offered as a free upgrade on the HTC Hero in Europe and Asia.

About HTC

HTC Corporation (HTC) is one of the fastest growing companies in the mobile phone industry. By putting people at the centre of everything it does, HTC creates innovative smartphones that better serve the lives and needs of individuals. The company is listed on the Taiwan Stock Exchange under ticker 2498. For more information about HTC, please visit www.htc.com.