HTC Incredible S official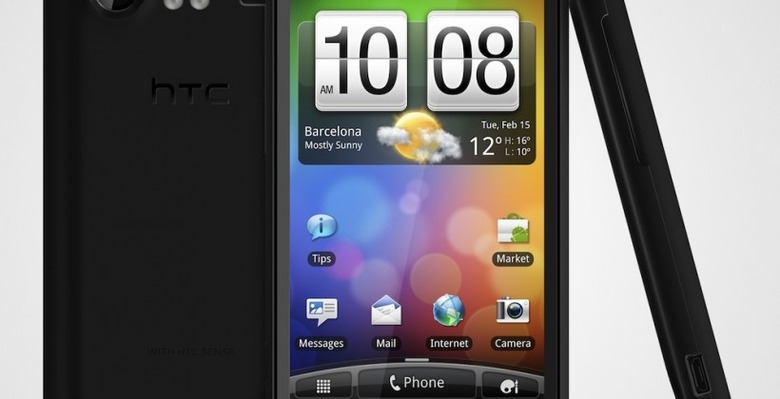 HTC's Verizon DROID Incredible has spawned a European version, the HTC Incredible S, now packing a GSM radio into its unusually angular casing. HTC describes the style as "inside out" design, though what's really on the inside is a 1GHz Qualcomm Snapdragon MSM8255 single-core processor. Unusually, despite HTC claiming that the Incredible S will be positioned as an Android enthusiast's device, it will actually launch with 2.2 Froyo.
That will be upgraded to Android 2.4 Gingerbread "early on" the company promises, though there's no more specific timescale than that. What you do get is HTC Sense, an 8-megapixel autofocus camera with dual-LED flash on the back, and a front-facing 1.3-megapixel webcam for video calls. 1.1GB of internal storage, 768MB of RAM and a microSD memory card slot round things out.
The HTC Incredible S will be the first of HTC's "evolutionary" updates to go on sale, arriving in early Q2 2011. No word on pricing at this stage.
Press Release:
HTC LAUNCHES THREE NEW SMARTPHONES WITH HTC SENSE

HTC Desire S, HTC Wildfire S and HTC Incredible S deliver premium style, power and speed

BARCELONA, SPAIN – Mobile World Congress – February 15, 2011 – HTC Corporation, a global leader in mobile innovation and design, today unveiled three new versions of its most popular and advanced smartphones – HTC Desire S, HTC Wildfire S and HTC Incredible S. The new smartphones continue HTC's commitment to expanding the market for advanced smartphones while providing distinct choices in design, power and value. Each phone also includes HTC Sense, HTC's unique customer-focused user experience that puts people at the center by making phones work in a more simple and natural way.

"HTC developed the HTC Sense experience to bring cutting-edge innovation to our customers in simple and natural ways that just make sense – this is what HTC Desire S, HTC Wildfire S and HTC Incredible S represent best," said Peter Chou, CEO of HTC Corporation. "These new phones offer an exhilarating mix of style, innovation and features that extend people's mobile experience in ways that feel personal and completely original."

HTC Desire S

As a successor to the popular and award-winning HTC Desire, the new HTC Desire S blends stunning design with power and speed. Inspired by the HTC Legend™ smartphone's aluminium design, the HTC Desire S is sculpted out of a single block of aluminum making it feel solid and natural in your hand. With Qualcomm's new 1GHz 8255 Snapdragon™ processor, the HTC Desire S offers snappy performance and power. It offers dual front and back cameras, High-Definition video recording and the 3.7-inch WVGA display presents multimedia content brilliantly.

HTC Wildfire S

Building on the popularity of the HTC Wildfire™ smartphone, the HTC Wildfire S smartphone is an affordable, compact and playful device that packs a powerful smartphone experience. It enables people to maintain and build connections and friendships through popular sites like Facebook®, as well as through voice and text messaging. You can instantly tag your friends in photos before posting them on Facebook, or share your latest discoveries from the Android™ Market at the touch of a button.

HTC Wildfire S is one of HTC's smallest phones ever – measuring just 10.13cm long and 5.94cm wide – and boasts a distinctive 3.2 inch, HVGA display.

Celebrate your individuality and choose from a wide variety of colors including black, purple and white. The phone's home screen is fully customizable with your favorite apps, widgets and content, while a 5-megapixel color camera with auto focus, expandable microSD™ memory and support for a variety of audio and video formats make a great all-around multimedia device that slips easily into any pocket.

HTC Incredible S

The alluring HTC Incredible S smartphone combines cutting-edge design with a premium mobile experience for those who dare to be different. Showing what can be achieved when engineers and designers work together to raise the bar for mobile phone design, the HTC Incredible S smartphone features a stunning, contoured body that highlights the internal hardware components of the device. Capturing and viewing video in crystal clear High-Definition has never been so easy and a bright 4-inch WVGA Super LCD display and stereo surround sound bring a vibrant cinematic experience to the palm of your hand.

HTC Incredible S also takes high quality pictures with its 8-megapixel camera with dual flash, and it easily enables videos, photos and music to be shared from the handset direct to a TV using DLNA® technology. Thanks to the HTC Incredible S's front facing camera and video call functionality, users will constantly be able to chat with their friends face-to-face.

Availability

The HTC Desire S, HTC Wildfire S and HTC Incredible S smartphones, will be broadly available to customers across major European and Asian markets during Q2 2011.

About HTC

HTC Corporation (HTC) is one of the fastest growing companies in the mobile phone industry. By putting people at the center of everything it does, HTC creates innovative smartphones that better serve the lives and needs of individuals. The company is listed on the Taiwan Stock Exchange under ticker 2498. For more information about HTC, please visit www.htc.com.