HTC HD mini unboxing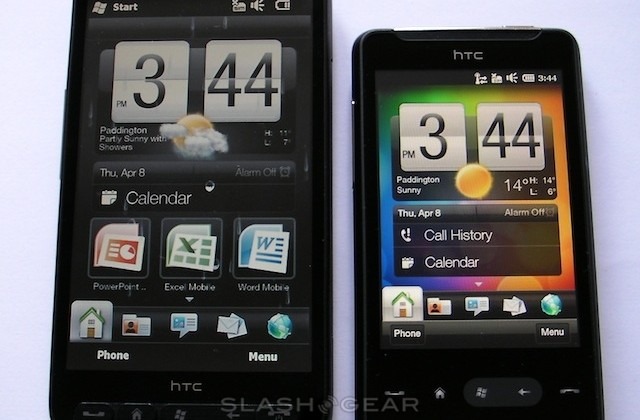 It's the last of HTC's trio of devices from MWC 2010 and, dare we say it, it's perhaps the least anticipated.  Still, the HTC HD mini has the potential to make a fair few fans, with the capacitive touch technology of the wildly popular HD2 shrunk down into a far more pocket-friendly package.  Check out our video unboxing, some comparison shots with the HD2, and a few first-impressions after the cut.Video unboxing after the cut
Windows Mobile 6.5 – even with HTC's Sense UI – doesn't get much attention these days, especially with Windows Phone 7 on the horizon, and it's worth remembering that there's no chance of an official WP7 upgrade for the HD mini.  Not only does its 600MHz processor and 3.2-inch HVGA capacitive touchscreen fall short of the minimum requirements, it has the wrong buttons too.  Still, Sense does make WinMo a more comfortable place to be in, and the HD mini is certainly easier to control single-handed than the broad, flat HD2.
Build quality is high, with the slightly-flexible rubber backing plate (hiding a vivid yellow paint-job) meaning the HD mini doesn't slip around the desk or your hand.  The HVGA display, mind, is a disappointment when put next to the HD2's screen, looking grainy in places and meaning that any webpage viewed in the browser has to be zoomed into if you want to stand a chance at reading text.  Menu bars at the bottom seem to occupy more space than ever before, as does the on-screen keyboard, though they at least disappear in the browser when left untouched.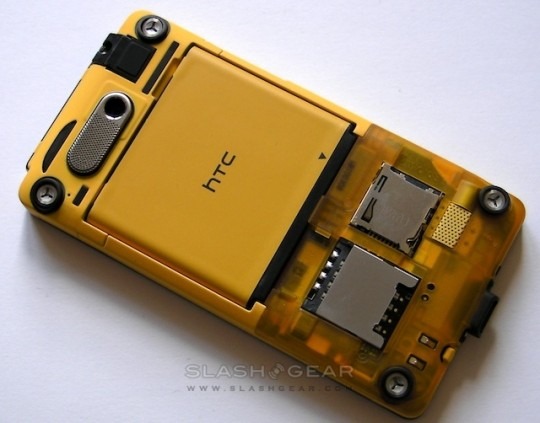 Despite not having the 1GHz Snapdragon processor of its bigger brother, the HD mini seems reasonably speedy and nips between apps without lag.  We'll see if that stays the case when it's loaded down with email, media and messages, of course, for the full review.  Still, if you're looking for a compact business device with excellent baked-in Exchange support and HTC's gloss, then the HD mini looks like it could be your best bet.  The full SlashGear review will be up soon, but until then enjoy the video unboxing and hands-on gallery below.
HTC HD mini unboxing:
[vms 02b6d35bea8460aa8f8e]