HTC HD Mini Hands-on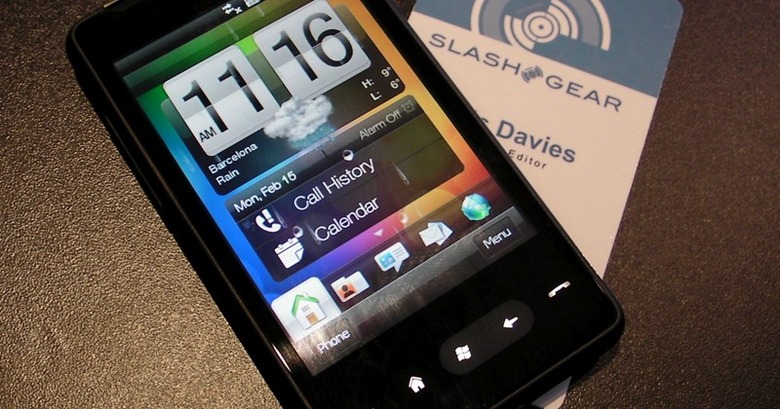 While Android might have ruled the roost at HTC this morning, the Legend and Desire weren't the only new devices. The HTC HD mini is a compact, cheaper version of the HD2, running Windows Mobile 6.5.3; check out our first impressions and some hands-on photos and video after the cut.
The wow-factor of the huge HD2 – which has a 4.3-inch display, don't forget – isn't quite there in the HD mini, but the handset doesn't feel cheap. The whole front panel is glass, and the 3.2-inch HVGA capacitive touchscreen bright (though it pales a little when next to the AMOLED panel of the Legend), and despite the slower 600MHz processor (the HD2 has a 1GHz chip) Sense on Windows Mobile 6.5.3 flicks through the panes neatly.
The bright yellow color – hidden by the semi-flexible back panel – seems too interesting to hide, frankly, though HTC have previously told us they're expecting the aftermarket community to offer transparent or translucent replacement covers so you can show it off. It's certainly a more pocket-friendly device, though you lose none of the functionality of a regular WinMo handset.
In fact we were pleasantly surprised at how it both feels and performs; having seen Windows Phone 7 yesterday and been impressed by the considerable jump over the existing platform, we wondered whether the HD mini would feel hopelessly old-fashioned. Considering it'll be the only way to get Sense on a WinMo device, those users who prefer HTC's UI shouldn't be too disappointed.
Review units should be arriving in time for the April 2010 launch, and we're quietly interested. Not as eye-catching as the Legend or the Desire, certainly, but certainly not a bad smartphone.
HTC HD Mini Hands-on video demo:
https://www.youtube.com/watch?v=PZzOcpvQ39I