HTC Flyer tablet now available for T-Mobile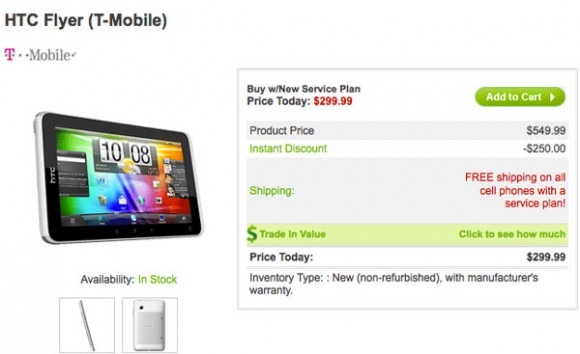 The T-Mobile compatible HTC Flyer tablet has finally arrived. We've been expecting this version since a 3G capable HTC Flyer tablet with support for T-Mobile bands surfaced at the FCC back in June. HTC posted the product page for the device today, revealing a price of $299.99 with a new service plan from T-Mobile, although the carrier has yet to begin advertising the device on its own web site.
The HTC Flyer is a 7-inch tablet running on Android 2.3 Gingerbread and powered by a single-core 1.5GHz processor. It features a 1.3-megapixel front-facing camera and a 5-megapixel rear-facing camera, microSD card slot, and micro-USB. Its 1024 x 700 pixel resolution capacitive touchscreen display also works with a stylus, the HTC Scribe Pen. Although this is one of its main differentiators, the stylus has so far been sold separately and it doesn't look like this new T-Mobile offering bundles it in either.
The device is priced at $299.99 when purchased with new compatible individual plans for the tablet ranging from $39.99 for 2GB of data to $79.99 per month for 10GB of data. However, the device will cost $454.99 if you upgrade from an existing plan. For more details on the tablet, be sure to check out our hands-on and review of its WiFi version.