HTC first available April 12 for $99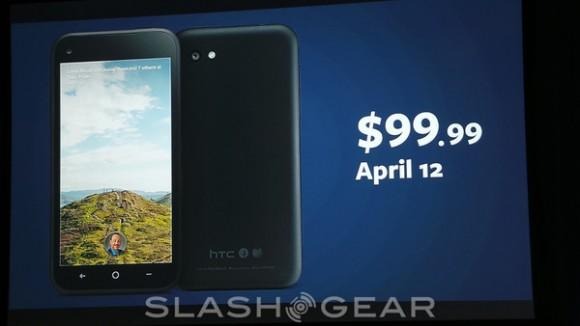 Facebook announced and showed off what they're calling Facebook Home today, but that's not all. HTC and AT&T also made an appearance, and the phone maker officially announced the HTC first, a new smartphone specifically catered toward Facebook users, and it'll be available the day that Home will be released: April 12, and it'll priced at $99 after a two-year contract.
The HTC first will sport a 4.3-inch LCD display with a 720p resolution, as well as a Qualcomm Snapdragon 400 dual-core processor — one of Qualcomm's newest chips that was announced not too long ago. The phone also packs a 5MP camera on the back, as well as a 1.6MP camera on the front for video chatting and taking selfies.
The phone will also come with Android 4.1 Jelly Bean out of the box, meaning that you'll have access to the latest features of Android, including Google Now, improved notifications, and a smoother UI thanks to Project Butter. Plus, there's 1GB of RAM to keep you going through all the Facebook multi-tasking you'll need.
With AT&T's CEO at the Facebook event right next to HTC, it makes sense then that the first will be available on AT&T, and will support the carrier's fast 4G LTE. Overall, this looks to be the phone to get if you're a Facebook junkie at heart. Have a look at our Android Hub for more Android news!